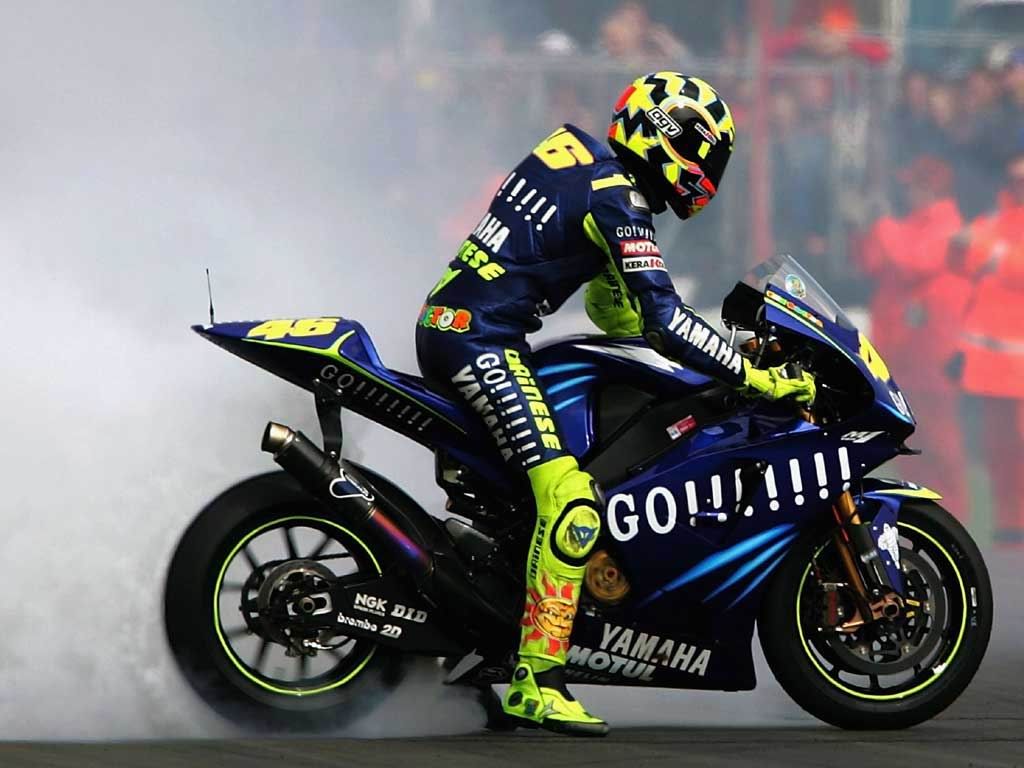 Whether it's his infectious exuberance, his elaborate celebrations, his illustrious career, or his undeniable talent, it's safe to say everyone has a reason to like Valentino Rossi aka. The G.O.A.T.
The Junior Years
It is amazing to think however, that his debut year in the 125cc class wasn't magical. His talent though was clear. He pushed himself to new limits and in typical Rossi fashion, only took the one year to learn and the next year to win.
1997 was that year on the Aprilia, interrupting his Japanese rivals who were dominating the event, winning by 80 points over fellow racer Noboru Ueda.
It is also at this early start of his career that audiences first saw the iconic sun and moon design that has become Rossi's signature motifs, albeit slight design changes throughout the years and where we first saw his showman side too, celebrating his victories. These celebrations would carry through as he progressed up the ranks, getting more elaborate and memorable.
The number 46 was now racing with the likes of Loris Capirossi and Tetsuya Harada. In 1998, Rossi moved up to the 250cc class and won five of fourteen races. Still with Aprilia and finishing an incredible second in the championship, only 23 points behind Capirossi.
True to form, he managed to turn second into first in 1999, winning both the race and the title at the Nelson Piquet Circuit at 20 years old, 48 points above Ukawa.
His celebrations that year included ones like the chicken, the angel riding pillion and of course the classic porta loo at the side of the track.
During this season he also managed to clinch Aprilia's 100th GP win.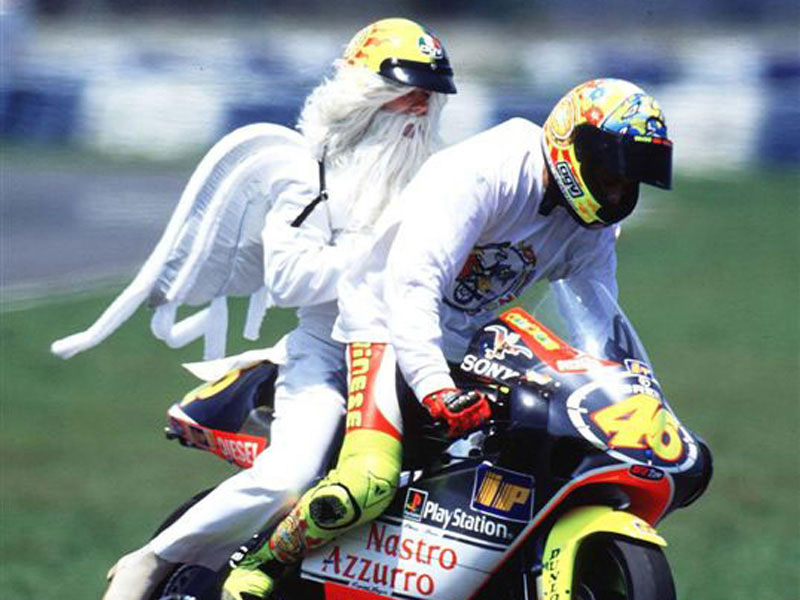 500's
Moving to Honda in 2000 with renowned crew chief Jeremy Burgess, as a one-man team, Rossi again took one year to learn and one year to win. Rossi was now competing against names like: Kenny Roberts Jnr, Max Biaggi and Carlos Checa.
Although finding the transition hard from 250cc to 500cc racing bikes, it didn't take the 21 year old long to win his first race at Donnington, in the top-class.
It was this year that the infamous feud between Rossi and Biaggi started to become apparent.
In only his first season, Rossi lost the title by only 49 points, behind Roberts.
Still riding the Honda, Valentino entered into his second year in the 500cc class in 2001, it was then that the iconic name The Doctor was founded. Overhearing at an airport the name 'Doctor Rossi' being announced, he thought the name sounded good, so adopted his own version. Previous names included: RossiFumi and Valentinik, but these understandably weren't as catchy.
The Doctor secured his first pole in Welkom, became the first rider to win in all three classes at Brno and in the same year he won Honda's 500th GP win. Rossi started to quickly rack up new records and had became a brand in his own right.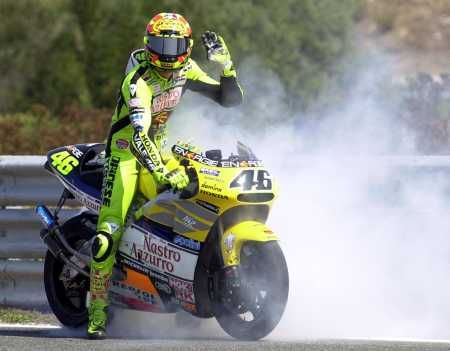 During this season the feud between The Doctor and The Roman Emperor (Biaggi) overflowed, making it highly entertaining for audiences around the world. While a scuffle happened off camera (at Catalunya – 2001), making all the wrong headlines and an official hand-shake took place to say sorry, their rivalry gained more momentum on the track.
At Suzuka 2001, Biaggi pushed out his elbow and nudged Rossi off track, this lead to Rossi passing him a lap later and putting his middle finger up to him. The rest of 2001 became a Honda / Yamaha dog-fight. This concluded with Rossi winning the last ever 500cc World Championship over Biaggi by a huge 106 points.
Then came a massive change to the premier class, as the two-stroke 500cc bikes were replaced with 990cc four-stroke machines.
MotoGP
After winning eleven races in 2002, including the first race of the season, Rossi had certainly become a household name and was furthering his conquest to earn the name G.O.A.T.
That year he raced among the usual faces: Barros, Biaggi, Gibernau and the late Daijiro Kato. Rossi won the title with four races left at Rio, leading once again, Max Biaggi. This time by a whopping 140 points.
Honda's joy with Valentino was tempered in 2003 by the shock and sudden loss of fellow racer Kato, during the Suzuka race.
This year was also very strained for both the Honda team and Rossi, as Honda claimed it was mainly the bike that won the races and the rider was just the pilot. Even during those hard-times, Vale still managed to celebrate in the only way that he knew how. Memorably poking fun at Honda with the chain-gang gag.
Once again Rossi won this season over Gibernau by 80 points.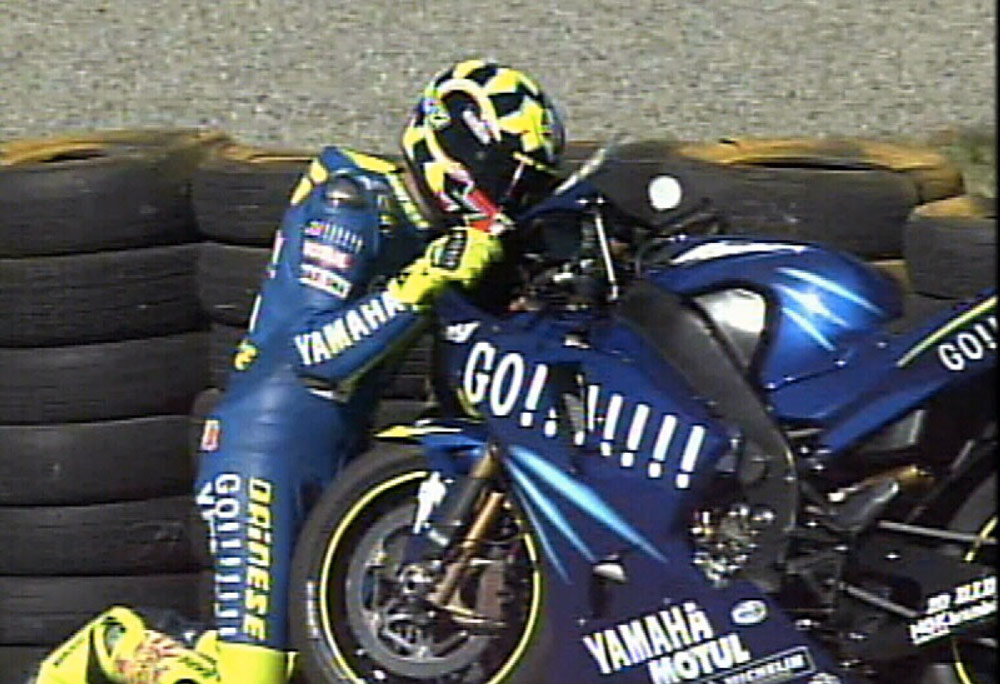 Then in 2004 came the biggest move. Rossi left his winning Repsol Honda team, risking everything, for the Yamaha M1, taking his crew chief with him.
Doubters said that Rossi couldn't go ahead and win even one race on the Yamaha. They were proved severely wrong. Not only did he win races, he won the entire Championship again.
Welkom was welcome once more for The Doctor, after he won the opening race of the season against the likes of Hayden, Edwards and his main rival for the title Gibernau. The celebration that followed was clearly emotional for Rossi. He pulled over to the side of the track and after regaining his emotions embraced his M1.
There was plenty of on-the-track fights between the Italian and the Spaniard (Gibernau), which made for fantastic viewing.
To everyone's surprise Rossi won the year 47 points clear of Gibernau. Collecting his fourth world title and sixth across all classes.
Jerez started off the 2005 championship, with a great battle between 15 and 46 after they collided on the last lap. However, during the race at Qatar, Rossi made a rare mistake and crashed. He blamed the Spaniard and 'cursed' him saying "he will never win another race", this statement became oddly true.
Again with four races spare The Doctor secured his fifth title 147 points above Marco Melandri. Celebrating with 'snow white and the seven dwarfs'.
Bad luck troubled Rossi throughout 2006, after a tyre failure, engine blow-ups and being knocked from his bike by Elias. Rossi heroically fought back during this season and going into the last race at Valencia he was eight points in front of the late American, Nicky Hayden. However, more bad luck plagued him and he fell, re-mounted and finished thirteenth. Hayden won his only title by five points.
2007 saw Rossi finish third in the championship, behind winner Casey Stoner and Dani Pedrosa, in second.
Many people were saying, is that the end of Rossi?
Motegi – 2008 saw Rossi silence the critics and he won his eighth career title, across all classes, finishing on the GP rostrum for the 150th time overtaking Agostini's record total of wins in the top class.
Bitter complications with Yamaha made 2009 a hard year for Rossi and his team. Even though it was tough in the garage he still took victory, finishing third in Malaysia, for his ninth World Championship, 45 points above his team-mate Lorenzo.
2010 was much of the same, Rossi's love story with his M1 Yamaha came to an end, finishing the championship in third he made another massive decision.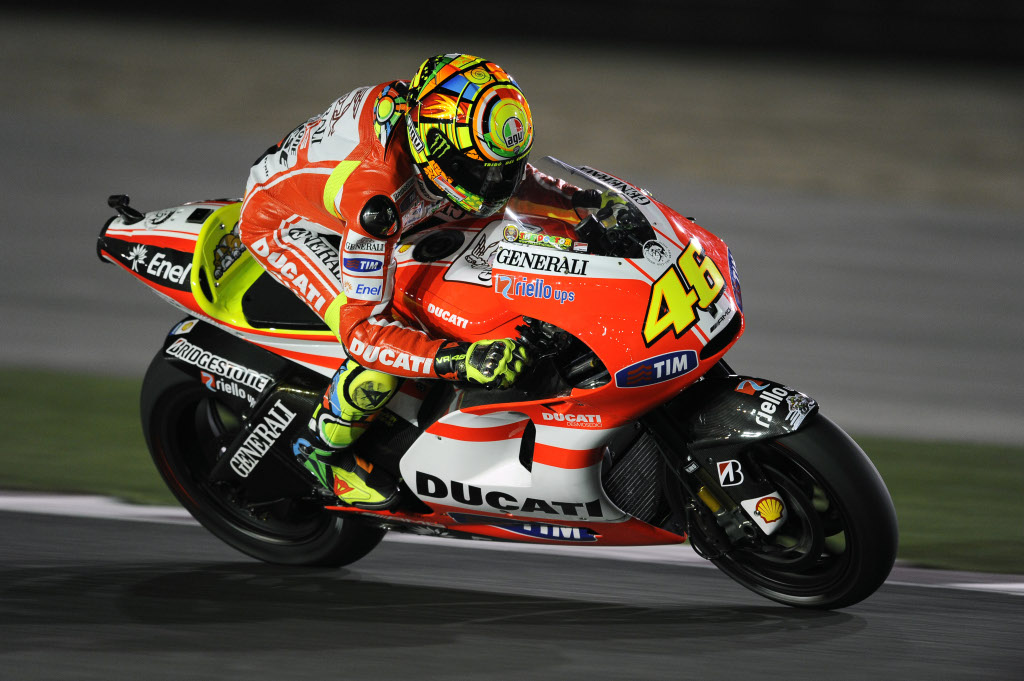 Hoping to emulate his success in 2004, Valentino joined Ducati. The dream of an all-Italian team in 2011 ended awfully however. It seemed the only person who could tame the Ducati was Casey Stoner. The Australian memorably said to Rossi "did you run out of talent?", which led many people to think, perhaps he was right.
Finishing sixth in the championship in 2012 two years in a row, the Ducati dream was not to be for Valentino and he returned to Yamaha.
2013 – Present
Rossi sacked his Crew Chief Jeremy Burgess in order to find fresh motivation. Burgess admitted they "had been chasing rainbows". Still winning plenty of races and narrowly missing out on a tenth championship in 2015 by 5 points, Valentino is still be able to break records and be at the sharp-end of the pack. Having not won a title in eleven years, Rossi fully admits that he races for the love of the sport and the passion to have fun.
Will that illusive tenth championship be granted in his new adventure with Petronas Yamaha in 2021? And will he secure his 200th podium finish?
Whatever the outcome, the yellow army still flock to watch and support their hero at every race.