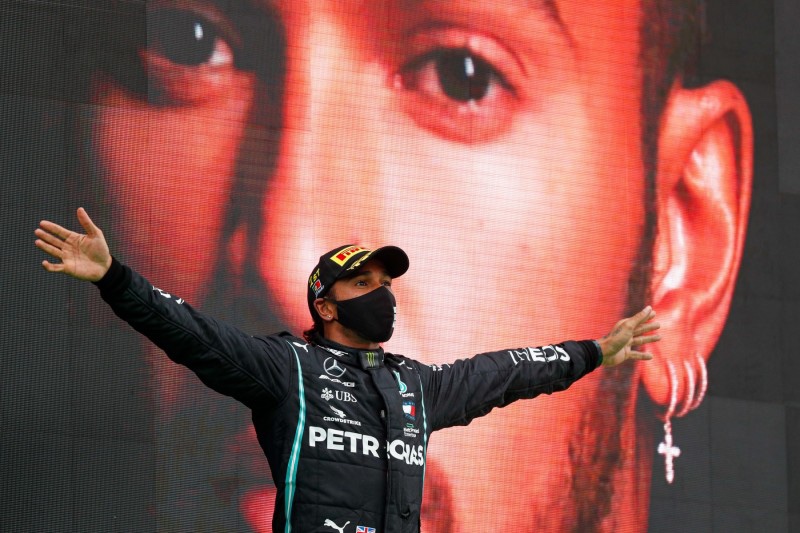 image courtesy of Pirelli Motorsports
Lewis Hamilton absolutely demolished opposition on Sunday afternoon at Portimao to take the coveted win number 92 which has been the talk of the weekend. Hamilton lost out at the start to his teammate Bottas and the fast starting McLaren of Carlos Sainz and had to make his way back into the lead of the race, which he did in spectacular style.
It was a chaotic start to the race which started off in very light rain conditions meaning that the cars starting on the dirty side of the grid had their work cut out for them. This meant that both Mercedes cars lost out to the McLarens at the very beginning and the race briefly saw Sainz lead the proceedings for a few laps. Normality was restored after Mercedes drivers managed to get their tyres going and made it into the 1-2 positions and eventually ended up there.
Max Verstappen starting at 3rd also lost out at the start to McLarens and the Racing Point of Sergio Perez and later made his way back into the race, finally finishing at 3rd. It was not so simple for the Dutchman as he was involved in a first lap incident with Sergio Perez which saw the Mexican driver go spinning out of the track. This meant that Perez had to really work hard for a decent result and he did a stellar job and finished in points at 7th place.
Pierre Gasly's excellent year continued at Portimao after the French driver put in another excellent performance to finish at 5th place. On an afternoon where almost every other driver struggled to make soft tyres work, Gasly made them work just right during his first stint which made the ultimate difference for him and provided that very strong finish.
McLaren were on course for a high points finish but it was all undone when Lando Norris was tagged by Lance Stroll in an overtake attempt but it did not come off well for the Canadian after he sustained damage on his car and also inflicted some on Lando's car for which he received a time penalty as well, adding to the one he received for infringing track limits. The Racing Point had to retire towards the end due to damage and a wing change for Norris meant that he could not finish any higher than 13th.
Renault were the big winners in the battle for 3rd in the constructors championship after their Sunday afternoon earned them a double points finish with Ocon at 8th and Daniel Ricciardo at 9th. The former went an astounding 55 laps on medium tyres before finally switching to softs towards the end through which he was able to overcut most of his competitors and achieved a good finish.
It was a good day for Ferrari as well compared to how their 2020 has been going after Charles Leclerc finished at 4th place, producing yet another fantastic drive as he has been doing so far this season and Sebastian Vettel, finally after quite a few races, finished in the last points position following his battle with Kimi Raikkonen. The German driver was also closer to a 9th place finish after he got ever so close to Ricciardo but a major lock up prevented him from making that move.
It was an amazing start to the race for Kimi Raikkonen after he made up as many as 10 places on the opening lap to fins himself at 6th but the ultimate lack of pace from the Alfa Romeo meant that it was inevitable that he would drop down the order and finally finish 11th. His teammate Giovinazzi in the other Alfa Romeo finished 15th following his battles with Magnussen and Russell at the back of the field.
It was a flurry of time penalties in the race after both Romain Grosjean and Danil Kvyat were handed 5 seconds each when they breached track limits and this meant that they could not salvage much out of the weekend as they finished well outside points. George Russell drove a good race which saw him finish 14th but that elusive points finish still seems to evade him. His teammate Latifi could only manage an 18th place finish.
The one talking point among the out of points finishers has to be Alex Albon who has had yet another underwhelming weekend, With Christian Horner admitting that Red Bull are prepared to look outside their pool of drivers, a 12th place finish does not exactly make the case for Albon retaining his seat in the Milton Keynes based team and this means that the Thai driver will have to ensure a strong finish to his season.
Today's race has seen yet another Schumacher record broken, this time the biggest one in the form of number of race wins. 92 is the magic number for Lewis Hamilton in car no.44, who extends his championship lead to 77 points over the car no.77 of Valtteri Bottas. The record equaling 7th driver's championship is now a matter of when, rather than if, for one of the all time greats of F1.