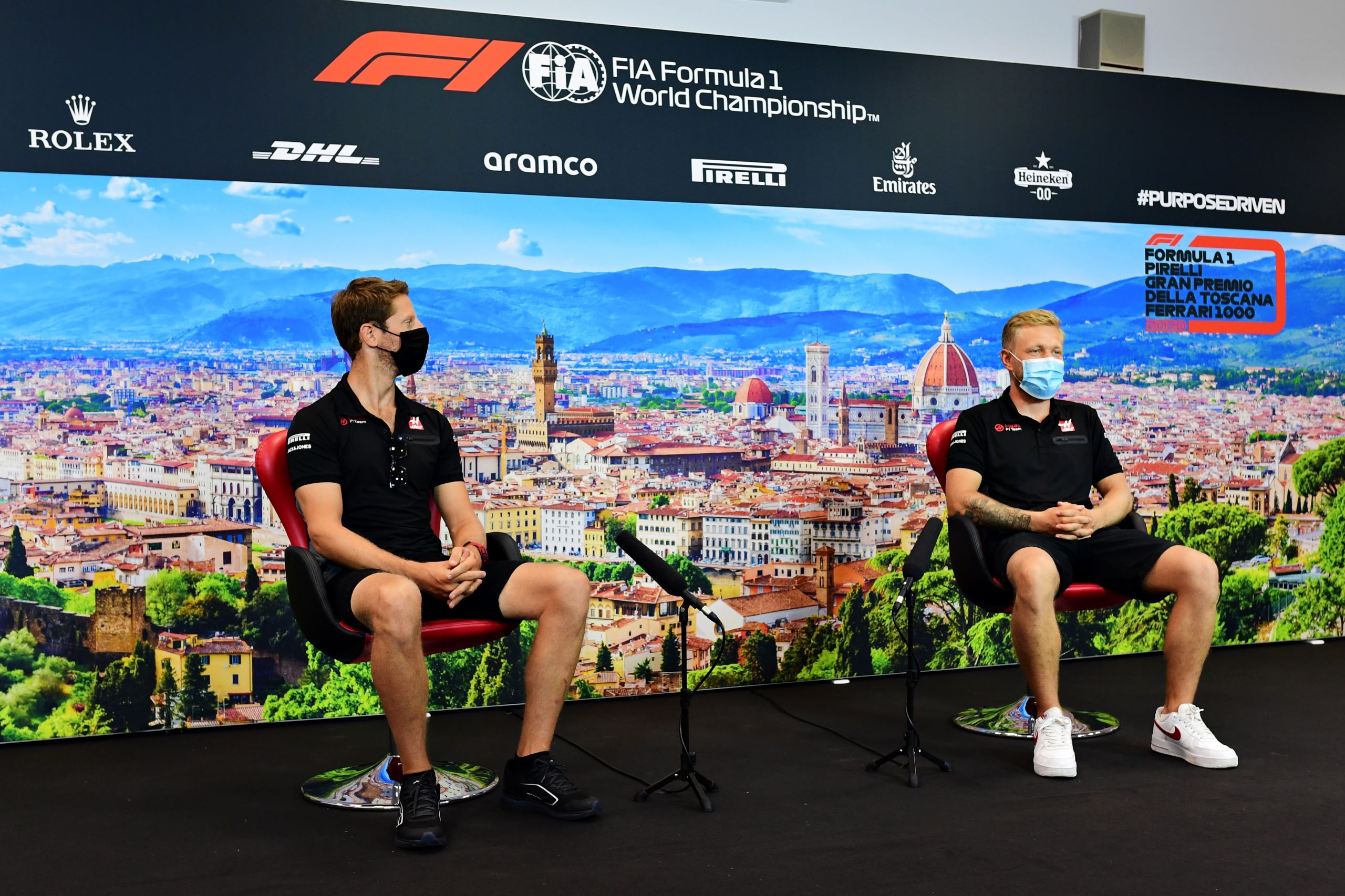 image courtesy of Haas F1 Team
In the lead up to this weekend's Portuguese Grand Prix, it was announced that both Haas drivers Romain Grosjean and Kevin Magnussen would not be retained by the American outfit for 2021, which makes it Haas' biggest shake-up since it first appeared on the F1 grid back in 2016. Grosjean has been with the team from the start, and Magnussen joined him for 2017. Aside from Mercedes with Hamilton and Bottas, Haas have been the only team with a consistent line-up for many years so this news is hugely telling as far as the future for the team.
There have been some indications as to who could end up at Haas, some more likely than others. So let's run through some possible candidates.
Experienced sideliners
First up we have to immediately mention the likes of Nico Hülkenberg and Sergio Pérez, both drivers are very well known quantities of the F1 paddock that are in danger of missing out.
Hülkenberg lost his Renault seat to Esteban Ocon and failed to secure a full-time drive for 2020, however has performed incredibly in his appearances with Racing Point when both drivers fell ill. One of those being Pérez, who has been let go from the team in favour of Sebastian Vettel when it is rebranded as Aston Martin.
Both drivers are of really high quality and shouldn't have to beg for drives. But even Pérez who brings a lot of money from his native Mexico is struggling to find a seat at all, and may even end up at Williams alongside Nicholas Latifi and kicking out the also very highly rated George Russell.
But even being a great and proven driver isn't enough these days, there needs to be more. For example..
Ferrari juniors
At the last Grand Prix, Ferrari academy drivers Mick Schumacher and Callum Ilott (who are both first and second in the FIA Formula 2 championship) were due to make FP1 appearances. Schumacher was due to drive with Alfa Romeo and Ilott was with Haas, however the foggy October sky around northern Germany put pay to that plan and instead they'll be making their FP1 debut at the season-ending Abu Dhabi Grand Prix.
Despite being considered a Ferrari 'B-Team', Haas have never done what Alfa Romeo have done and run one of Ferrari's academy drivers in one of their seats. They've had the likes of current Ferrari driver Charles Leclerc and Alfa Romeo driver Antonio Giovinazzi do FP1 runs for them, but with the plethora of young talent in Ferrari's camp, this could very well change for next year.
Not only do you have Schumacher and Ilott, but also last year's FIA F3 champion Robert Shwartzman who comes with strong backing, however he seems less likely and a second season in F2 wouldn't do any harm.
With the financial strains put on many teams due to the pandemic, it would make sense for the team to take on a Ferrari junior in exchange for getting their Ferrari power units cheaper. However speaking of financial incentive, that leads me on to the name that is floating around like a stubborn rubber dinghy.
Another kid with a rich dad
No list of possible drivers for smaller F1 teams would be complete without at least one rich kid who has more money than talent. The one in question here is Nikita Mazepin, son of $7.1 billion net-worth Dmitry Mazepin, who won't stop trying to buy his son an F1 team. His name has been mentioned in conversations for buying out the likes of Force India, Renault, Williams and now Haas.
Mazepin has had a pretty underwhelming career, although he is fighting for victories in his second season of F2 and finished runner-up to the late Anthoine Hubert in the 2018 GP3 season. He was also runner-up in the FIA World Karting Championship in 2014 to current McLaren F1 driver Lando Norris, so I must give him credit where it's due.
However like current Williams driver Nicholas Latifi, it's obvious that his father's money would be more of a reason than his ability as to why Haas would hire him. In this day and age, it's a necessary evil if it means Haas can keep afloat and there are certainly many drivers who have much less ability they could have picked.
With that being said though, Mazepin is up there with the likes of Dan Ticktum and Santino Ferrucci in terms of polarising and distasteful character. He once punched Callum Ilott and only got a one race ban for it after claiming the Brit held him up in practice at the Hungaroring for an F3 race. He's also come under fire for threatening to out a current F1 driver as gay, which when you consider the possible implications due to F1's reliance on money from very homophobic countries, just makes me despise this Russian.
One thing is for sure though should this happen, the Drive To Survive episodes that we will inevitably see with a bad tempered team boss and spoilt son of a Russian oligarch, they'll be entertaining to watch.
So who could it be?
Immediately, Mazepin seems all but certain, as unfortunate as it is. The extra injection of cash could be imperative for Haas as this could very well serve as a rebuilding phase for the team. Puzzlingly though, the extra money from Sergio Pérez's backers may not be accepted, which considering a combination of an inexperienced driver like Mazepin with a seasoned veteran and both bringing in money sounds very ideal.
At the moment, it's all rather up in the air. Haas may end up going with a Ferrari junior on one side of the garage and Mazepin on the other, which could end up backfiring since both drivers are hugely inexperienced and we remember how Williams struggled in 2018 with the money coming from both Lance Stroll's and Sergey Sirotkin's backers but both being very inexperienced.
If I was a betting man, that's who I'd go for right now, Mazepin and a Ferrari academy driver.
But let's take a moment to acknowledge their current drivers. Romain Grosjean is an anomaly, having had ounces of pace but lacked that refinement to keep him from keeping it on the straight and narrow but over time instead of ironing out those rough edges, he's lost that spark and arguably shouldn't have been picked over Nico Hülkenberg for 2020.
As for Kevin Magnussen, from scoring a podium on his debut to becoming the F1 bad boy and driving way too aggressively on occasion, and like Grosjean did show plenty of promise. However that whittled out and now I would be very surprised if either of them managed to find a drive in F1 for next season.
What's next for them? Well Grosjean has expressed interest in spearheading Peugeot's Le Mans Hypercar program as well as flirting with the idea of both Formula E and DTM, whilst Magnussen could be linked with a move to IndyCar although I would hope if he does, his defense style is quickly dealt with on ovals..