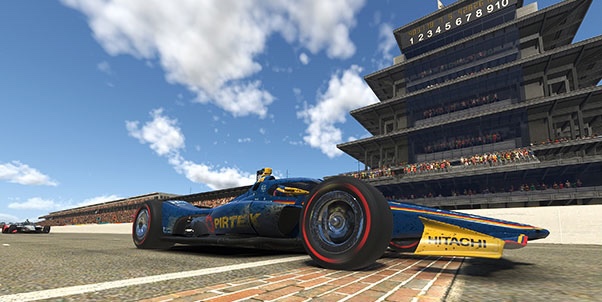 image courtesy of IndyCar
After seven months we have finally reached the culmination of a full season of IndyCar racing. We head into the Firestone Grand Prix of St Petersburg, after COVID-19 risked the suspension of the series in its entirety, with an enthralling championship decider, and some wonderful races along the way.
With the cooperation of the Florida city's governing leaders, they have fortunately been able to construct the airport / street layout in time for this weekend's fall event. Chip Ganassi Racing's Scott Dixon leads Penske's Josef Newgarden as the two battle for the NTT IndyCar Series crown in a year dominated by postponements, cancellations, and rescheduling, but will finish with 14 races instead of the intended 17. Dixon has never won here but has been a runner-up four times while Newgarden had one "top-of-the podium" St. Pete finish a year ago.
This weekend's running of the Firestone Grand Prix is the 17th event at St Petersburg since 2003, will run for 100 laps/180 miles; ten laps shorter than in 2019 when Josef Newgarden won there for the first time. Team Penske will be confident having won here nine times while Will Power and Sebastien Bourdais have each won twice among the active series drivers. Will Power also has an incredible eight pole positions to his name so don't overlook the Australian this weekend.
LAST TIME OUT
In March 2019, Josef Newgarden took his first St Petersburg win, kickstarting his championship winning campaign. Power took the start from pole position, surging to an early lead until the first round of pit stops. Opting for an alternative strategy, Newgarden waited five extra laps before stopping, building an extensive lead out front before changing to the softer tyre. The margin he built on his competitors meant he was able to win by 2.899 seconds over Scott Dixon who has never won there despite being a five-time series champion
DRIVER NEWS
St Petersburg sees the debut of Australian Supercar champion Scott McLaughlin who features for Penske this weekend,
There has been some seismic driver news for 2021 over the past few weeks, notably the change at Arrow McLaren SP. It seems that Oliver Askew following a season placated by a variety of issues will be leaving the team at the end of the season.
To take his place is Chip Ganassi's Felix Rosenqvist, who has one IndyCar victory to his name. The lineup alongside Pato O'Ward will undoubtedly excite all fans as one of the best young driver pairings on the grid.
Unfortunately for Askew, it seems that his luck ran out. What started with a promising podium at Iowa came crashing down, with the American featuring inside the top ten once since then. Lately, Askew was forced to miss the Harvest GP after is was revealed that he was suffering with 'concussion-esque' symptoms after his crash at the Indy 500. Helio Castroneves filled in for Askew at the Harvest GP, however he has been cleared fit to race for this weekend and will feature one final time for McLaren.
The final question will be who takes the vacant Chip Ganassi seat? With incoming NASCAR champion Jimmy Johnson set to feature in a few races, it seems only logical that Ganassi will share that car between Johnson and an IndyCar veteran. Rumours have been that Tony Kanaan or Helio Castroneves could fill in.
And significantly Formula E champion Antonio Felix Da Costa will take part in a pre-season test with Rahal Letterman Racing. It is unclear whether this is with a view for a 2021 IndyCar seat but would undoubtedly replace Conor Daly to line up alongside Dutch superstar Rinus VeeKay.
CHAMPIONSHIP OUTLOOK
The good news for Josef Newgarden is that there are nearly 200 scenarios in which he can clinch the IndyCar championship Sunday at St. Petersburg, Florida.
The bad news is there are nearly 19,700 ways in which rival Scott Dixon will win the championship.
Entering the Firestone Grand Prix of St. Petersburg with a 32-point lead, the Chip Ganassi Racing driver, who has led the standings since opening the season with three consecutive victories, is a heavy favourite for his sixth championship. He will clinch the title with a ninth-place or better, regardless of where Newgarden finishes.
WHO ELSE TO WATCH OUT FOR
Colton Herta, Patricio O'Ward and Rinus VeeKay have all had successes at St Petersburg in their lower formula experiences. All three has taken victory here in either IndyLights or the Pro Mazda championship.
Colton Herta has been in magnificent form with an amazing qualifying record, a win at Mid-Ohio and a podium at the Harvest GP. He is currently third in the standings and will be looking to finish his campaign in similar style.
Rinus VeeKay is almost certain to win the 'Rookie of the Year' title. His nearest challenger his Alex Palou who is 54 points behind. Palou would have to take pole, win, and lead the most laps in the race to tie level. Simply put, an impossible task.
Finally, Alexander Rossi has put his gremlins behind him. A season plagued with issues has effectively written off the American's year. However, with four consecutive podiums since Mid-Ohio Rossi will be looking to send a statement to everyone heading into 2021.
WHAT TIME IS THE RACE?
SATURDAY 24 OCTOBER
10:55 EST / 14:55 GMT – Practice
15:05 EST / 18:05 GMT – Qualifying
SUNDAY 25 OCTOBER
14:30 EST / 19:30 GMT – Race
WHERE CAN I WATCH THE RACE?
Coverage in the UK for the races will be on Sky Sports F1. However, you can also read our session reports right here, on ThePitCrewOnline.