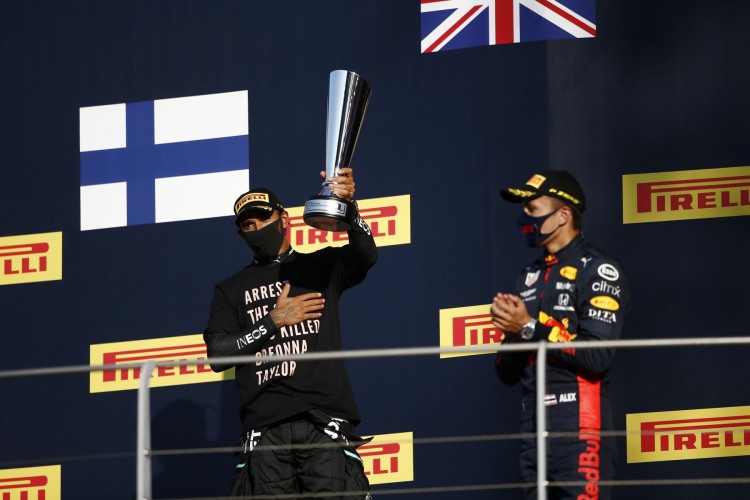 image courtesy of Pirelli Motorsports
Due su due as the Italians would say. If you thought the red flagged madness of Monza from last week was extreme enough, F1's first visit to Tuscany at the Mugello circuit was that turned up to eleven!
It was Lewis Hamilton though who took victory ahead of Mercedes teammate Valtteri Bottas, which on the surface sounds very typical but it was anything but that. The race began with the long run down to turn one, and Max Verstappen – who had some drama pre-race with the mechanics trying to check something, he had a good initial launch but his car seemed to almost forget how to use its engine for a moment. Tumbling down the order and then got caught up in a collision.
Verstappen seemed to get rear ended by Räikkönen heading into turn two, who was in a bad position next to Pierre Gasly and Romain Grosjean trying to claim the same piece of tarmac. Just up the road, Carlos Sainz got tapped by Lance Stroll which sent him spinning, and Sebastian Vettel couldn't avoid him in the one-off burgundy liveried Ferrari and limped back to the pits with a broken front wing.
Bottas had jumped Hamilton at the start and they were running ahead of Charles Leclerc and Alex Albon. But a safety car was called as both Gasly and Verstappen were out of the race, and coming to the restart, Bottas left it as late as he was legally allowed to before he bolted, trying to give his rivals behind him as little a slipstream as possible. However, chaos ensued.
Sainz, Magnussen, Giovinazzi and Latifi were caught up in melee coming to the restart as many drivers had tried to get the jump on the restart. The race was stopped and the drivers gathered in the pits, and now standard procedure is a standing restart after seeing it for the first time only last week.
Second time around, Hamilton swung round the outside Bottas at turn one and Leclerc retained third place, before being passed by Stroll and Ricciardo. The Ferrari driver elected to pit early for hard compound tyres as he was just bleeding time on the set he was on. Ricciardo then came in to attempt an undercut on Stroll, a strategy that seemed to be working due to high speed nature of Mugello and it was successful as when the Racing Point driver boxed, Ricciardo was ahead.
The other Racing Point driver Sergio Pérez was passed by Lando Norris before he then successfully undercut the McLaren driver. Meanwhile, the sole remaining Red Bull in the race of Alex Albon had elected to go longer than the rest of the field.
At the front, the two Mercs were on medium compound tyres and Bottas was hoping to do the opposite of what Hamilton was doing. However Bottas came in before Hamilton due to the condition of his tyres and put on hard compound, which gave Hamilton a comfortable buffer to then come in on the next lap and do the same, and retained his gap in front.
Bottas was hoping for a safety car, and well he got one. Racing Point's Lance Stroll went off at the very high speed uphill right hander Arrabbiata after suffering what was suspected to be a puncture. Bottas dove for the pits and it was thought he had gotten a huge advantage as the safety car was called just as Hamilton drove past, but it didn't come out in time to serve as a help for Bottas, as Hamilton managed to make it round again and pitted.
The race was then red-flagged for a second time, and with only twelve cars left in the race. Bottas was hoping to keep the trend of second place getting the better getaways but this time, it wasn't to be as both Hamilton and Renault's Daniel Ricciardo rocketed off the line.
Meanwhile at the back, heartache for the newly taken-over Williams team as George Russell had lined up ninth on the restart but had been passed by everyone. He soon got back past Grosjean but even with a 5-second penalty looming over Räikkönen, it looked increasingly unlikely that he would get back into the points.
But for his best mate Alex Albon, things were about to get rosier. He put a beautiful move around the outside of turn three on Pérez and after previously being denied two podiums by coming together with Lewis Hamilton in both Brazil last year and Austria this year, the Anglo-Thai driver put a move on for third and made it stick past Ricciardo. Cyril Abiteboul having made a bet with his driver that if he scores a podium before he leaves the team, he will get a tattoo of the smiley Australian's choice.
However it wasn't meant to be as finally, in a time where everyone was expecting a switcheroo between him and last week's Italian GP winner Pierre Gasly, he finally got to stand on the podium with Bottas and Hamilton.
Ricciardo came home fourth ahead of Pérez, Norris, Kvyat, Leclerc, Räikkönen (who finished ahead of Leclerc but dropped back from the penalty he received for crossing the pitlane entry line too late) and Vettel rounded out the points finishers.
Carnage ensued in the hills of Tuscany, and also whilst not a result that Ferrari would have wanted, it is still very fitting that they have their 1,000th Grand Prix be at a circuit they owned since 1988. A proper old school circuit with plenty of elevation change and gravel traps which have punished a few drivers this weekend across all the races.
F1 goes on a week long break, can we all survive that? The circus reconvenes at Sochi Autodrom on September 27th and following on from that is a run of races which include circuits such as Nürburgring, Portimão, Imola, Istanbul, two races at Bahrain on different layouts before the season concludes at Abu Dhabi on December 13th.