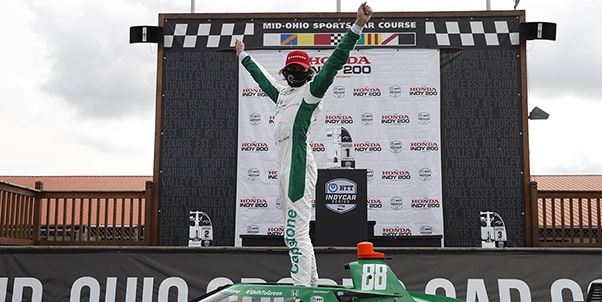 image courtesy of IndyCar
It has been a fifteen year wait for the Andretti Autosport team but they have finally achieved a team sweep of the podium at Mid-Ohio, ending the double-header in style. The race was dominated by young superstar Colton Herta getting his third IndyCar career win, his first of the 2020 season.
Following a magnificent pole position start, his fourth of his career, the son of Bryan Herta led from start to finish, untroubled by second place teammate Alexander Rossi.
The driver of the No. 27 Honda finished 1.3826 seconds back for his second podium of the weekend and third of the year. Just over one second back came veteran Ryan Hunter-Reay, giving Andretti Autosport three podium finishes on Sunday alone and four on the weekend after just one in the previous nine races.
"I'm so happy. We've been knocking on the door almost every week, and we've had the pace, but just some reason or another, this or that, things have gone wrong,"
Herta said on the post-race broadcast after leading 57 of the 75 laps Sunday:
"We just need to be finishing on the podium more, maybe every other weekend. It seems like only when we win, we get up here, so if we could fill in some of those spots, we'd be good."
This win moves Herta into fourth place in the series championship, eclipsing both yesterdays winner Will Power and Indy 500 winner Takuma Sato. A worthy prize for a young racer who has been one of the standout drivers this season with eight top ten finishes in ten starts before Sunday.
"That's so huge, so huge. Thank god we came here to Mid-Ohio," said team owner Michael Andretti post-race on the broadcast. "I was a little worried we weren't gonna be able to get here, but those guys at Green Savoree Racing Promotions did a good job getting this race on. After the way things have gone this year, this is huge for the team."
Added Rossi:
"I'm so happy for Andretti Autosport. It's been a terrible year for us, and to do this, that's just huge. Hats off to Colton and the No. 88 team, but to sweep the podium, that's very cool. We're just focused on race wins and building a good foundation for next year, and we're doing that with this now."
However, it could have been very different for the team as Herta narrowly missed what could have been a race ending incident on lap one when Santino Ferrucci ran off-track at turn 4 only to re-join and collide with teammate Alex Palou and Chip Ganassi's Felix Roseqnvist. Both of their races ended they're with Santino being sent to the back of the grid for avoidable contact.
Following a period of caution the field pitted on lap sixteen that saw Alexander Rossi cycle up from tenth to fourth, Hunter-Reay from eight to third, Power from seventeenth to tenth and O'Ward from twenty first to fourteenth.
During this time Takuma Sato and Marco Andretti stayed out attempting to go long into the race and attempt a strong overcut which proved effective in yesterdays race. Unfortunately, their efforts would be in vain after Marco lost the car into the gravel not soon after, and after Sato failed to make much ground, finishing outside the top ten.
Another memorable moment came on lap 22 when championship leader Scott Dixon, who had been following Herta and Rossi, came out of shape and spun into the grass. A rare mistake from the five time champion that sent him right to the back of the pack. He would eventually spend the rest of the race fighting back through the pack with some audacious moves on the likes of Jack Harvey and Rinus VeeKay, eventually finishing in tenth, just two spots behind runner up in the championship Josef Newgarden.
An 'off weekend' for the Kiwi which saw his lead in the championship cut by twenty four points.
"I got a little too aggressive there and hit the overtake on the exit, and it was just too much power," Dixon said. "I spun the tires and the car. It was a stupid mistake I shouldn't have made. It should have been an easy points day."
Following Hunter-Reay's season-best third, Graham Rahal finished fourth for the second time this weekend, with Marcus Ericsson climbing from a 15th-place start to end fifth.
Graham Rahal interestingly now sits sixth in the championship standings alongside his Rahal Letterman teammate Takuma Sato in seventh. Separated by one point.
It was a Penske trio finishing sixth, seventh and eighth with Simon Pagenaud, Power, and Newgarden. A slow pit-stop by Josef Newgarden caused himself and teammate Will Power to have a drag race out the pits in which Power came out victorious. The status-quo remained the same for most of the race.
Patricio O'Ward, third place in the championship, started in eleventh on the grid and held his own from a late-charging Scott Dixon to round out the top ten.
Other notable results were highest placed rookie, Rinus VeeKay who extended his lead in the 'Rookie of the season' standings, while beating his Ed Carpenter Racing teammate Conor Daly.
IndyCar now has a two to three week break until we return to the Indianapolis Road Course for the Harvest GP on October 2nd and 3rd.
Official Classification:
(1) Colton Herta
(10) Alexander Rossi
(8) Ryan Hunter-Reay
(12) Graham Rahal
(15) Marcus Ericsson
(6) Simon Pagenaud
(17) Will Power
(9) Josef Newgarden
(21) Pato O'Ward
(3) Scott Dixon

(11) Rinus VeeKay

(19) Jack Harvey
(18) Max Chilton
(2) Santino Ferrucci
(14) Oliver Askew
(16) Conor Daly
(13) Zach Veach
(22) Takuma Sato
(23) Charlie Kimball
(7) Marco Andretti

(20) Dalton Kellett

(5) Felix Rosenqvist

(4) Alex Palou