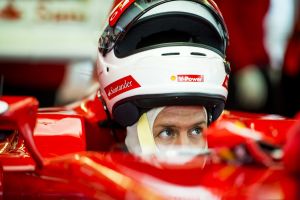 So the worst kept secret in F1 is out. Four-time champion Sebastian Vettel will be moving to Racing Point for next season when it is rebranded as Aston Martin. It all was the result of Vettel's departure from Ferrari who he has raced for since 2015, a partnership that he had hoped would have resulted in a fifth championship – but it wasn't meant to be.
Vettel won four straight championships with Red Bull who housed him throughout his junior career, however nowadays you would be forgiven for doubting that this was the same driver. The Vettel of today has been so dejected, dare I say humbled by his lack of success with the Scuderia, and there's a narrative these days that it's all because of Ferrari. I however disagree with this notion, it's not all one party's fault the relationship has soured.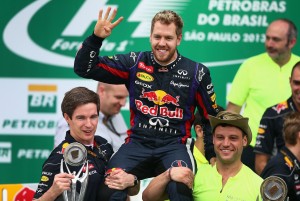 Before I proceed, I feel the need to put forward my biases and perspective so everyone knows. I wasn't a fan of Vettel back in his Red Bull domination days, and to an extent I'm still not a fan but even now, I do have some sympathy for him.
When he joined Ferrari, it was the beginning of the Mercedes dominance in the turbo hybrid era so Vettel had a mountain to climb. He had just come off the back of a winless final season with Red Bull in which he was shown up rather considerably by new Red Bull teammate Daniel Ricciardo, who took three wins on his way to third in the championship.
He took the seat of departing Fernando Alonso, who had hoped to be Ferrari's next champion and came very close but lost out to Vettel in 2010 and 2012, and lined up alongside Ferrari's last champion Kimi Räikkönen. Vettel really surprised in his first season with the Scuderia, as he took three victories at Malaysia, Hungary and Singapore on his way to third in the championship.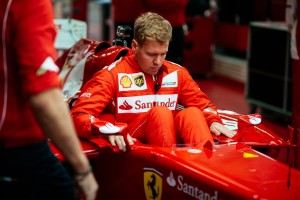 However unlike his teammate the previous season Daniel Ricciardo, Vettel took those victories on pure pace as opposed to benefiting from some misfortunes that befell both Mercedes cars. In fact from 2014-2016, it was Vettel's three wins that were the only ones that were won not from misfortunes for Mercedes. Even with Merc's dominance, Vettel came very close to denying Nico Rosberg runner-up in the championship that year.
2016 was a bit of a nothing year for Vettel, but with the regulation change coming into 2017 there was renewed hope for Vettel and Ferrari that they could take the battle to Lewis Hamilton and Mercedes. At first it was very much hopeful, as Vettel and Hamilton traded places in the first two races and then the Ferrari driver began opening up a lead.
Whilst the two drivers were relishing this opportunity to battle it out for the championship, it did all come to a head at Azerbaijan when Hamilton led Vettel under safety car conditions, Vettel didn't anticipate Hamilton's movement and ran into the back of him, assumed he brake tested him so he did the thing he believed was a good idea, drove alongside Hamilton and deliberately ran into him.
Then the infamous Singapore start collision caused by Seb moving over on Kimi and Red Bull's Max Verstappen handed the momentum to Hamilton, and with Mercedes outdeveloping Ferrari, the 2017 title race was swiftly over. A rejuvenated Vettel went into 2018 feeling confident, and he took two wins from the first two races to open up an early lead. But before long, Vettel began making more and more errors.
He threw away a win at Baku when he locked his brake going into turn one on a safety car restart, locked up at the start at the French GP and clipping Bottas, thus ruining both their races. However it was Hockenheim that sealed Vettel's fate, where he had a commanding lead and when some drizzle arrived and he lost it heading into the stadium section and burying it in the gravel and tyre barrier.
From then on, it came thick and fast. Monza lap one when he spun after touching Hamilton, Suzuka when he spun when trying to pass Verstappen heading into spoon, lap one at the US Grand Prix when he tapped Ricciardo and, you guessed it, spun. Couple that with Hamilton driving like a man possessed, Hamilton went from trailing Vettel in terms of championships 4-1 to then being 5-4 in his favour.
Meanwhile on the other side of both garages, their Finnish teammates were highlighting the difference between them.
Whilst Vettel had Räikkönen as his teammate, Hamilton had Valtteri Bottas. Both of them were playing supporting roles, but it was quickly becoming obvious that whilst Hamilton's driving was warranting the lead driver status, Vettel clearly wasn't doing enough to have his teammate hang back. This coincided with the meteoric rise of a Ferrari-backed driver from Monaco, called Charles Leclerc.
After winning titles in GP3 and Formula 2, Leclerc spent his rookie F1 campaign with Sauber and got the call-up to Ferrari for 2019. Clearly very highly rated by many, there was expectations that Leclerc could do what Ricciardo did in 2014 and wipe the floor with Seb. In a way, he kind of did.
As Leclerc looked set to take victory in only his second race for the team before a mechanical failure dropped him to third, Vettel had it difficult to hold him back initially and then spun again when passed by Hamilton later in the race. Vettel then got a penalty for skipping across the chicane at Canada and nearly colliding with Hamilton, which ultimately lost him the race and he protested after the race with an act of defiance switching of the first and second place boards.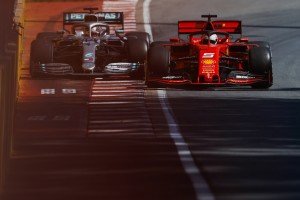 At Silverstone, he locked up and slammed into the back of Max Verstappen just after he overtook Vettel after spending the majority of the race up until that point having a very close battle with Leclerc. Another spin at Monza was further compounded by Leclerc taking victories at the previous race at Spa, and then in front of the Tifosi, but even with Seb taking victory at Singapore the following round couldn't shake the narrative that he was losing it.
It wasn't helped when in Brazil, Vettel swiped at Leclerc putting them both out in an incident very similar to when he did the same at Istanbul back in 2010 to his then Red Bull teammate Mark Webber. In the end, Leclerc won the qualifying battle and despite Vettel being ahead in more races, he still finished behind Leclerc.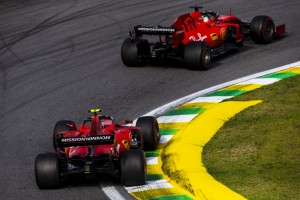 I am not just pointing these out to kick Vettel whilst he's down, I took no pleasure in watching him make these errors which were becoming an all too common occurrence, prompting the meme 'SBINALLA' whenever he would mess up. Of course, before this delayed season began it was announced that Vettel's Ferrari contract would not be renewed and he'd be replaced in 2021 by Carlos Sainz.
Since then, it's been a narrative of "Vettel didn't perform because Ferrari didn't believe in him". To that I say, well can you blame them? If a rookie kept making the mistakes Vettel was making, they would have probably been replaced. It's a two-way system, Vettel made a lot of unforced errors which resulted in Ferrari losing faith, and now they don't give him the belief that he needs.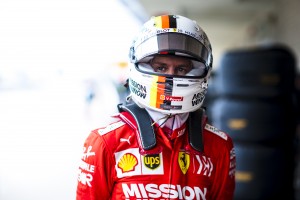 Again I don't take pleasure in saying this, even I've begun to feel sorry for the guy. However maybe the move to Aston Martin is just what he needs. A fresh start (which seemed to bode well for him in 2015), plus the current 'Pink Mercedes' which will be used again in 2021 could lend well to his driving style. The turbo hybrid cars don't have as much rear downforce as pre-2014 cars due to the exhaust gases not being channeled under the car.
Vettel's style could bode even better when the 2022 regulations roll around since they utilise ground effect. However by that point, maybe the likes of Verstappen, Leclerc and all the other young guns will be the benchmark.
I'm not writing him off completely, but Vettel has got a lot to be proud of in his career. Winning for Toro Rosso at Monza, winning four straight championships at Red Bull, and he could do very well with Aston Martin. But ultimately, just because he has done that in the past doesn't mean his errors during his time at Ferrari can be overlooked.
I hope Vettel gets his mojo back and can bring a win or two for the team that started out as Jordan back in 1991, I hope he can prove to himself and everyone else that they are wrong.
Feature Image Courtesy of Ferrari Media