Prema's Logan Sargeant took his first Formula 3 win in the Silverstone feature race, controlling from the front after breaking away early.
Sargeant got a good launch from pole position to hold the lead into the first corner. Behind him, second-placed starter Liam Lawson was slow away and was passed by Jake Hughes starting from third.
While Hughes was occupied with getting past Lawson, Sargeant immediately set about opening a gap in front. By lap 7 the American was already 2.5 seconds ahead of Hughes, and managed to maintain the same distance for the majority of the race.
The gap only increased in the closing stages as Hughes' tyres started to lose grip, with Sargeant running more than three seconds clear in the final four laps. Hughes eventually fell back to within half a second of Lawson, although he just managed to hold off the Hitech to take his first podium of the year in second.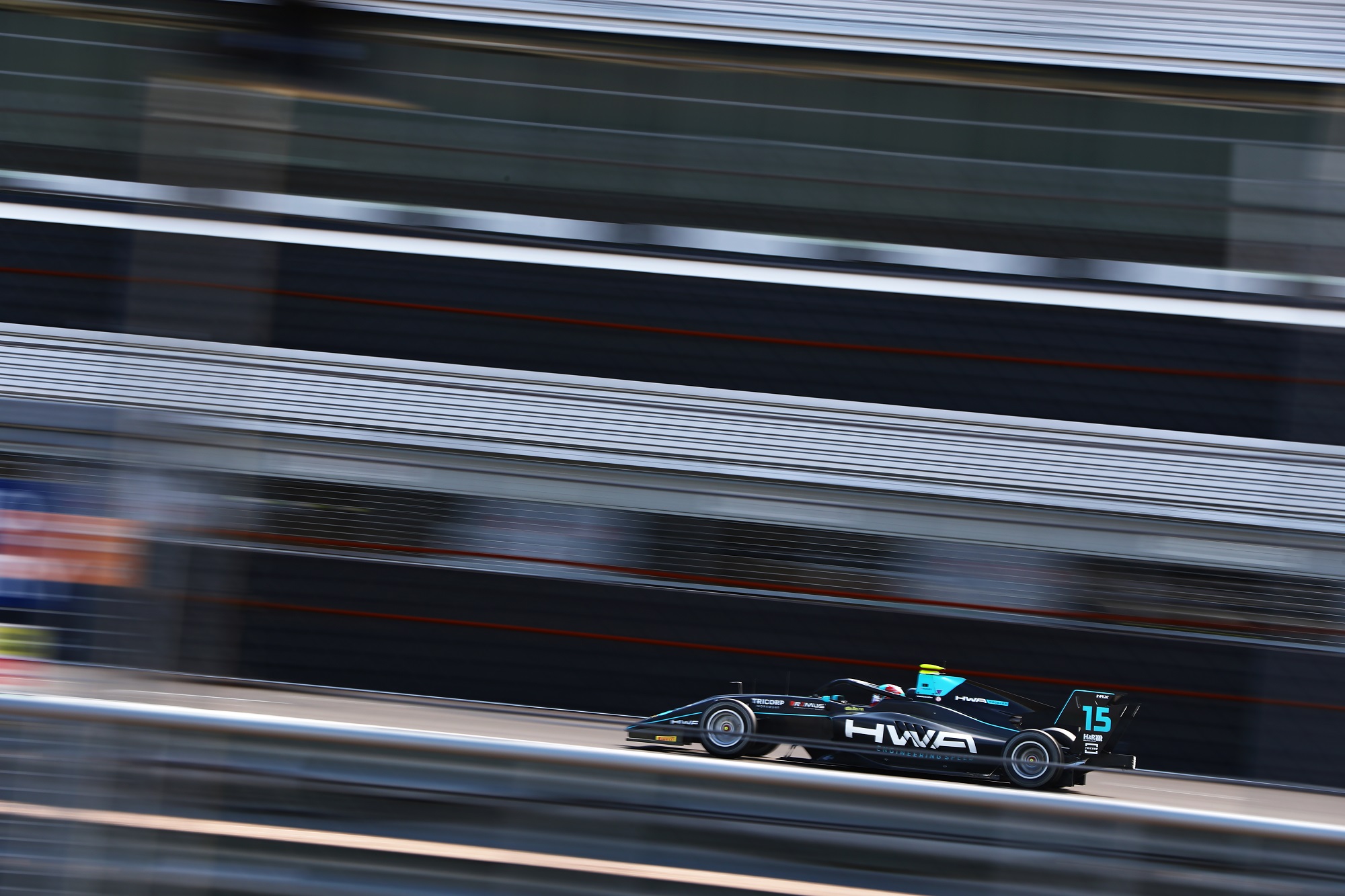 Lawson crossed the line in third, having held the position throughout a race-long battle with Frederik Vesti. Lawson appeared to struggle with his tyres all through the race and after the opening laps a train was already forming behind him including Vesti, Theo Pourchaire, David Beckmann and Bent Viscaal.
But despite Vesti's pace advantage, Lawson was able to successfully defend against the Dane's attempts at overtaking him. The time lost trying to pass Lawson then left Vesti vulnerable to Pourchaire behind, and on lap 9 the Frenchman tried a move through Vale. Pourchaire briefly got ahead into fourth, but Vesti was able to retake the place and Pourchaire ended up losing out to Beckmann as well.
After being told by his engineer to get after Lawson and commit to a move, Vesti set successive fastest laps and caught the Hitech again in the second half of the race. However, he was still unable to make a move stick and had to settle for fourth ahead of Beckmann.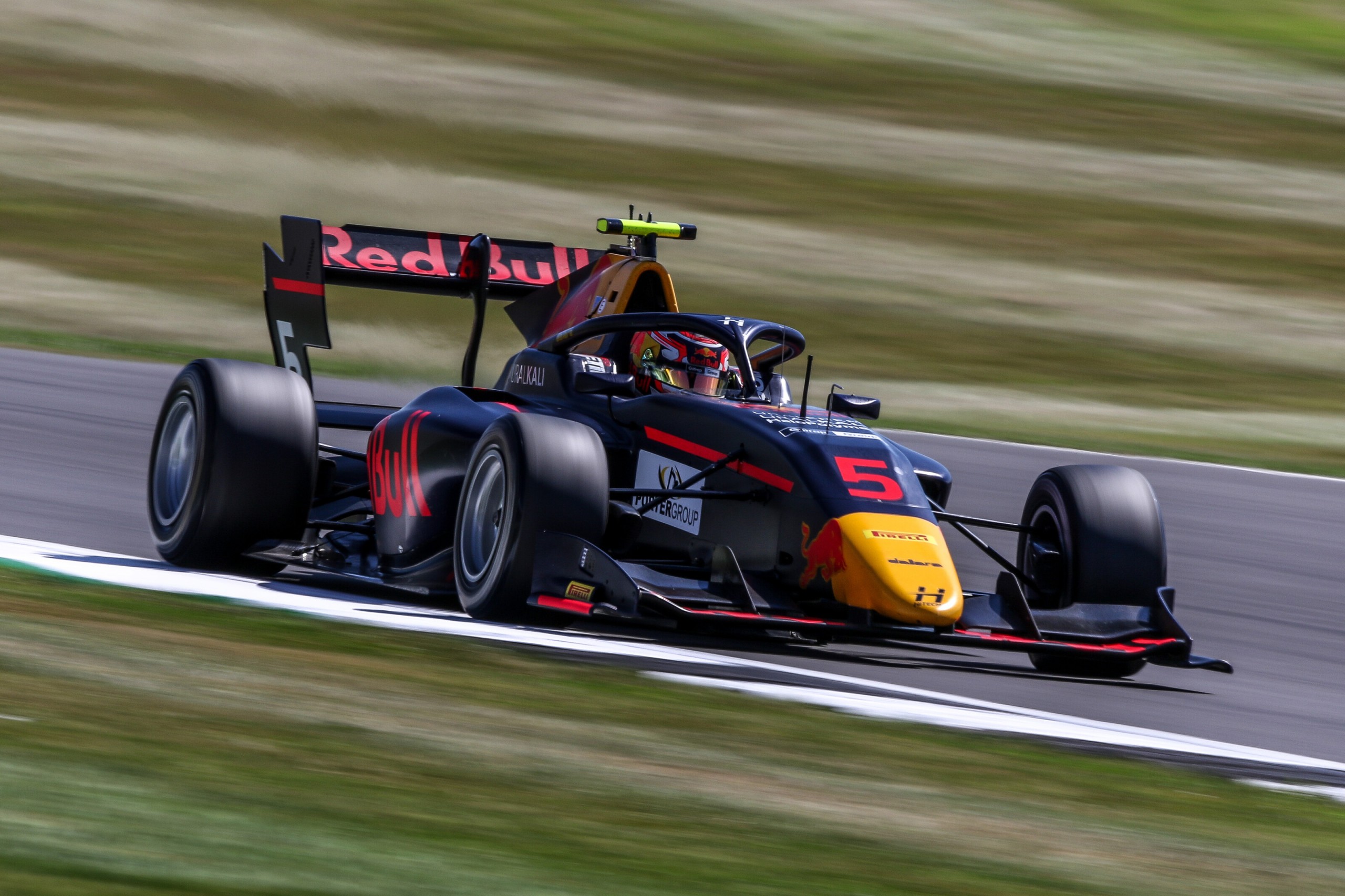 Pourchaire finished sixth in the end, just holding off Oscar Piastri through the final corners with help from yellow flags for a collision between Sebastian Fernandez and Matteo Nannini at the back of the field. Piastri managed to recover back into the points after trouble in qualifying yesterday, although he ran out of laps to make the most of a late-race turn of speed.
Viscaal finished in eighth place, with Clement Novalak ninth and Lirim Zendelli taking reverse grid pole for tomorrow in tenth. Lawson scored the additional two points for fastest lap.
Sargeant's victory and Piastri's finish in the lower half of the points means Sargeant now takes over the lead of the championship by six points from his teammate.
Update: Novalak received a post-race five-second penalty for running off track and gaining an advantage, dropping him out of the points to P13. Zendelli was promoted to P9 and Ben Barnicoat to P10 for his first point of the season and reverse grid pole. Nannini also received a grid penalty for tomorrow's sprint race for hitting Fernandez.
Full race result:
| | | | |
| --- | --- | --- | --- |
| Pos. | Driver | Team | Points |
| 1 | Logan Sargeant | Prema Racing | 25 |
| 2 | Jake Hughes | HWA Racelab | 18 |
| 3 | Liam Lawson (FL) | Hitech Grand Prix | 17 |
| 4 | Frederik Vesti | Prema Racing | 12 |
| 5 | David Beckmann | Trident | 10 |
| 6 | Theo Pourchaire | ART Grand Prix | 8 |
| 7 | Oscar Piastri | Prema Racing | 6 |
| 8 | Bent Viscaal | MP Motorsport | 4 |
| 9 | Lirim Zendelli | Trident | 2 |
| 10 | Ben Barnicoat | Carlin Buzz Racing | 1 |
| 11 | Cameron Das | Carlin Buzz Racing | |
| 12 | Aleksandr Smolyar | ART Grand Prix | |
| 13 | Clement Novalak | Carlin Buzz Racing | |
| 14 | Alex Peroni | Campos Racing | |
| 15 | David Schumacher | Charouz Racing System | |
| 16 | Max Fewtrell | Hitech Grand Prix | |
| 17 | Enzo Fittipaldi | HWA Racelab | |
| 18 | Igor Fraga | Charouz Racing System | |
| 19 | Richard Verschoor | MP Motorsport | |
| 20 | Sophia Floersch | Campos Racing | |
| 21 | Olli Caldwell | Trident | |
| 22 | Roman Stanek | Charouz Racing System | |
| 23 | Lukas Dunner | MP Motorsport | |
| 24 | Sebastian Fernandez | ART Grand Prix | |
| 25 | Alessio Deledda | Campos Racing | |
| 26 | Jack Doohan | HWA Racelab | |
| Ret. | Matteo Nannini | Jenzer Motorsport | |
| Ret. | Calan Williams | Jenzer Motorsport | |
| Ret. | Federico Malvestiti | Jenzer Motosport | |
| Ret. | Dennis Hauger | Hitech Grand Prix | |