Verstappen took a clean sweep in Austria with Leclerc in P2 and Perez making a great recovery drive to finish on the podium. But, late penalties meant the on-track finishing positions changed hours after the race. 
Less than 24 hours after an entertaining Sprint, F1 fans settled down to watch the Grand Prix with the grid set from Friday's qualifying session. Unlike Sprint Saturday, Sunday's race was set to be dry with the Ferrari's able to launch a double attack on Verstappen ahead, if they could catch him.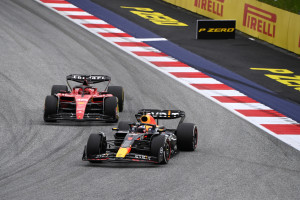 Lights out and Verstappen got a clean start with the Ferrari's following behind. Both Mercedes had a better launch than Norris in front, and Hamilton went around the outside of the McLaren while a small tangle with Stroll behind meant Norris was compromised and had to give the place up to Hamilton.
Further back in the pack many were trying to get three wide through turn 1 which didn't end well for Tsunoda who picked up front wing damage. Having lost downforce he locked up into turn 4 but was able to make it back to the pits for a quick front wing change. However, a safety car was deployed at the end of lap 2 to recover the debris from the Alpha Tauri.
On the restart everyone got away cleanly with very few dramas. The Alpha Tauri's were getting very close together while Magnussen tried to go around the outside of turn 4 but managed to get back on track. Perez also gained a position on Ocon.
Just nine laps in and this is where the track limits debacle began. Norris was reporting Hamilton using every inch possible and slightly more on each lap. This was due to a brake issue Hamilton was managing meaning he couldn't slow the car properly, however he did manage to pick up a black and white flag by lap 13.
While this was happening, Hamilton's teammate, Russell, was under pressure from Perez. It took a few laps of great defending from the Mercedes but he made a mistake into turn 3 and went wide, leaving the door open for the Mexican driver to take advantage of DRS and make his move which eventually stuck by turn 4.
One lap later, a very slow Haas pulled to the side of the track. Hulkenburg lost power and had to retire the car. A Virtual Safety Car was deployed as they pulled the stricken vehicle to the escape road. However, it only took them two laps, and by lap 16 the green flag was shown.
Confusion now rained over the grid with main making pitstops as this was the first stop window of the day. However, Ferrari and Aston Martin missed the initial VSC call so came in just as the green flag was shown. To make matters worse for Ferrari, their double stack didn't work, Leclerc's stop was slow which compromised Sainz who came out in P6, losing 3 places.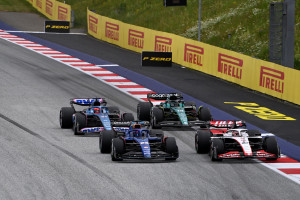 Through the now interesting developments in the race, Tsunoda was the second driver to pick up a penalty for track limits. Meanwhile Ocon, Albon, Magnussen, Stoll and Gasly had an intense battle on lap 20. It was hard to keep up with everything going on.
Despite most coming in for a change of tyres during the VSC, Verstappen chose to stay out and not come in until lap 25. He came out having lost two places behind the Ferrari's now in P1 and P2. There was finally action for the lead however, this was not to last very long because within five laps Verstappen was back out in front.
As the race began to settle again Norris in his upgraded McLaren was pressuring Hamilton at every turn. On lap 28 he made a great move around the outside of turn 4 to make it into P4. Some great racing between the brits.
Sainz then became the third victim of the time penatlies fro track limits while Ocon was given one for an unsafe release during the stops. At this point four drivers had penalties but this was not the end.
Gasly was added to the list on lap 38 with De Vries picking up a penalty for pushing Magnussen out wide around turns 5 and 6. While it may seem like there were a lot of penalties, at this point nearly half the grid had been shown the black and white flag, so some penalties were taking longer than normal to be given.
To make matters worse for Tsunoda he was given a 10 second time penalty for not serving his original penalty correctly. This was added to his time at the end of the race. 
The action on track never stopped. Perez was making his way through the pack and came up against Sainz in P4 on lap 59. This led to a three-lap long battle between the drivers as Sainz attempted to hold off the faster car behind. After some great racing however, Perez learned to hang back slightly into turn 3 and gain DRS towards turn 4, eventually making the move stick.
Perez finally overtakes Sainz.
Sargent and Magnussen picked up time penalties for track limits while Verstappen picked up his 7th Grand Prix win of the year. However, the race was not over yet.
Aston Martin lodge a protest of the results which was accepted and reviewed. The complaint was regarding the track limits violations which seemingly hadn't all been through the stewards so more penalties were yet to be dished out.
In total 83 lap times were deleted, resulting in the following penalties:
Sainz – 10 seconds, Hamilton – 10 seconds, Gasly – 10 seconds, Albon – 10 seconds, Ocon – 30 seconds, Sargent – 10 seconds, De Vries – 15 seconds, Tsunoda – 5 seconds.
It is fair to say the track limits issue tainted the race with results being decided hours after the chequered flag dropped. This will be a talking point at least for the next week as we head to the British Grand Prix next where track limits are not considered as much of an issue.