The opening race of the 2023 F1 season was dominated by the RedBull team and the defending world champion Max Verstappen. His teammate Sergio Perez and the resurgent Fernando Alonso in the Aston Martin followed him home.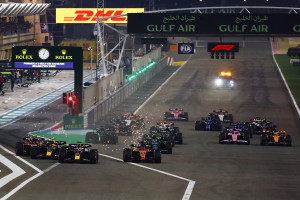 From the start Verstappen led away Charles Leclerc in the Ferrari, into turn 4 the Aston Martins came together but avoided damage after Stroll out-braked himself and clipped Alonso. This incident let the Mercedes drivers through to settle into P5 and 6.
Once the field had settled down Alonso started to close on Russell in the Mercedes, by lap 13 he had closed it completely and had a great battle with the British driver and eventually came out on top.
Further behind the McLarens weren't having the greatest start to the season, Piastri retiring on lap 15 and Norris having issues meaning he had to pit numerous times and leaving him at the back of the field.
By lap 20 the first stops were completed and the field settled down. During the stops Ocon served a time penalty for a start-line procedure breach, unfortunately, he then gained another penalty for not serving the penalty correctly.
Verstappen was now leading by over 10 seconds but carrying on with soft tyres whereas every other team had moved to the hard compound.
Perez was now catching Leclerc and by lap 26 he was ahead of the Ferrari and moving to P2. Sainz in the second Ferrari was 4th but had fallen further behind and didn't seem in the fight all weekend.
Mercedes tried to pit early to try and keep Alonso at bay but once the stops were over Alonso quickly caught Hamilton and after a great 2-lap battle the Spaniard pulled ahead and started to pull away in search of Sainz in the Ferrari.
Ferraris reliability issues then struck again with Leclerc stopping on track causing a brief VSC.
Once that was cleared Alonso set after Sainz and overtook him shortly after to move up to P3 and into the podium positions.
After 57 laps Max Verstappen crossed the line to take win 36 of his career, Perez second ahead of Alonso completing the podium. Behind them came Sainz, Hamilton, an impressive Stroll racing with two fractured wrists and a broken toe finished sixth.
Seventh was Russell in the second Mercedes, then Bottas, Gasly and Albon an impressive tenth in the Williams.
Eleventh was Tsunoda ahead of Sergeant, Magnussen, De Vries and Hulkenberg. The last two finishers were Zhou and Norris.
The only retirees were Ocon, Leclerc and Piastri.
After such a dominant performance RedBull will be confident they can once again dominate the season but with Aston Martin making big gains and Mercedes planning a big upgrade already, we will have to wait and see how the season progresses.
Round 2 is in Saudi Arabia in 2 weeks, Can they start to catch up already, we will have the answers in 14 days' time.