Mandalika always seems to throw plenty of drama, and talking points into the mix, and Sunday was no exception, with drama from start to finish.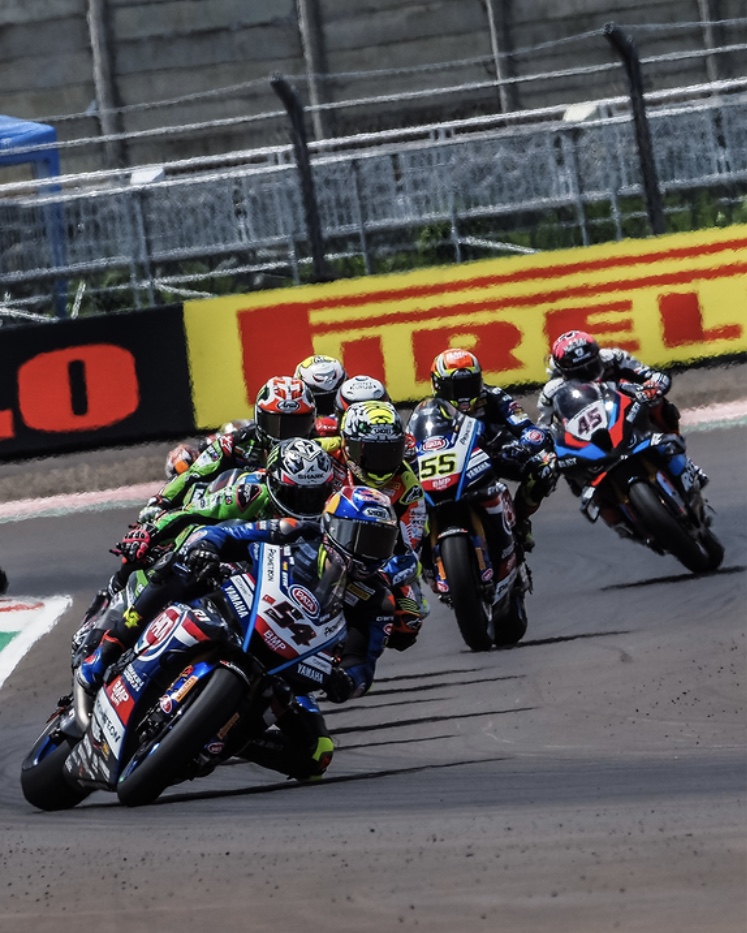 The earlier Superpole race was full of incidents, and it was Toprak Razgatlioglu (Pata Yamaha Prometeon WorldSBK Team) who was able to avoid them all and secure the win, followed by fellow team mate Andrea Locatelli in 2nd, with Alex Lowes (Kawasaki Racing Team WorldSBK) in 3rd rounding out the podium. Championship leader Alvaro Bautista crashed out for his 1st DNF of the season.
Before the start of race 2, Loris Baz (Bonovo Action BMW) was declared unfit to start, due to suffering a fractured leg in contact with Lowes in the superpole race. Remi Gardener (GYTR GRT Yamaha WorldSBK Team) however was able to start after his illness.
Lights out then for race 2, and it was Toprak with the hole shot into turn 1, followed by Yamaha team mate Locatelli in 2nd, Rea (Kawasaki Racing Team WorldSBK) 3rd, Bassani (Motocorsa Racing Ducati) 4th, Lowes 5th and Vierge (Honda HRC) 6th. Lowes made a move on Bassani briefly taking 4th, before the Italian was able to snap back to retake the position. Bautista was down in 8th.
On lap 19 of the 21, Bassani who had an incredible start and was looking very aggressive, was now in 2nd, and blasted past Locatelli to take the lead. Toprak however had been mugged, and now found himself down in 5th. Rinaldi (Aruba.it Racing Ducati) also had a great start and was moving through the field. Positions were as follows: 1. Bassani 2. Rinaldi 3. Rea 4. Lowes 5. Toprak 6. Vierge 7. Locatelli 8. Bautista 9. Redding (Rokit BMW Motorrad WorldSBK Team) 10. Aegerter (GYTR GRT Yamaha WorldSBK Team).
Next lap and Rinaldi continued his forward advance, and now got through on Bassani to take over the lead for the first time. Lowes also went through on Rea into 3rd.
With 17 laps remaining Bautista was now up to 7th, after getting through on Locatelli who was in 8th. Toprak dived under Rea into turn 10 to take 4th. Meanwhile Bassani was instructed to drop 1 position for dangerous riding.
Next lap and it was Rinaldi with the new fastest lap time a 1:33.0, and he held a gap of 0.8s to Bassani. Bassani then eased off the throttle to allow Lowes through, however Toprak snapped up the chance also coming through. Bassani lost 2 places and was in 4th.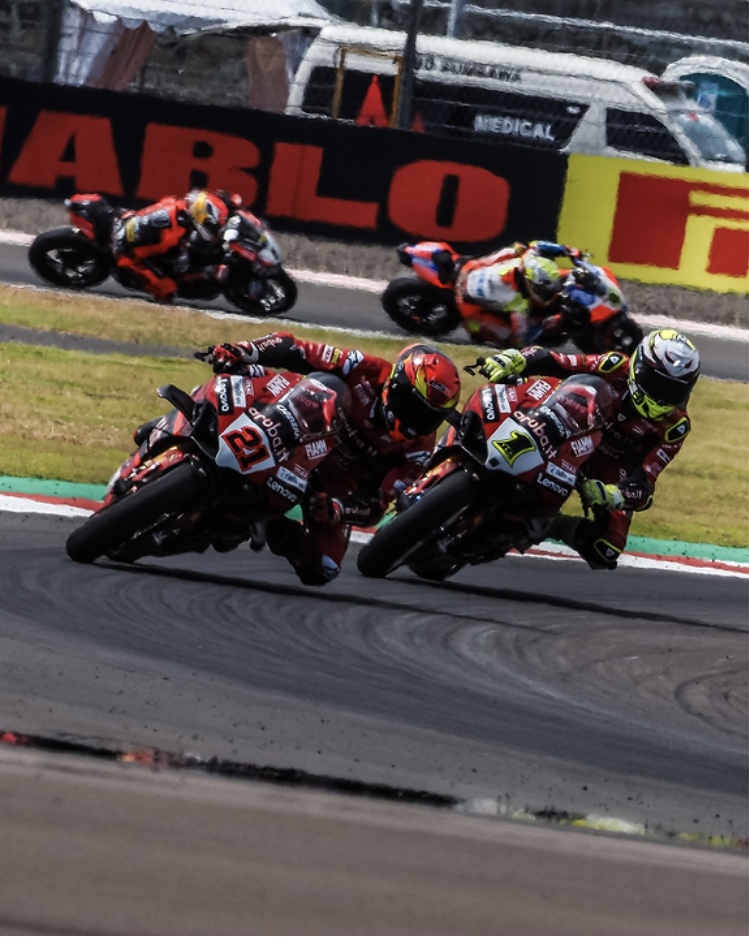 With 15 laps of 21 remaining Rinaldi was looking at ease in front, and set another fastest lap this time a 1:32.668. Meanwhile further back however, it was utter carnage, with firstly Lowes running off track, then both Rokit BMW's crashed, and Oettl (GoEleven Racing Ducati). The German collided into the back of Vd Mark, sending the Dutchman high siding with a nasty crash, both were out, then Redding lost his BMW into a corner and he was down. It was absolute mayhem! Meanwhile Bautista had got through on Rea, and was up to 4th.
Then with 14 laps left, and unsurprisingly, the race was red flagged. The new race distance after the restart would be 14 laps with Rinaldi in pole position, Toprak 2nd, Vierge 3rd, Bautista 4th, and Rea 5th. Both Lowes and Redding were able to restart.
Lights out for the 2nd time in the race, and Rinaldi got the hole shot into turn 1, followed by Toprak 2nd, Bautista 3rd, Vierge 4th, Rea 5th, Bassani 6th, Locatelli 7th, Redding 10th, and Lowes 14th.
With 12 laps left, it was the other Ducati setting the fastest lap, this time it was Bautista with a 1:32.5, and he was all over the back of Toprak looking for the pass. Rinaldi held a gap of 0.8s out in front.
Next lap and not to be outdone by his team mate, it was Rinaldi with the fastest lap a 1:32.3, and was pulling away from Toprak behind, the gap now at 1.3s. Bautista then made his move on Toprak with a super move into turn 15, slicing under the Yamaha R1 to take 2nd. Bassani then got through on Rea into turn 1 to take 5th, Rea now in 6th.
Just over half race distance, and positions were as follows: 1. Rinaldi 2. Bautista 3. Toprak 4. Vierge 5. Bassani 6. Rea 7. Locatelli 8. Petrucci (Barni Spark Racing Ducati)9. Lecuona (Honda HRC) 10. Gardner.
With 8 laps to go, Rinaldi held a gap of 1.1s to Bautista. Bautista in turn held a gap of 1.2s to Toprak behind in 3rd.
Next lap and Rea cut under Bassani into the penultimate corner to take back 5th. Then drama for the 6 times world champion a few corners later, as he lost the front end into the high speed turn 7, sliding out, and his race was over. Another disappointing race for Kawasaki, as Lowes was down in 14th and not looking comfortable.
With only 5 laps remaining positions were as follows: 1. Rinaldi 2. Bautista 3. Toprak 4. Vierge 5. Locatelli 6. Bassani 7. Petrucci 8. Lecuona 9. Gardner 10. Redding.
Last 3 laps and Bautista had now caught his team mate, looking like he had a lot more tyre grip than Rinaldi. Toprak was still in 3rd, but out of contact for the race win.
Next lap and Bautista took Rinaldi into turn 10, and was looking good for the win.
Last lap and Rinaldi had lost his race rhythm, he overshot turn 10 going wide and lost places. However his team mate would make no mistake, and crossed the line to make it 5 wins out of 6 races this season. Toprak 2nd, Vierge 3rd, Rinaldi 4th, Locatelli 5th, Petrucci 6th, Gardner 7th, Bassani 8th, Lecuona 9th, Redding 10th.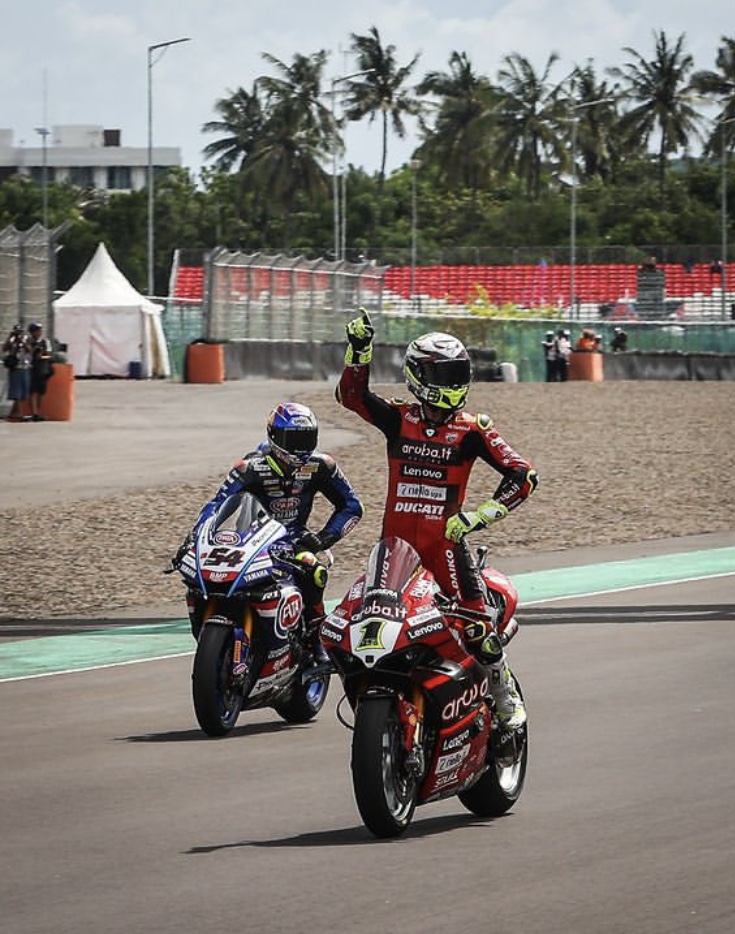 Result top 5:
Bautista (Aruba.it Racing Ducati)
Razgatlioglu (Pata Yamaha Prometeon WorldSBK Team)
Vierge (Honda HRC)
Rinaldi (Aruba.it Racing Ducati)
Locatelli (Pata Yamaha Prometeon WorldSBK Team)
Championship top 3:
Bautista – 112 pts
Razgatlioglu – 75
Locatelli – 70