Clement Novalak ended the second day of Formula 3 testing in Barcelona on top of the timesheets, with Trident teammate Jack Doohan in second.
Novalak was on the pace throughout the morning session. Hitech's Igor Fraga set the initial pace with a 1:33.033s, but this was swiftly beaten by Novalak. The Trident driver was briefly deposed by Matteo Nannini, driving from ART after topping yesterday's test with Campos, but by the end of the session Novalak was back on top with a benchmark of 1:31.989s.
Nannini stayed in second until late in the session, when Doohan put in a 1:32.147s to drop Nannini to third ahead of Fraga. Doohan also recorded the most laps of the day with 91.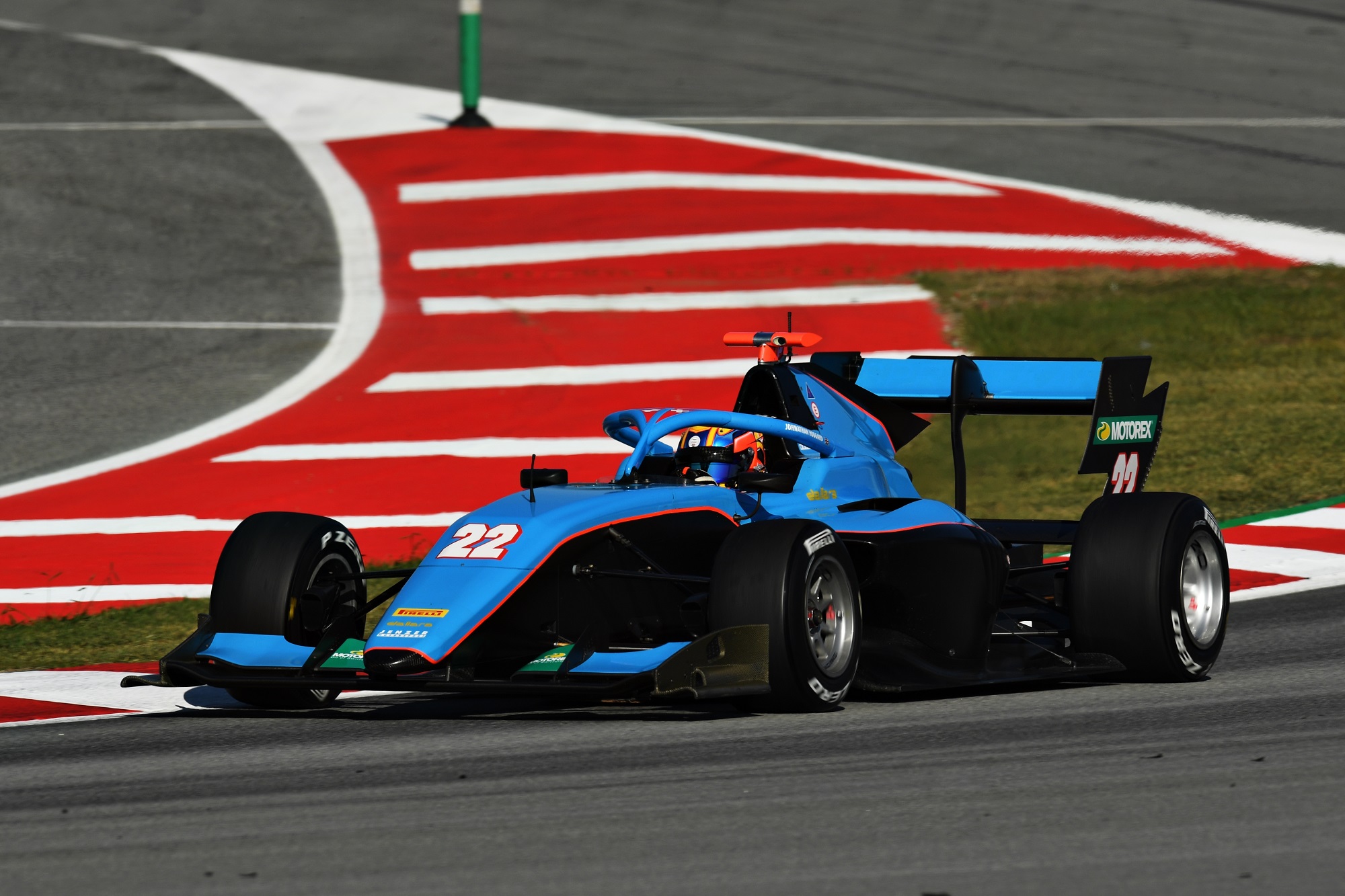 Jenzer rookie Jonathan Hoggard impressed by ending the day fifth-fastest ahead of ART's Olli Caldwell, and then topping the afternoon session which focused on race simulations.
Renault junior Victor Martins made it all three ARTs in the top seven, while Dennis Hauger (Prema), Calan Williams (Jenzer) and David Schumacher (Trident) rounded out the top ten.
Hauger was the only Prema driver in the top ten in the morning session, with Roman Stanek P17 and Arthur Leclerc P22. However, the reigning champions had a much stronger afternoon with Stanek and Hauger second and third behind Hoggard, and Leclerc fifth behind Fraga.
Overall classification:
| | | | | |
| --- | --- | --- | --- | --- |
| Pos. | Driver | Team | Time (best) | Laps (total) |
| 1 | Clement Novalak | Trident | 1:31.989 | 80 |
| 2 | Jack Doohan | Trident | 1:32.147 | 73 |
| 3 | Matteo Nannini | ART Grand Prix | 1:32.252 | 91 |
| 4 | Igor Fraga | Hitech Grand Prix | 1:32.290 | 86 |
| 5 | Jonathan Hoggard (R) | Jenzer Motorsport | 1:32.328 | 73 |
| 6 | Olli Caldwell | ART Grand Prix | 1:32.332 | 77 |
| 7 | Victor Martins (R) | ART Grand Prix | 1:32.457 | 85 |
| 8 | Dennis Hauger | Prema Racing | 1:32.472 | 67 |
| 9 | Calan Williams | Jenzer Motorsport | 1:32.478 | 61 |
| 10 | David Schumacher | Trident | 1:32.549 | 81 |
| 11 | Enzo Fittipaldi | HWA Racelab | 1:32.575 | 84 |
| 12 | Ben Barnicoat | Carlin Buzz Racing | 1:32.596 | 71 |
| 13 | Jak Crawford (R) | Hitech Grand Prix | 1:32.599 | 77 |
| 14 | Caio Collet (R) | MP Motorsport | 1:32.665 | 85 |
| 15 | Pierre-Louis Chovet | Hitech Grand Prix | 1:32.784 | 85 |
| 16 | Jonny Edgar (R) | MP Motorsport | 1:32.878 | 78 |
| 17 | Roman Stanek | Prema Racing | 1:32.930 | 69 |
| 18 | Michael Belov | Charouz Racing System | 1:33.056 | 65 |
| 19 | William Alatalo (R) | Campos Racing | 1:33.079 | 79 |
| 20 | Amaury Cordeel (R) | MP Motorsport | 1:33.087 | 77 |
| 21 | Sophia Floersch | Carlin Buzz Racing | 1:33.092 | 71 |
| 22 | Arthur Leclerc (R) | Prema Racing | 1:33.169 | 71 |
| 23 | Patrik Pasma (R) | Charouz Racing System | 1:33.219 | 77 |
| 24 | Ido Cohen (R) | Carlin Buzz Racing | 1:33.240 | 68 |
| 25 | Alessandro Famularo (R) | Campos | 1:33.251 | 65 |
| 26 | Oliver Rasmussen (R) | HWA Racelab | 1:33.339 | 68 |
| 27 | Filip Ugran (R) | Jenzer Motorsport | 1:33.837 | 57 |
| 28 | Rafael Villagomez (R) | Campos Racing | 1:33.840 | 79 |
| 29 | Tijmen van der Helme (R) | HWA Racelab | 1:33.947 | 77 |
| 30 | Josef Knopp (R) | Charouz Racing System | 1:34.604 | 78 |