Following Valtteri Bottas' much needed win at the Russian Grand Prix, Formula 1 heads to the Nurburgring, set to stage the ever anticipated 2020 Eifel Grand Prix.
LOOKING BACK
The German Grand Prix has played host to F1 under a variety of names which include the Luxembourg and European Grand Prix. This year the race was named after the towering Eifel mountain range that straddles the famous circuit and stretches between Rhineland-Palatinate and North Rhine-Westphalia and three nations in Belgium, Luxembourg, and Germany.
The Eifel played host to the German GP up until 1976 on the longer Nordschleife configuration. The demanding 23-kilometre-long track was abandoned after the horrific crash involving Niki Lauda on the 1st August 1976 when his Ferrari 312 T2 clipped the earthy bank at Bergwerk corner, collided with the wall and burst into flames.  Lauda narrowly escaped the inferno with his life after quick and decisive actions by fellow drivers: Guy Edwards, Harald Ertl, Brett Lunger and Arturo Merzario who pulled him from the wreckage.
The most recent iteration of the race came in 2013, won by Sebastien Vettel in the Red Bull, a race where Romain Grosjean nearly claimed his first win in Formula One until an unfortunate safety car meant he had to settle for 3rd. No hard feelings Romain?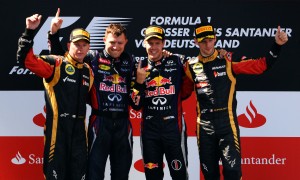 THE TRACK
The Nurburgring is a fast and flowing circuit.  The 15 corners and 5.5 kilometres of tarmac is expected to test the drivers and cars to their very limits. Expect plenty of overtaking into the heavy braking zones of Turn 1 and Turn 13, both preceded by long DRS Zones. The first sector of the lap provides a significant challenge due to its twisty nature while many liken the final right-hand corner as 'Hungaroring-esque'.
Interestingly, this will be the first time seeing this current generation of V6 turbo hybrid, high downforce cars at this circuit. The big stops and sensitive traction zones will be great fun for the current crop that now have significantly swifter power delivery than their predecessors.
Expect wind, cold track temperatures and low levels of grip to play a factor. We have seen certain manufacturers such as McLaren make no secret that they have a sensitivity to wind, while getting heat into the harder compound tyres may prove tricky.
While not as technically demanding as the Hungaroring, cars with quick cornering speeds will be rewarded in sector two and three.
WHAT TO LOOK OUT FOR
Given that F1 has not visited the circuit in years, determining a winner would be difficult in any other circumstance. However, the W11 has looked strong at most circuits this year and would be expected to continue their dominance here this weekend.  Lewis Hamilton can make history by matching Michael Schumacher's all time win record of 91 victories in Formula One to cement his legacy as one of the sport's most successful drivers.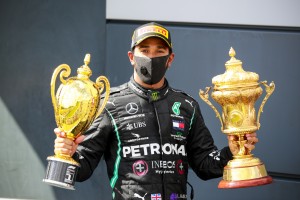 Further down the order, the fight for third in the constructors will be as tight and enthralling as we have seen all season. McLaren and Racing Point head into the weekend separated by two points while Renault are hot on their heels a further five points behind.
T​he Eifel Grand Prix will also be a historic one for a couple of young drivers currently in Formula 2. Championship leader Mick Schumacher will be rewarded an FP1 outing in the Alfa Romeo for his successes this season, including two victories and a plethora of podiums. It marks the first time a Schumacher will set foot in a Formula 1 car since his father Michael's retirement in 2012. The Ferrari junior academy driver is touted for a full-time seat in 2021 allegedly alongside Kimi Raikkonen and will be looking to impress.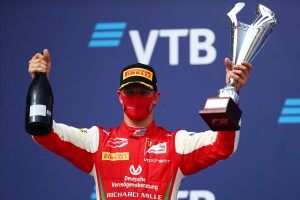 Additionally, championship hopeful Callum Illot will also be given an FP1 outing with Haas after rarely featuring outside the top two in the championship for most of the season. With Romain Grosjean and Kevin Magnussen's future in doubt, there is a big possibility that he could also be handed a full-time drive next year and will be one to watch closely.
Of course, following the news of Honda's withdrawal from Formula One in 2022, expect media coverage to follow this news with fervent interest. Speculation is already happening as to what Red Bull's options are in terms of their future engine supplier. Do they return to Renault? Will they build their own? Will this hamper their 2022 car development? And will this prompt the beginning of the end of the Red Bull – Verstappen love story?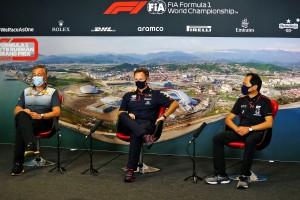 Lastly, if weather forecasts are anything to go by in Formula One this year, disregard them entirely. However, rain could play a big part in this weekend with the Eifel Mountains particularly prone to cold and changeable conditions during this time of year. The weather forecast indicates there is strong possibility of rain across the entirety of the weekend which could shake qualifying up magnificently.
With all this in mind the Eifel Grand Prix should be a brilliant event. Make sure not to miss the race which is scheduled for 2:10pm local time, an hour earlier than usual. Set your reminders!
And as ever, ThePitCrewOnline will be here to keep you informed, entertained and up-to-date on all things Formula One throughout the weekend.