Benvenuti a Monza! We're here and we've settled in for two weeks of exciting racing in Italy, but should we have come? Mercedes, Red Bull and Ferrari might like to weigh in on that one.
The Italian Grand Prix was the first weekend where the teams were no longer permitted to use their 'party-mode' engine modes, typically used in qualifying by certain teams to boost their chances of a better lap time.
At the start of the race it was a tale of two halves for the two Mercedes drivers, as Hamilton got yet another great start off the line, gliding into first place unchallenged as Bottas got swallowed up by the pack. McLaren had an excellent start with Sainz quickly taking 2nd position, and his team-mate Lando Norris overtaking a struggling Bottas going through the first and second Lesmos, which is testament to McLaren's progress in recent years.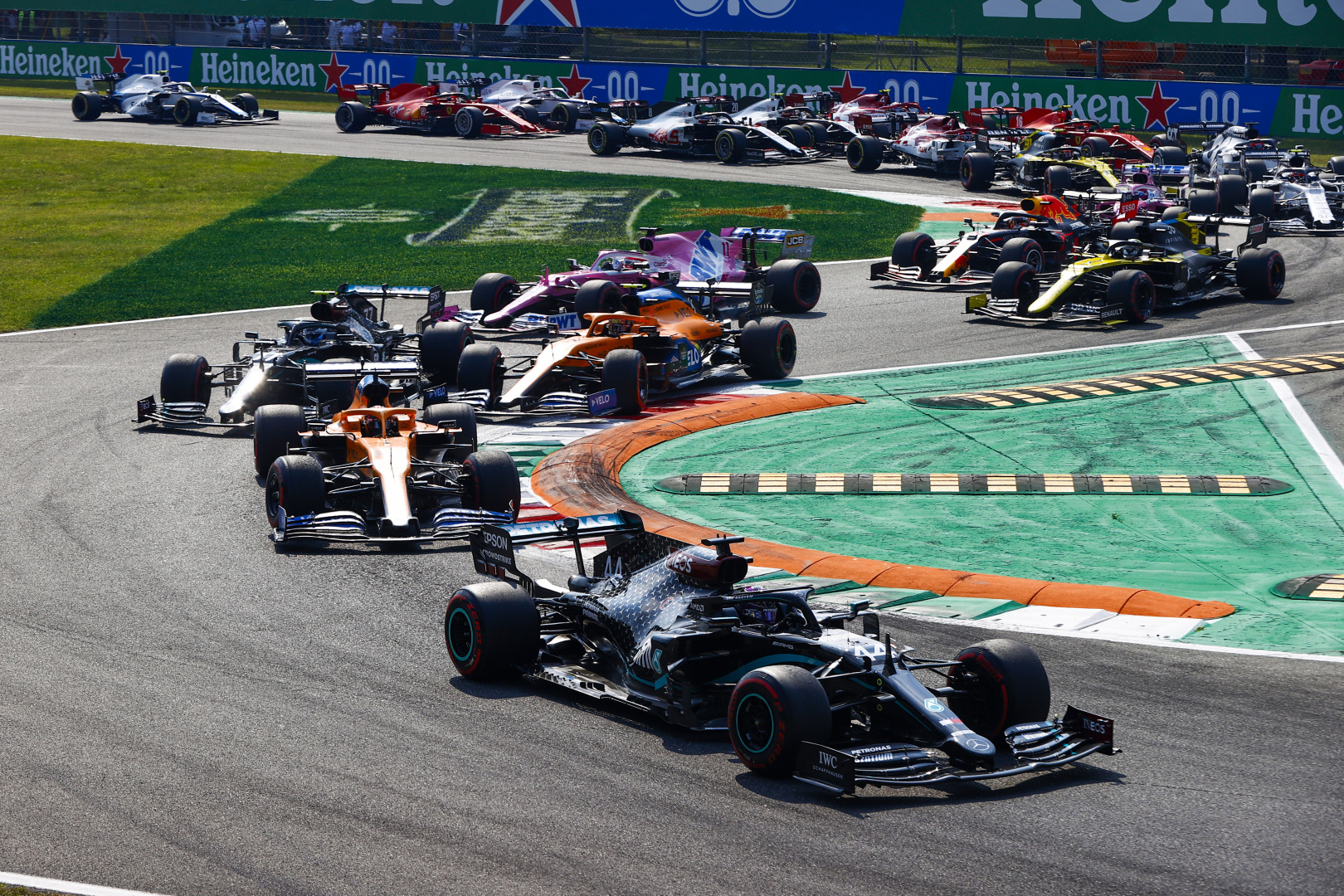 Bottas was quickly overtaken by Daniel Ricciardo, putting the Renault driver into 5th, and pushing Bottas down to 6th. Bottas was quick to report a possible puncture but chose not to pit. Bottas' race engineer, Ricciardo Musconi, confirmed there were no issues with his tyres, but Bottas still looked to be struggling as he was overtaken by the Red Bull of Max Verstappen through the Parabolica.
It was a sorry start for the home favourites Ferrari, who qualified in 13th and 17th. Just when they thought it couldn't get any worse, Sebastian Vettel reported brake failure on lap four, smashing through the foam barriers at the end of the pit straight and limping his way back to the pits, where the car was retired for the second time this season.
Ferrari's hopes were then pinned on Leclerc, who didn't appear to be having the same issue but didn't really seem to be having a much better race. Hope was quickly abandoned after a a shocking crash going into the Parabolica, where the Ferrari ploughed into the tyre wall, bringing out the safety car for the second time and red flagging the session. Leclerc's crash athough dramatic, proved exactly how valuable the halo truly was, as he was able to get out of the car and run from the scene unscathed. All this in the same weekend that Netflix were spending time with Ferrari.
Shortly before the crash, Hamilton had made a quick decision to pit after the safety car came out for Kevin Magnussen, who was forced to stop on track just before the pit entrance with a suspected power unit issue.
Mercedes took what they thought was a risk-free pit-stop, with Alfa Romeo's Giovinazzi following suit shortly after. It wasn't long until the race was stopped due to Leclerc's incident, and both Hamilton and Giovinazzi were placed under investigation for entering the pits after it had been closed due to Magnussen's stoppage.
This visibly rattled Mercedes, who were looking pretty comfortable. Hamilton took it upon himself to grab his scooter and make his way to Race Control during the red flag in an attempt to justify his actions, arguing on the radio that "there was no light" going into the pit lane.
This didn't save him nor Giovinazzi, who were both given a 10-second stop and go penalty, serving F1 fans with the biggest game-changer in the hybrid era.
Hamilton was noticeably annoyed by this decision and was talking about building up a lead once again before taking his penalty. He was dissuaded from doing this by his race engineers, who had decided to 'take the hit' on this occasion.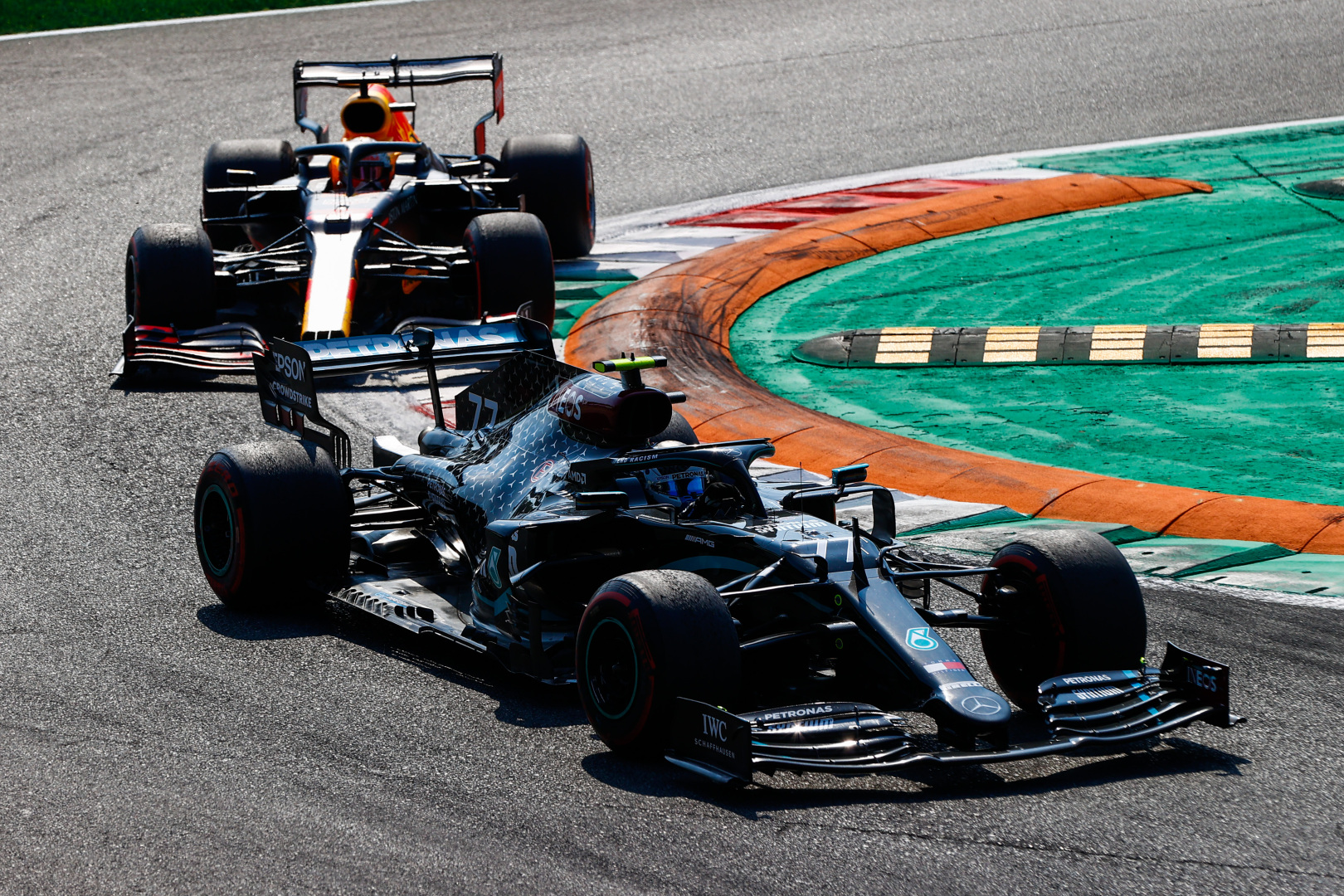 Mercedes' loss meant some considerable gains to the likes of Alpha Tauri, Racing Point, Alfa Romeo and McLaren.
The red flag wasn't in place for too long and on lap 27 we were back on track heading for a dramatic restart.
Gasly was lightning fast on the restart, overtaking Stroll to take what was essentially first place, as Hamilton made his way around and back into the pits to serve his penalty. He re-joined the race 23 seconds behind the rest of the pack, meaning he would have to have had the drive of his life to get back to a podium finish.
Though it looked like a good opportunity for the Racing Point, Stroll seemed to have issues with the brakes, causing him to run off on the Della Roggia chicane and giving away two positions and putting him down into 5th. This was quickly taken from him by Sainz who had his eyes firmly set on the prize.
The same ambition and determination weren't felt in either of the Red Bull cars, who have struggled more than usual. Albon was the first to have issues, running wide on lap one after being squeezed by Stroll and Gasly down the main straight, and causing damage to the Haas of Romain Grosjean. Albon was given a 5-second penalty for the damage he caused.
As usual, there was greater expectation of success with Verstappen, who was making some respectable overtakes, and scrapping with Bottas for 6th/7th position. Unfortunately, this was short lived as he was forced to retire the car on lap 31 due to a power unit issue.
Come lap 34, Sainz was chasing Gasly for the win after he and Raikkonen gave fans an absolute masterclass in overtaking through Turn 1.
Stroll bounced back from his earlier brake issue and overtook Raikkonen the following lap, moving him into third place.
Sainz continued to chase Gasly right down to the final lap of the race. Gasly just managed to stay ahead and out of DRS range of the determined McLaren driver and took his first ever F1 win, something absolutely none of us expected would happen going into this race weekend.
After being essentially demoted from Red Bull in the middle of 2019, this win is exactly the boost Gasly and the wider Alpha Tauri team needed. You'd have to be a hard individual not to feel some emotion watching him sit on the podium, sipping champagne in sheer disbelief. It's only a shame the Tifosi weren't there to make his win even more special.
We cannot end this race review however, without giving a special mention to Williams, who had its final race with their de-facto team principal, Claire Williams. It followed the announcement last Thursday that the family had decided to step away from Formula 1 after 43 years. It's a real shame for us to see both she and the family say goodbye to the F1 family.
We owe Williams so much after having been an enormous part in F1's development, bringing iconic moments for us all to appreciate and look back on with fondness. Though they will continue to race under the same name, something tells me it just won't quite be the same anymore, so thank you Frank, thank you Claire, and thank you Williams for the great memories. We hope to see you back on top soon.