It all started with shakedown on Friday morning. Ott Tänak was quickest, ahead of Seb, Esapekka and Kalle. Elfyn was sixth. The pace of the young Estonia world champion on home soil was clear to see. Every time he went out, he got faster and faster.
Then it was back to the service park, and time to get the cars ready for the first stage of the event. Normally the service park is full of fans, but of course, they were not there. Covid still having its impact on things.
Stage one then, a short 1.28 km blast in Tartu, and it was a win for Esapekka Lappi, with Seb Ogier matching the young Finn, and Ott Tanak just one tenth back in third. Elfyn Evans was six tenths back in fifth place.
The top three had this to say ;
Esapekka Lappi 1st
"It didn't feel that good to be honest," explained the Finn. "This is not what the stages will be tomorrow but we had a good shakedown and a good opening stage, so I'm looking forward."
Seb Ogier 2nd
"It's good to be back and fighting. Everything is ready, the car feels good and we've had good preparations, so let's go for it."
Ott Tänak 3rd
"It's special. It will be a tough few days, the competition will be tight but it's definitely our opportunity so we need to make the best of it," he said.
Saturday
This would see the first full day of action, with five stages covering 147.19 km's just south of Tartu.
Kalle Rovenpera blasted through SS2 Prangli 1 – 20.93 km in a time of 9 minutes, 52 seconds, with Craig Breen just 1.3 seconds behind. Overnight leaders Seb and Esapekka were 6th and 7th fastest respectively, and fell to 5th and 7th on the overall leader board.  Elfyn went well, setting the third fastest time, and moved into 3rd place overall.
Into SS3 Kanepi 1 – 16.88 km, and it was Ott Tänak who took his opportunity to hit the front, setting a time of 8 minutes 16 seconds, 5.6 faster that Craig Breen, and the Estonian jumped three positions, and into the lead! Kalle, who was leading into this had dropped 28.9 seconds in the stage. He'd suffered a puncture on the right rear of his Yaris, and was now in eight overall. Still holding second and third were Craig and Elfyn.
Next up was SS4 Otepää 1 – 9.30 km. Ott was now in his element, winning this stage, but only by one tenth of a second from Craig, and Thierry getting into the groove too, giving Hyundai a 1-2-3 not only in the stage, but overall, too. The Belgians pace pushed Elfyn down to fourth overall, now 12 seconds off the lead.
Seb was quick in SS5 Mäeküla 1 – 14.76 km, setting a time of 7 minutes and 46.2 seconds in the stage, with Kalle 6 tenths off in second. Ott was third, staying in the lead, now 6.4 ahead of Craig who was having a fantastic morning. Seb's pace in the stage moved him up one place overall to fourth at the expense of Elfyn. After his puncture earlier, Kalle was also on the move, now into seventh.
Thierry took his first stage win of the rally in SS6 Elva 1 – 11.72 km, just 7 tenths of a second faster than Kalle and Ott third fastest. The top three overall was still held by Ott, Craig and Thierry. Kalle's pace now meant that he'd moved up another position into sixth, at the expense of his teammate Katsuta Takamoto.
It was now time for the lunchtime break, so the cars all headed back to the service park.
When the afternoon stages started, there was a change to the running order.  Greensmith, Loubet, Suninen, Lappi, Katsuta, Rovanperä, Evans, Ogier, Neuville, Breen, Tänak.
Seb Ogier set the fastest time, going through SS7 Prangli 2 – 20.93 km in a time of 9 minutes, 45.3 seconds, with leader Ott just six tenths off and second fastest. Kalle was continuing his fight back up the leaderboard, setting the third fastest time. Elfyn suffered a tyre delamination on a straight part on the stage, near the end, losing 4.2 seconds.  It was not a good stage for Thierry who'd hit something in the stage, and had ripped his right rear wheel and suspension. The Belgian lost a minute in the stage, and didn't stop for an interview. Unfortunately, it was game over for Thierry, and he retired from the event. Seb was now in third place, 14.9 seconds from the lead.
Into SS8 Kanepi 2 – 16.88 km next, and Ott was really in the groove. 3.3 seconds faster than Kalle, with Elfyn third, 3.8 seconds slower. The damage to his Yaris, clearly not holding him back! The top placed M-Sport driver was Esapekka Lappi, who was in seventh overall.
Craig Breen took stage SS9 Otepää 2 – 9.30 km, with a time of 5 minutes. Ott was eight tenths off and second fastest, and Kalle third. The rally leader was looking very comfortable out front, but the stage winner was also really enjoying his i20 WRC.
The Irishman took SS10 Mäeküla 2 – 14.76 km as well, with a time of 7 minutes 40 seconds, with Kalle once again second fastest. Ott's overall lead reduced to 9.8 seconds, after he completed the stage, fifth fastest. Elfyn once again was third fastest. Makes you wonder what he'd be doing with a car that wasn't damaged.
The final stage of the day, SS11 Elva 2 – 11.72 km was taken by Kalle, with a time of 5 minutes 58 seconds, and 1.8 seconds faster than the leader Ott. Gus Greensmith had a big moment, with a spin in the stage, but he got away with it. The top three remained the same and Ott had increased his lead over Craig to 11.7. Elfyn was actually getting closer to Seb, who was 4 seconds slower than the Welshman.
Well, it had been a pretty good day for three of our four championship challengers, with only the Belgian losing out. Here's the top ten at the end of Saturday.
Classification after Day One
| | | | | |
| --- | --- | --- | --- | --- |
| 1 | O. Tänak | M. Järveoja | Hyundai i20 Coupe WRC | 1:15:08.4 |
| 2 | C. Breen | P. Nagle | Hyundai i20 Coupe WRC | +11.7 |
| 3 | S. Ogier | J. Ingrassia | Toyota Yaris WRC | +28.7 |
| 3 | K. Rovanperä | J. Halttunen | Toyota Yaris WRC | +34.9 |
| 5 | E. Evans | S. Martin | Toyota Yaris WRC | +36.8 |
| 6 | T. Katsuta | D. Barritt | Toyota Yaris WRC | +1:01.9 |
| 7 | E. Lappi | J. Ferm | Ford Fiesta WRC | +1:41.7 |
| 8 | T. Suninen | J. Lehtinen | Ford Fiesta WRC | +1:50.9 |
| 9 | P.L. Loubet | V. Landais | Hyundai i20 Coupe WRC | +2:15.2 |
| 10 | G. Greensmith | E. Edmondson | Ford Fiesta WRC | +3:03.1 |
Let's hear from the drivers then!
Hyundai Motorsport
Ott Tänak – Car 8
"We have definitely returned to WRC action properly today, and it's very special to be competing on our home roads. It has been a challenging and demanding day with a lot of new stages – high-speed and rough – with some surprises in places. I feel like I've done a whole rally already! We have had to be sensible and drive with caution to get through the day, especially in the middle of this afternoon's loop where conditions were quite rough. But I also pushed at times to build a gap at the front. The car has been performing well and the feeling has definitely been there, but we can't risk anything."
Craig Breen – Car 42
"I am really happy to be in the fight here in Estonia. I find it hard to express just how much I have been enjoying driving the Hyundai i20 Coupe WRC on these stages. It's been amazing. We felt it was important to get through the morning loop in a good position, and I was pleasantly surprised by how quickly everything came together from the opening kilometres. We got really into the groove in the afternoon, taking two stage wins which was an incredible feeling. The car was doing everything I asked of it; it was absolutely joyous to drive and what we strive for – perfection! When I see the work that has been done by the team in recent weeks and months, this is really a reward for all their efforts. We have to keep this rhythm tomorrow – a podium would be very, very nice indeed!"
Thierry Neuville – Car 11
"A tough and challenging day, which unfortunately ended early for us, as we were kicked off the line in very fast and quite rutted left-hander in SS7. I tried to recover the car but unfortunately there was something on the outside that broke the lower rear suspension arm and the wheel. It was not possible to fix the car, so we had no choice but to retire. We were finding our rhythm in the morning and the times were coming. We had a stage win in SS6 and a Hyundai 1-2-3 overall at the end of the first loop. We have to keep our heads high; there are some good events still to come and we are capable of taking important points, starting with the Power Stage tomorrow. We have seen that our car has improved a lot, which is very positive. The team has done an incredible job, it's just unfortunate we missed our chance this weekend.  It's not over until it's over, so we will keep pushing."
Toyota Gazoo Racing
Sébastien Ogier – Car 17
"It was a good morning for me. It was fun to drive and the conditions were nice even though we were opening the road and I was quite close to the lead. Unfortunately, this afternoon the car didn't feel so great, we made a bad call with the setup in the service. It worked in the first stage of the loop because it was a very fast one, but otherwise we were lacking grip this afternoon. I also ended SS7 with a damaged tyre and had no spares for the rest of the afternoon, so I couldn't push too hard. In the final stage I was really losing the grip from the tyres and I stalled in a junction. But tomorrow is another day! I hope we can have a clean day and let's see what we can do."
Elfyn Evans – Car 33
"The day started very well for us; everything was working well in the car. Later in the morning I made a few small errors and that cost me my rhythm a little bit. I think the conditions were also very slippery and then I was braking too early or braking too late and it's very costly when you're driving like that. In the afternoon, we were nearing the end of the first stage of the loop and the tyre let go. We only lost a few seconds but we had to do the rest of the loop with no spare wheel, so we were trying to balance good speed with not taking crazy risks. We have to keep on it tomorrow and hopefully we can have a good day."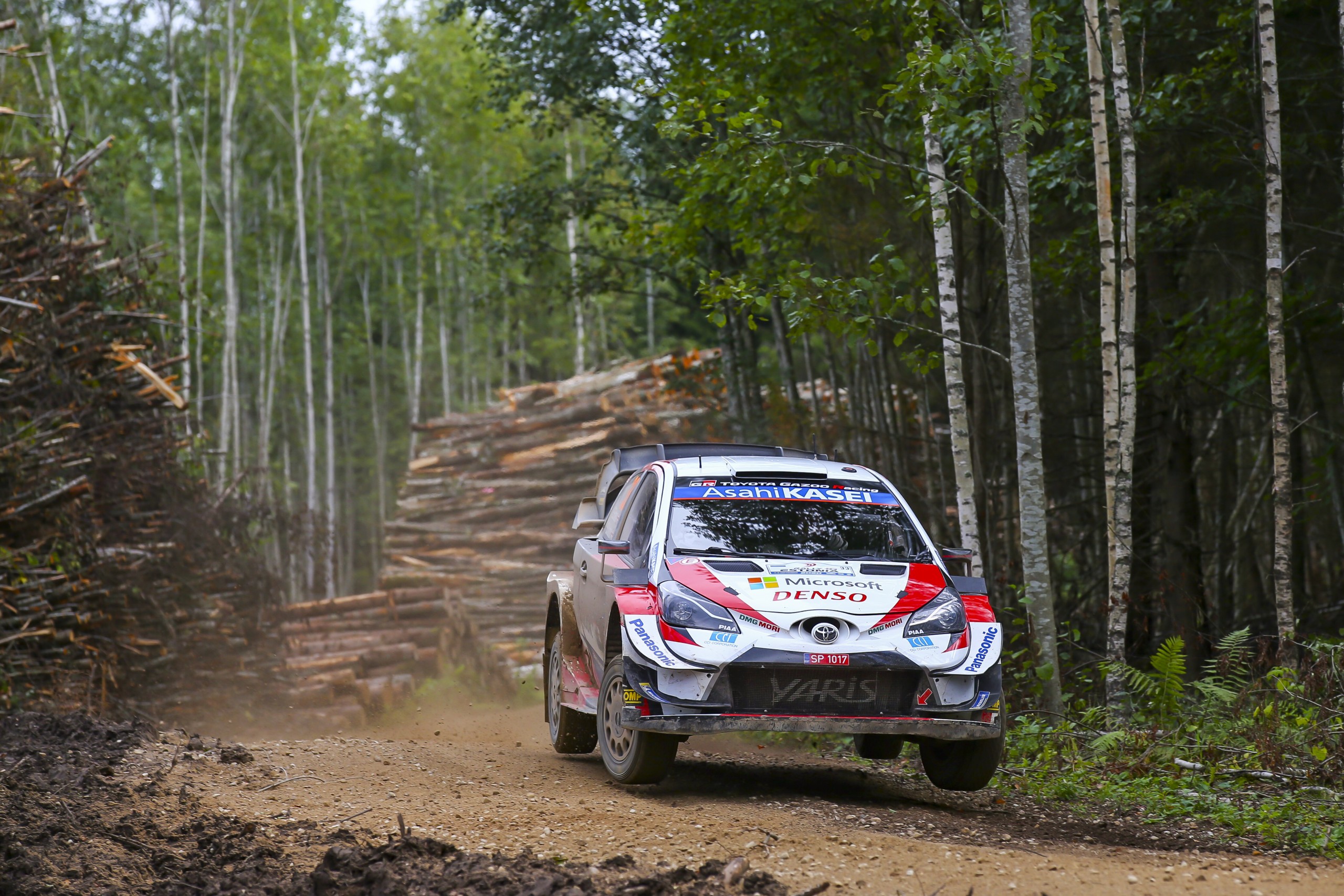 Kalle Rovanperä – Car 69
"Today was really nice, aside from the tyre issue that we had. It was a surprise for us because we didn't hit anything and I didn't even feel it for a long time. If you lose a lot of time in this kind of rally it's not easy to catch up so it was a difficult situation. But otherwise we had a nice pace and I was enjoying the driving. I'm quite happy that I could be on the pace all the time without taking any risks on these fast roads. You have to be really confident here and my confidence in the car is good. Tomorrow we will just continue in the same way and see how it goes."
M-Sport WRT
Esapekka Lappi – Car 4
"It's good to be back behind the wheel, but it's not been an easy day for sure. It felt good to set the fastest time last night, but we weren't able to continue that today. We've been trying to keep the speed up, but it's been difficult. Now we just need to be smart and see what we can learn to improve tomorrow."
Teemu Suninen – Car 3
"It's good to be back in the rally, but we're not where we wanted to be this weekend. After a long break without driving it took a while to get back into the rhythm. Once we did that the driving actually felt quite good, but still we were missing something. We will try a few things tomorrow – with the car and with the driving – and hopefully we can make some improvements."
Gus Greensmith – Car 44
"Any day in a rally car is a good day, but I was hoping for a little bit more to be honest. Realistically we knew it would be tough, and after the first few stages I knew that I just had to focus on my own rally. I wanted to progress and that's what we did. We were about a second a kilometre off my team mates in the morning, and by the afternoon we'd got that down to two tenths – so I'm happy with that, but there is still more to find."
Sunday
The final day then, and Hyundai had fixed Thierry's car, so that he could restart. The start list looked like this. Neuville, Greensmith, Loubet, Suninen, Lappi, Katsuta, Evans, Rovanperä, Ogier, Breen, Tänak. Rain overnight was reported, and would make the grip levels different!
Elfyn won the first stage of the day SS12 Arula 1 – 6.97 km, and edged a little closer to Seb in their battle for third place. Ott still held a 13 second lead over Craig, with Seb now 29 seconds from the lead.
Into SS13 Kaagvere 1 – 15.46 km, and Kalle won the stage with a time of 8 minutes 42 seconds, just 2 seconds faster than Ott and Craig third in the stage, who had picked up where he'd left off at the end of Friday, driving really quickly, but also with consistency! Sadly, Katsuta would roll out of the event on this stage. A big shame for the Japanese, who'd driven really well, and he was almost through the stage as well.
Seb Ogier won SS14 Kambja 1 – 20.04 km, 1.8 seconds faster than Kalle, with Elfyn third through the stage. Craig was seven tenths faster than Ott, setting the fourth fastest time, and rally leader fifth in the stage. In the battle to be the top M-Sport car, Teemu took six seconds out of the gap to Esapekka, with the gap between the Fiesta WRC drivers now just 3.8 seconds.
Seb also won SS15 Arula 2 – 6.97 km, and was now stretching the gap to Elfyn. Ott and Craig were second and third fastest, whilst Kalle matched the time of Craig in the stage. The fight between the two M-Sport drivers continued as well, but in the end, there was just one tenth of a second between them.
The penultimate stage then, SS16 Kaagvere 2 – 15.46 km, and Kalle took it, with Seb and Ott second and third fastest. The battle between Teemu and Esapekka took a new twist. Pushing hard in his number 4 Fiesta, Esapekka had a spin, and avoided the trees thankfully. Teemu was now ahead of his teammate, with a 9.9 second lead.
Well, time for the final stage then, SS17 Kambja 2 [Power Stage] – 20.04 km. Kalle was fastest, from Elfyn and Ott. Seb and Craig rounded out the points scorers in the stage. It was disaster for Thierry though. He suffered an electrical problem, and could not push hard through the stage.
Let's hear from the drivers!
Hyundai Motorsport
Ott Tänak 1st
"I am happy to take this first win for Hyundai Motorsport. It means a lot, especially in my home event. There was a lot of pressure this weekend, to be honest, and moments of stress which are now relief! The first WRC event in Estonia was one that I had to win, while also knowing it would be my first with Hyundai Motorsport. It was extremely important to bring it home. I couldn't afford any mistakes, taking no risks but also performing with the required pace to win; bringing all of that together was a real challenge. We had to use this chance to catch back points for the championship, and thankfully we were able to use it well. My thanks to the whole team, who have all been working very hard during the past months; it's been a truly great job and we must keep on pushing because we've shown what we can achieve."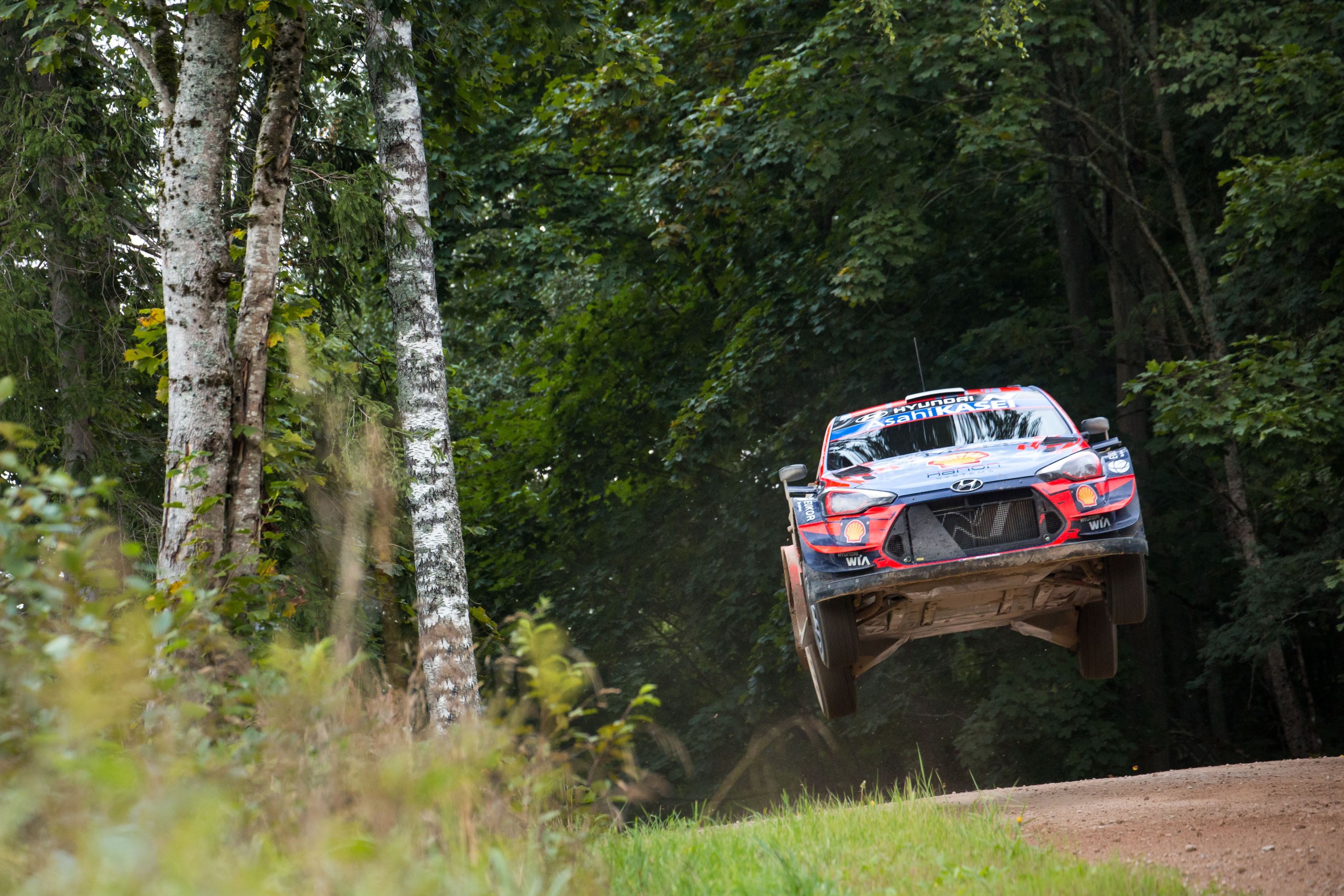 Craig Breen 2nd
"What an incredible weekend! I took it easy in the Power Stage, to make sure we made it through safely. I probably didn't mean to take it that easy, but this is a great result. From the opening kilometres of the rally, everything just clicked. The car has done absolutely everything I've asked of it and has given me the confidence I needed. The man beside me, Paul, has done a fantastic job and I'd like to thank everyone who has made this possible. I feel like I'm starting my career all over again; I've certainly not forgotten how to do it and I want to do it even more!"
Thierry Neuville DNF
"It has definitely not been our weekend, and we didn't really deserve it to be honest. Our target today was to salvage some points from the Power Stage, but we had an issue ahead of the start, which meant we couldn't drive at speed. The issue on Saturday was also unfortunate as we were kicked out of the line and hit something on the outside. We saw the videos from other crews at the same place, and it was similar for everyone, it was just we lost a wheel. Disappointing but the next one will be better."
Toyota Gazoo Racing WRT
Sébastien Ogier 3rd
"It's a positive result for us. To finish on the podium is good for the championship. For sure there is a bit of frustration for us as we know that we could have done better this weekend, there was some potential that we didn't manage to exploit. To win here would have been difficult but we had the ability to be much closer or at least in second place. I also would have liked to get more from the Power Stage but it was the roughest stage of the weekend and when I feel it's too risky to go for it, I don't dare and prefer to secure the podium. Still it's nice to score some good points in a difficult weekend."
Elfyn Evans 4th
"I'm not fully satisfied at the end of the rally but we come away with fourth overall and second place in the Power Stage. There was obviously good pace there at points but I was just unable to deliver it consistently. We made some changes overnight and in the slippery conditions this morning it seemed to be a bit better. Then I struggled when it got quite rough, but it seems to always be a compromise here. Like always there's some things we can work on but at the end of the day we're here after a difficult weekend with a decent haul of points."
Kalle Rovanperä 5th
"I'm really happy. My weekend was really good in terms of the pace and the driving. I think I did everything I could and I didn't make any mistakes, even when driving on this very fast pace. We had some bad luck and it was just not our weekend but that's rallying sometimes. The Power Stage was quite nice, I had a big push there but it was still a clean run so I'm happy. A big thanks to the team because the car was great to drive."
M-Sport WRT
Teemu Suninen 6th
"It's been a really difficult weekend for us. It took a while to get back in the rhythm, but it was good to be back after such a long time away. We were trying our best and today the times were a bit better, but we know that there is still some work to do. Now I'm looking forward to Turkey and Sardinia. We were strong at both those rallies last year, and I hope it will be the same again this year."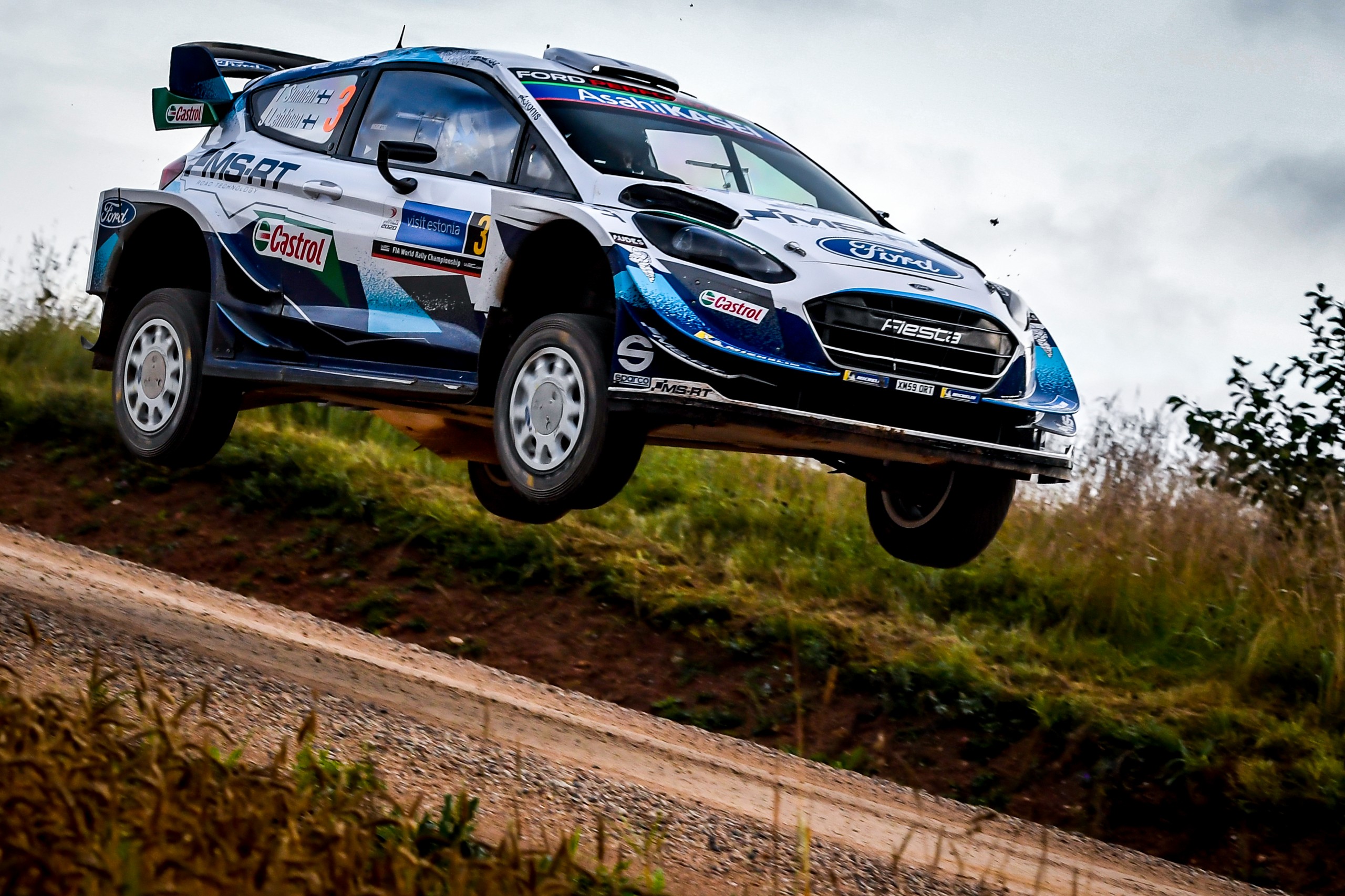 Esapekka Lappi 7th
"Firstly, I have to say that the organisers have done a fantastic job this weekend. Everything worked smoothly with no problems and it really was an amazing job from everyone involved. It was good to be back in the rally car and to show some pace in the beginning, but after that it became a really challenging weekend for us. There is a lot of work to do on these type of stages, but hopefully in Turkey and Sardinia we can be stronger."
Gus Greensmith 8th
"We knew it wasn't going to be an easy weekend as we didn't have the same experience or preparation as some of the other guys. But we were able to make some improvements throughout the weekend and the times got better the more kilometres we did. Also, a big thanks to everyone at M‑Sport. They've been working really hard, and it was a big effort from everyone here and back in Cumbria."
Final Overall Classification – Rally Estonia
| | | | | |
| --- | --- | --- | --- | --- |
| 1 | O. Tänak | M. Järveoja | Hyundai i20 Coupe WRC | 1:59:53.6 |
| 2 | C. Breen | P. Nagle | Hyundai i20 Coupe WRC | +22.2 |
| 3 | S. Ogier | J. Ingrassia | Toyota Yaris WRC | +26.9 |
| 4 | E. Evans | S. Martin | Toyota Yaris WRC | +41.9 |
| 5 | K. Rovanperä | J. Halttunen | Toyota Yaris WRC | +1:18.7 |
| 6 | T. Suninen | J. Lehtinen | Ford Fiesta WRC | +2:39.6 |
| 7 | E. Lappi | J. Ferm | Ford Fiesta WRC | +2:52.0 |
| 8 | G. Greensmith | E. Edmondson | Ford Fiesta WRC | +4:53.8 |
| 9 | O. Solberg | A. Johnston | Volkswagen Polo R5 | +7:38.6 |
| 10 | M. Østberg | T. Eriksen | Citroën C3 R5 | +8:17.3 |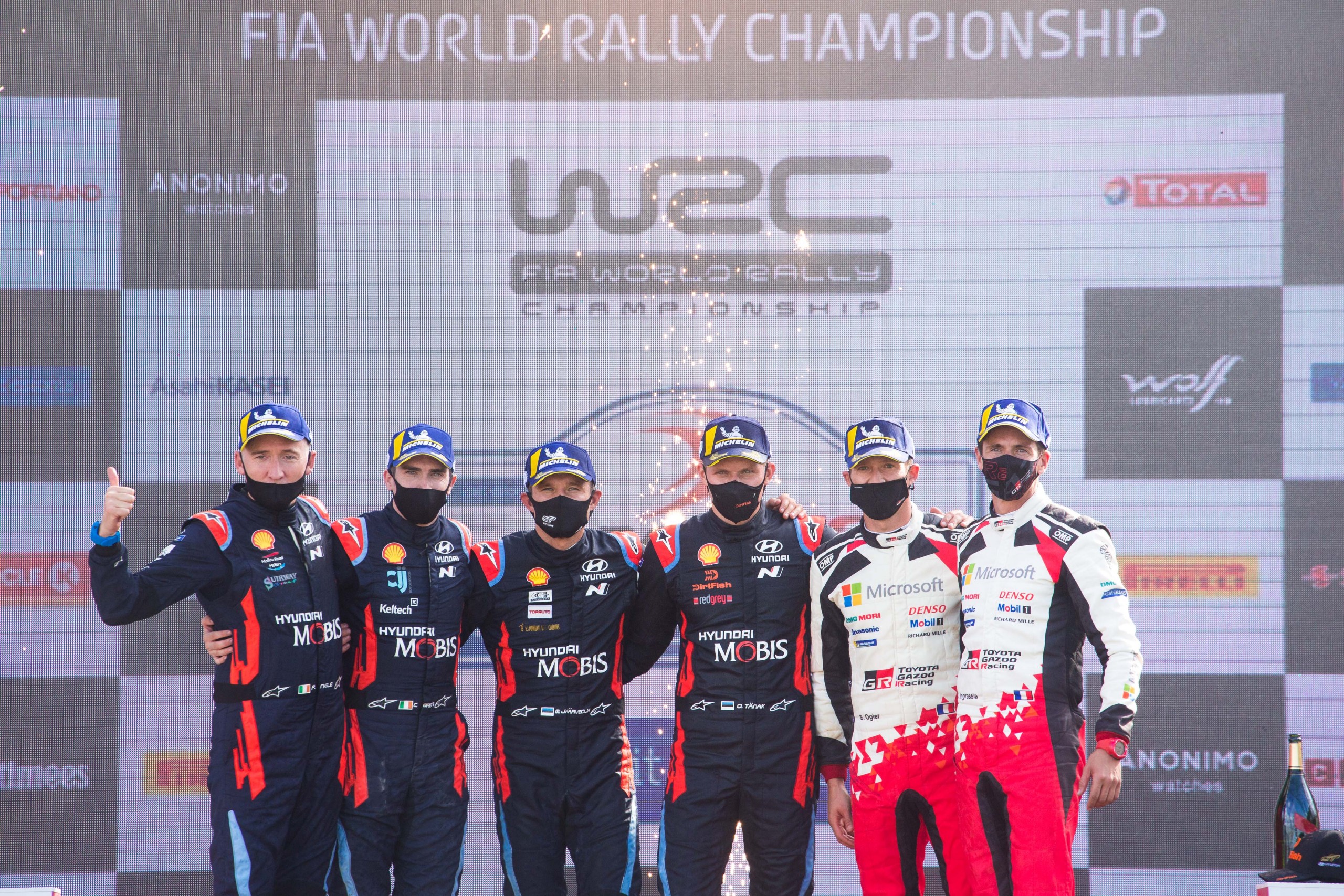 Summary
It had been an impressive drive from Ott and his co-driver Martin. They had taken the lead in stage three, and produced a consistent drive to take his first victory for Hyundai Motorsport, and a win on home soil!
Craig and Paul repaid Andrea Adamo, with a very good drive to second place, winning a stage, and even at points reducing the gap to Ott. I suspect that we will see Craig and Paul in the i20 again this year. For Thierry, it was a case of what could had been. Holding third place, a mistake saw him have to retire, and then when he was going for power stage points, a car problem meant that he'd fail to score any points.
At Toyota, we saw all three drivers win stages, and with the demise of Thierry, Seb scored a good third place. Elfyn took a good fourth place, despite a puncture, which damaged the left-hand rear corner of his Yaris. Kalle also had a very good event, taking fifth position. A penalty for a technical infringement cost him a minute, and with it, a potential podium finish.
At M-Sport, after leading early on after stage one, had an eventful rally. All three drivers suffered spins, with Teemu scoring a sixth place with Esapekka in seventh. Gus Greensmith finished in eighth place, he mostly set stage times that kept him in the lower reaches of the top ten, but set his best stage result in stage sixteen, setting the seventh best time.
2020 FIA World Rally Championship for Drivers' Standings
| | | |
| --- | --- | --- |
| 1 | S. Ogier | 79 |
| 2 | E. Evans | 70 |
| 3 | O. Tänak | 66 |
| 4 | K. Rovanperä | 55 |
| 5 | T. Neuville | 42 |
| 6 | T. Suninen | 34 |
| 7 | E. Lappi | 30 |
| 8 | C. Breen | 25 |
| 9 | S.Loeb | 8 |
| 10 | T. Katsuta | 8 |
2020 FIA World Rally Championship for Manufacturers' Standings
| | | |
| --- | --- | --- |
| 1 | Toyota Gazoo Racing World Rally Team | 137 |
| 2 | Hyundai Shell Mobis World Rally Team | 132 |
| 3 | M-Sport Ford World Rally Team | 83 |