After the Italian Grand Prix two weeks ago, which signaled the end of the European races for this season, Formula One headed to Asia for round fifteen of 2018, the Singapore Grand Prix. One of the most demanding tracks of the calendar for both drivers and cars due to high humidity, the Marina Bay Street Circuit covers 5.067 kilometres, with twenty-three turns and a race distance of sixty-one laps.
Going into qualifying it had looked as if things would be close at the front, but an outstanding lap from Lewis Hamilton saw him grab pole position by three tenths of a second from Max Verstappen. Vettel ended up third on the grid, six tenths behind his championship rival. Behind him, Bottas, Raikkonen, Ricciardo, Perez, Grosjean, Ocon, and Hulkenberg completed the top ten.
The five red lights counted down to the start, and what a start it was for Hamilton. In typical Singapore style the safety car was brought out, this year after just seven corners due to Ocon and Perez colliding with each other, putting the Frenchman in the wall.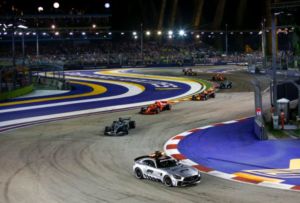 Vettel attempted an overtake on Verstappen for second place, which succeeded just before the safety car was called out. It seemed like Vettel had learned from his crash with Hamilton in Monza as he didn't go for the overtake straight away at turn one, despite having had a much better start than Verstappen.
The restart on lap five saw Hamilton driving away from Vettel whilst Bottas closed in on Verstappen, however a lock up meant the Finn then lost the same amount of time he had gained.
Reports of some wear on the hypersoft tyres started coming in from lap twelve onwards. Ferrari reported this to Vettel as well, who was now losing some time to Hamilton. The German made his first pit stop on lap fourteen, changing to the ultrasoft tyre. Getting stuck behind traffic, this early stop cost him some major time. Mercedes responded to this pit stop by bringing in Hamilton, who opted for the soft tyres.
The end of lap sixteen saw Verstappen leading the race ahead of Bottas, who made his pit stop on lap seventeen. Vettel, meanwhile, overtook Perez and set about closing the gap to Hamilton. Verstappen then made his pit stop and went to the softs. It was very close at the pit exit with Vettel, but Verstappen came out ahead to claim a net second place.
Vettel reported to his team that he wouldn't make it to the end of the race on the ultrasoft tyres, a real blow for Ferrari who really had to win this race to keep their hopes for the championship alive.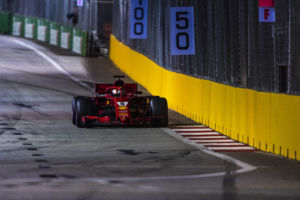 Race leader Räikkönen went into the pits on lap twenty-three,  dropping back to fifth place. It seemed Ferrari had taken note of Vettel's worries, as they put Raikkonen on fresh soft tyres.
After a staggering twenty-seven laps on the hypersoft tyres Ricciardo finally made his pit stop, opting for the ultrasofts and dropping back behind Raikkonen. With the better tyre and more than half distance still to go, he still had enough time to close the gap.
Sergio Perez had dropped down the order, getting stuck behind Sergey Sirotkin and becoming increasingly frustrated, even complaining that Charlie Whiting had to do something. The Mexican's patience ran out on lap thirty-four when he tried overtaking Sirotkin but ended up crashing into him, looking and steering to the left and raising questions about whether it had been done deliberately. Perez as a result had to gp back into the pits for repair. The stewards looked into the incident and decided that he had caused a collision, handing him a drive-through.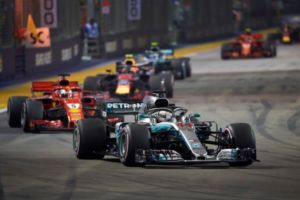 Up front, Hamilton was still leading from Verstappen who was carving his way through all the traffic. In front of them was a trio of backmarkers – Grosjean, Gasly, and Sirotkin – fighting for P14. Hamilton was held up as a result, allowing Verstappen to close to within a second. Both drivers expressed their frustration over the radio, describing the backmarkers as "crazy". Once they cleared them, though, Hamilton opened the gap back up to three seconds, and Grosjean was handed a five-second penalty for ignoring blue flags.
A big surprise came on lap forty-six when Alonso put up the fastest lap time of the race and broke the lap record. That surprise was then doubled when Kevin Magnussen in eighteenth place then broke that record as well.
After sixty-one long laps it was Lewis Hamilton who claimed victory, winning his forty-fourth race from pole position and extending his championship lead. Verstappen took an impressive second place, deservedly resulting in him being voted driver of the day. Vettel was disappointed as once more he lost points to Hamilton in the championship, taking third place. Completing the top ten were Bottas, Räikkönen, Ricciardo, Alonso, Sainz, Leclerc and Hulkenberg.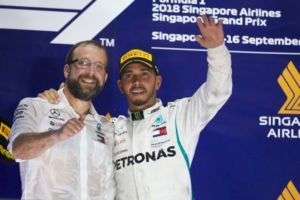 It was not the most spectacular Singapore Grand Prix we have ever seen, but it  still had some interesting moments. For the teams, focus now turns to the Russian Grand Prix at the Sochi Autodrom, with Hamilton leading the championship by forty points.
There are still six races to go though, and lots can happen. As always in F1, nothing is certain.