With their spirits high on the back of their impressive form in the last few races, Racing Point Force India looked as though they would continue their success this weekend in Singapore. When Perez and Ocon ran well in practice, and clocked impressive times in Saturday's qualifying session, who could have known that the weekend would end as it did?
As the lights went out, it appeared – briefly – as though we might have an opening lap unusually free of incident. Unfortunately, a battle between the two Force India drivers soon put paid to that idea. You've no doubt seen the replays from every which angle by now but whether, as the stewards determined, you feel the collision that unfolded was a racing incident, or whether you feel there is blame to be placed (presumably on Perez), it was an incident that I think we can all agree should not have happened.
My own opinion is that while Ocon might have been a little plucky, there was no excuse for Perez not to have left him a bit more room. However, I also think there's little point in dissecting the incident. It happened, it shouldn't have happened, and that's all that really matters.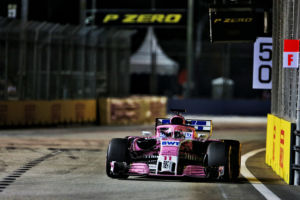 The incident left a despondent Ocon in the wall and out of the race, although what appeared to be one of his wheel rims continued on without its owner, finding a temporary new home on the front wing of Sergey Sirotkin's Williams. Perez, meanwhile, escaped unscathed, running in seventh position until his pit stop.
The second moment of the race that Perez will surely rue came when he had been following Sirotkin (now sans extra wheel rim) for over ten laps. Clearly growing frustrated, Perez had taken to bizarre radio shout-outs to Charlie Whiting asking him to do something about the Russian driver who, for anyone watching, seemed to be defending hard but driving fairly. While Sirotkin was later involved in a questionable move with Brendon Hartley, which rightly earned him a penalty, there was little evidence that he'd acted unreasonably towards Perez.
Just as it seemed that Perez had finally managed to clear the Williams, he inexplicably turned left, spearing straight into his rival. In this second disastrous incident for Perez, it was near impossible to view it as anything other than wholly his fault. He finally finished the race in 16th, after serving a drive-through penalty for the collision, and will surely leave Singapore with a great deal to think about before the next race.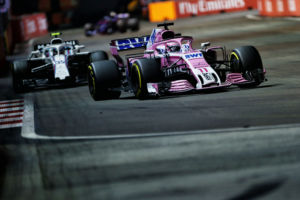 Unfortunately, the events of this weekend's race mean that Force India will have more to think about than their position in the standings. Instead, managing their drivers and minimising tensions between them will likely be a focus within the team. Despite not being unfamiliar with these sorts of problems between their drivers last season, until now it had seemed that such issues had been left behind in 2017.
But now, with their drivers once again not trusted to race each other, how will this impact their chances against not just each other, but the other teams? Only time will tell whether this new, undesirable twist in the tale of Racing Point Force India will continue to boil over, or whether they will be able to put it behind them for the good of the team.