Formula One hosted it first ever triple header, which concluded at round 10 The British Grand Prix at Silverstone. Silverstone normally produces drama and excitement and this year was no exception.
'Homeboy' Lewis Hamilton started the race from pole as he claimed his 76th career pole with a lap he called himself ''the toughest lap ever''. Behind him was Vettel with a small gap of only +0.044s. It was a tense battle for pole. For many teams like McLaren and Williams the British Grand Prix is their home Grand Prix as well. They didn't impress the home crowd like Lewis did, as Stroll caused a red flag for spinning into the gravel. Sirotkin did the same, but he managed to get back to the pits to try another flying lap. Vandoorne was almost a second slower than his teammate Alonso in qualifying. He ended up in P17 as Alonso started from P13. Was it really coming home for the Brits?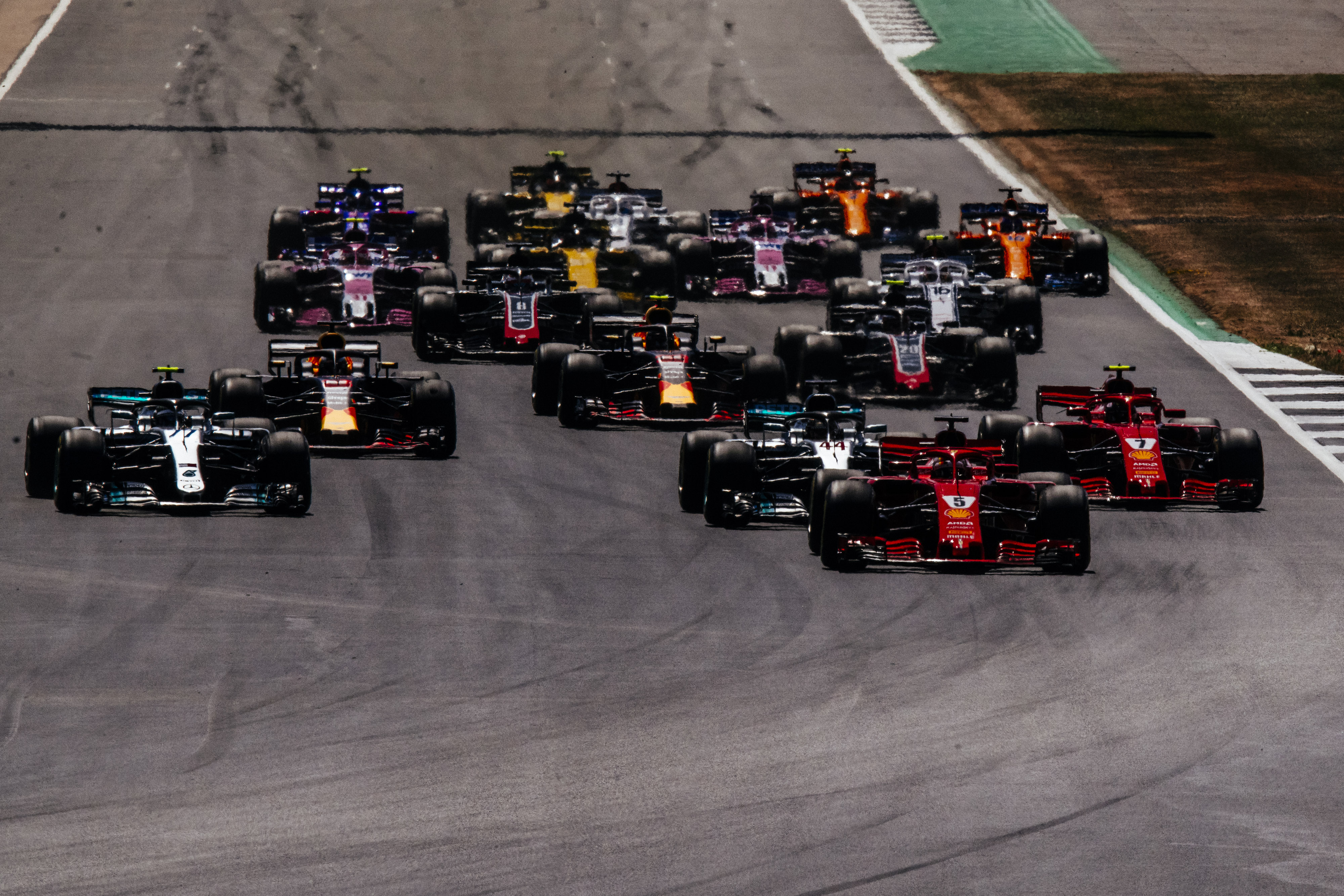 The start of the race was a bit chaotic for Toro Rosso, as the car of Brendon Hartley wasn't ready during the parade lap, as mechanics were still working on his car in the garage. He did manage to start the race though from the pits, but after already one lap he returned to the pits to retire. Hamilton had an awful start as Vettel overtook him into turn 1. To make things even worse, Lewis spun in turn 3 after he got hit by Kimi Räikkönen who locked his brakes. Kimi eventually got a 10-second time penalty for the incident. Hamilton thus had to start from the back. After two laps he was back up to P14 after overtaking some slower drivers. Perez had a difficult start as well as he spun in turn 1, almost collecting both the Williams cars that started from the pit lane.
Meanwhile a great battle between Max Verstappen and Kimi was unleashed, just like in Barcelona 2016. Max defended heavily whilst Kimi was looking for a move. Vettel took the lead and extended it by almost a second per lap on Bottas in second place. Renault did a good job, with Hülkenberg and Sainz making up some places at the start. Hamilton was in P8 by lap 9, catching up the Sauber of Leclerc and eventually overtaking him that same lap. Hülkenberg was his next target, but that wasn't a problem for him as he got him in lap 10 using DRS on the Hangar Straight. Kimi was frustrated at his team as he was struggling to get past Max. His team reminded him of his penalty whilst he was ''just trying to help, but I probably shouldn't be thinking''. He clearly was unhappy as the pressure from behind of Ricciardo increased. As a result of this all, Räikkönen ended up being the first to do a pit stop in lap 14, putting on the mediums.
Williams and McLaren battled each other, but only for their honour as the points were out of reach. Force India had mixed feelings with Ocon in the top 10 but Perez in last place after the incident at the start. Haas impressed in Austria, but seemingly struggled at Silverstone as they were just fighting for the last few points.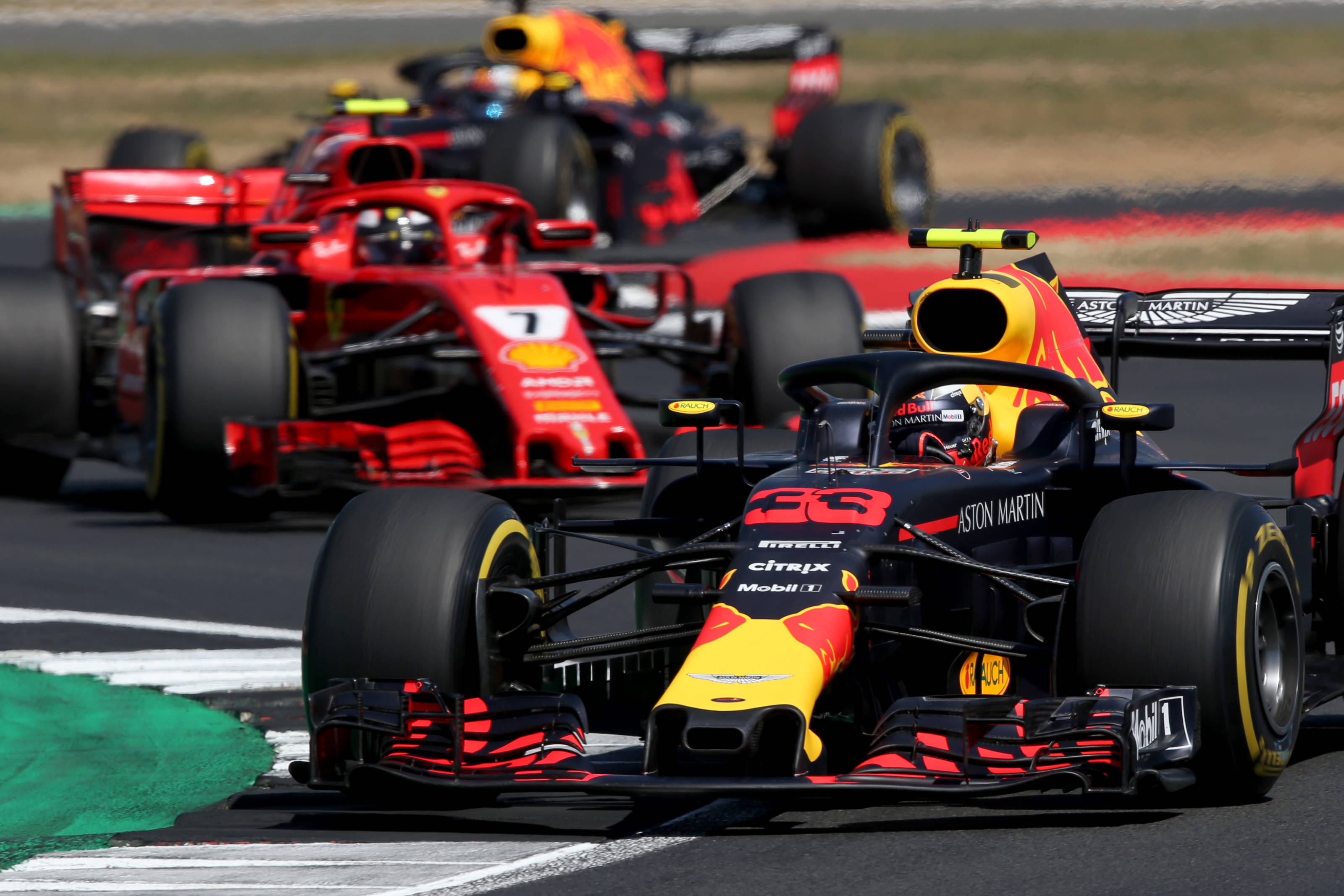 Max Verstappen went into the pits in lap 18, changing to the medium tyre which meant that Lewis passed the Dutchman. Hamilton however still had to make his pit stop. He was up to P3 when Daniel Ricciardo went into the pits, followed by Charles Leclerc to make his stop too. The team made an impressive 2.3 second pit stop, but it already looked too good to be real as he had to stop the car after exiting the pit lane.
Bottas passed Hamilton as he was on a new set of mediums, whilst Lewis was still going on his old softs. Valtteri was closing the gap to Vettel as he really pushed his new tyres to the limit. The only team that gave the new 'Ice Blue' hard tyre a try, to probably make it to the end of the race. With the exceptional high temperatures at Silverstone this didn't seem like a bad idea. This was confirmed in lap 31 as Ricciardo made his second pit stop of the race, going back to the soft compound which meant he came back at P6 behind Hamilton who made his first and only pitstop in lap 25.
In lap 33 Ericcson crashed heavily in the first corner at full speed after using too much of the outside kerbstone. This brought out the yellow flag and eventually the Safety Car, as his car was deep into the tyre barriers. Luckily he could climb out of his car on his own. The Safety Car situation got the strategists thinking into overdrive: should they pit their cars now or wait. Bottas didn't take a second pit stop, but Verstappen, Räikkönen and Vettel did. Bottas now led with his old mediums, whilst Vettel was in P2 with his new soft tyres and surprisingly Hamilton in third position. He didn't make another pit stop too, which led to complaints from the British driver as he was worried he ''wouldn't make it'' on these tyres. His team assured him that he was the fastest driver on track and that he shouldn't give up. Ricciardo didn't get lucky during the SC, as he ended up in only P6 after he already had made his second pit stop. The team told him that ''the timing of the Safety Car was unfortunate''.
The Safety Car went into the pits in lap 37, starting the fifteen lap sprint race to the finish flag. At the restart Vettel wasn't focused as Bottas drove away. Kimi overtook Max in turn 6, which led to a massive fight between the two. This fight ended early as another Safety Car occurred for a crash between Sainz and Grosjean at Copse Corner. Sainz was at the outside, cutting to the inside where Grosjean already was. The Frenchman did have a moment of oversteer and crashed into Sainz. It thus looked like a racing incident.
The second Safety Car situation of the race ended in lap 41 of 52, shortening the sprint race from fifteen laps to just ten. These SC situations meant that Hamilton could manage his older tyres to the end. The second restart went horrible for Kimi as he went wide but he could get his P5 back. Vettel tried to overtake Bottas at turn 6 as he was very close but he had to lift, otherwise they would probably collide. Alonso had a good restart overtaking Magnussen for P9, but Magnussen took back his place the same lap. Max made a mistake coming up on Hangar Straight, making an overtake easy for Räikkönen. Vettel and Bottas had a legendary fight for the victory. Hamilton was under pressure from Kimi, whilst Lewis was increasing the pressure on Vettel who put Bottas under pressure. It was a massive fight for the podium between the four drivers, as the camera helicopter captured the top four in just one shot.
The problems for Max Verstappen got worse as he spun in lap 46, eventually leading to his retirement from the race as he had problems with the brake-by-wire system. Meanwhile Vettel overtook Bottas into turn 6 with an amazing speed and a lap later Hamilton also overtook Bottas, taking an impressive P2 after a terrible start. With just five laps to go Lewis was just two seconds away from a victory on home soil. Bottas went down from P2 to P4 in just three laps, he was really struggling for pace. He even had to defend his P4 from Daniel Ricciardo for the last three laps, which he did successfully because the Red Bull just wasn't fast enough. In the end it looked like Hamilton was happy to take P2, losing some time on Vettel and probably more thinking about defending his position from Räikkönen.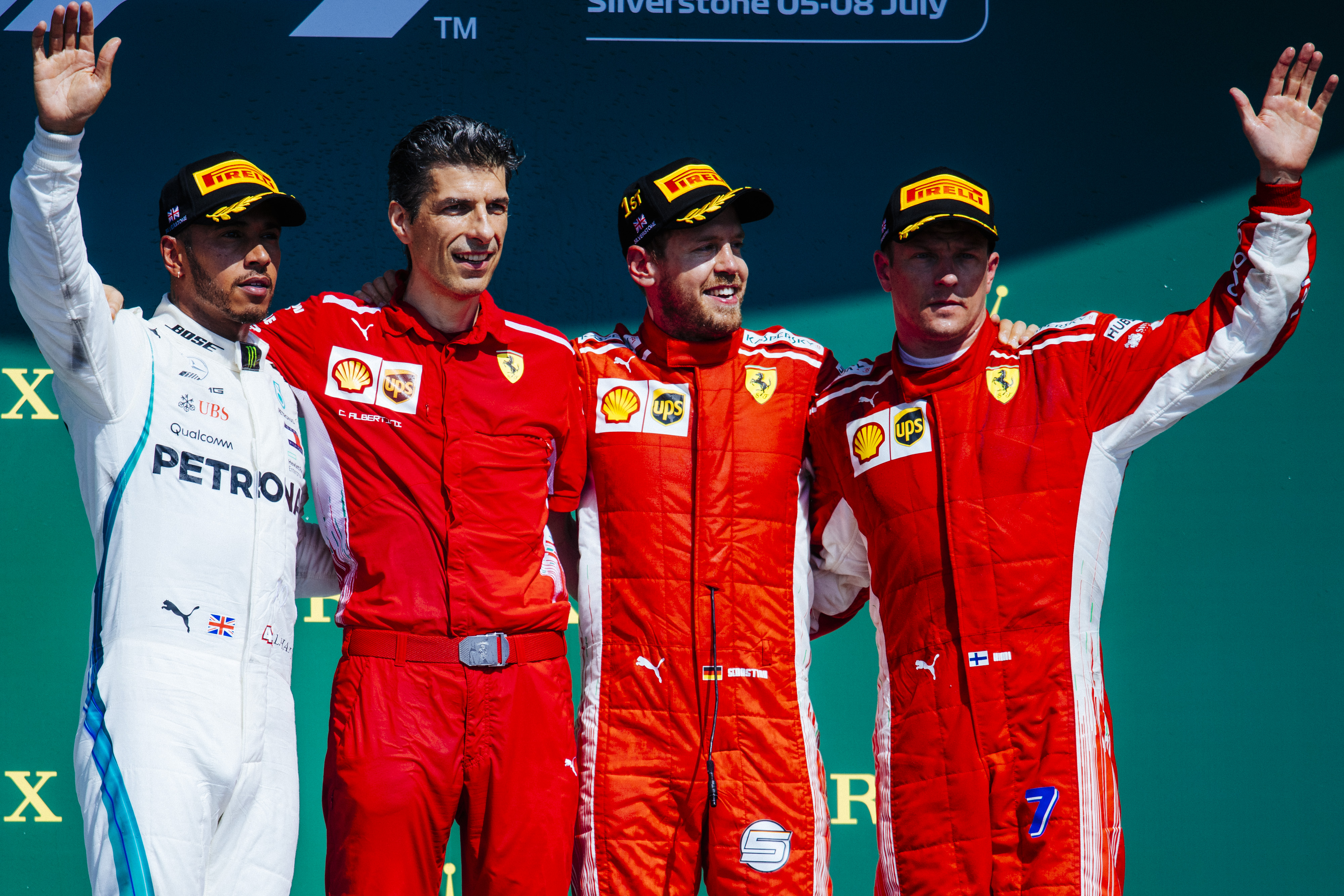 Sebastian Vettel took his 51st career victory at the 2018 British Grand Prix, whilst Lewis Hamilton got voted Driver of the Day by the fans after a heroic drive saw him finish in second place in front of his home crowd. It wasn't meant to be for Lewis to win his sixth British GP, but at least he brought home some very important eighteen points. Vettel extended his championship lead by a small margin because of this victory. After an exciting race, the British fans should be very happy to see Hamilton on the podium. Lewis himself didn't look happy though as he skipped the post-race interview. He later on said that Ferrari "used some interesting tactics", probably suggesting that Räikkönen hit him on purpose to give Vettel the win. Mercedes teamboss Toto Wolff went even further, saying "it was deliberate or incompetence". It's an all out warfare between Ferrari and Mercedes this year. Will Lewis still bring it home this year?
Featured Image courtesy of Ferrari media