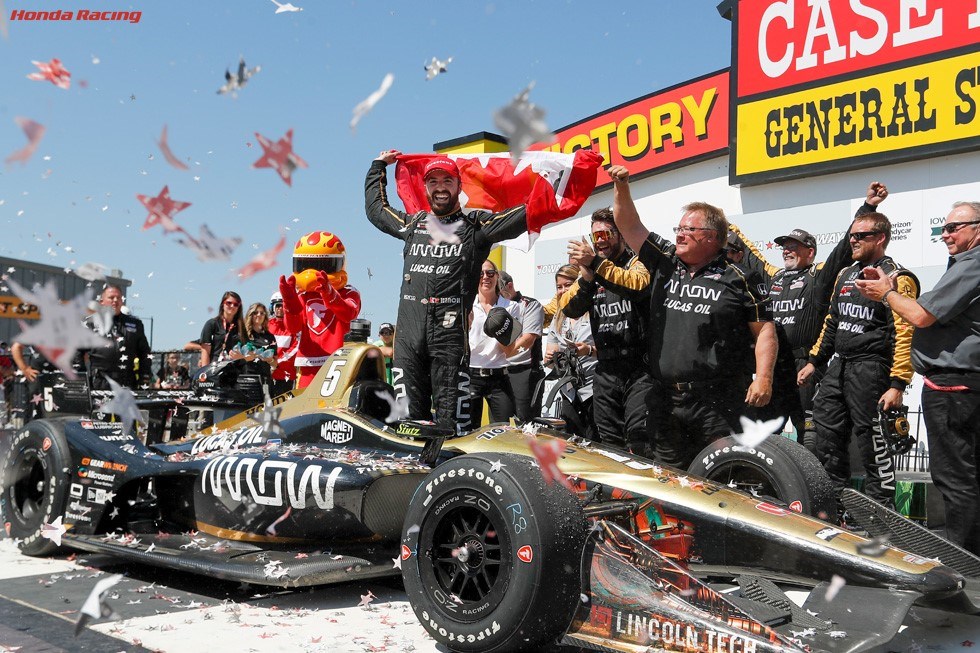 Josef Newgarden thought, for the majority of the race, that he'd be able to repeat his 2016 Iowa triumph with Ed Carpenter Racing, but James Hinchcliffe had different ideas, looking back to 2013 instead, taking his sixth career win and first of the season. This race showcased exactly why the universal aero kit was brought in – close, clean racing where driver skill (and bravery) is key.
After a torrid Month of May and general struggles throughout the season, Hinchcliffe was very relieved to finally get a win on the board, and a convincing one at that. Qualifying in eleventh was a bit of a disappointment but, by Lap 20, the Canadian had already made his way up to sixth before progressing further and showing himself as the only real challenger to Newgarden.
Once he'd wrestled the lead off Newgarden after the #1 driver got caught up in traffic, namely his own Penske teammate Will Power, Hinchcliffe's biggest test was the final caution which came out with seven laps to go. It was touch-and-go as to whether they'd go green again which meant the decision whether to pit or not was a tough one; if the race was restarted, fresh tyres were practically compulsory but, if it didn't restart, track position was king. Ultimately, the race was not restarted and Hinchcliffe's call to stay out was the correct one, but it could've so easily been so different.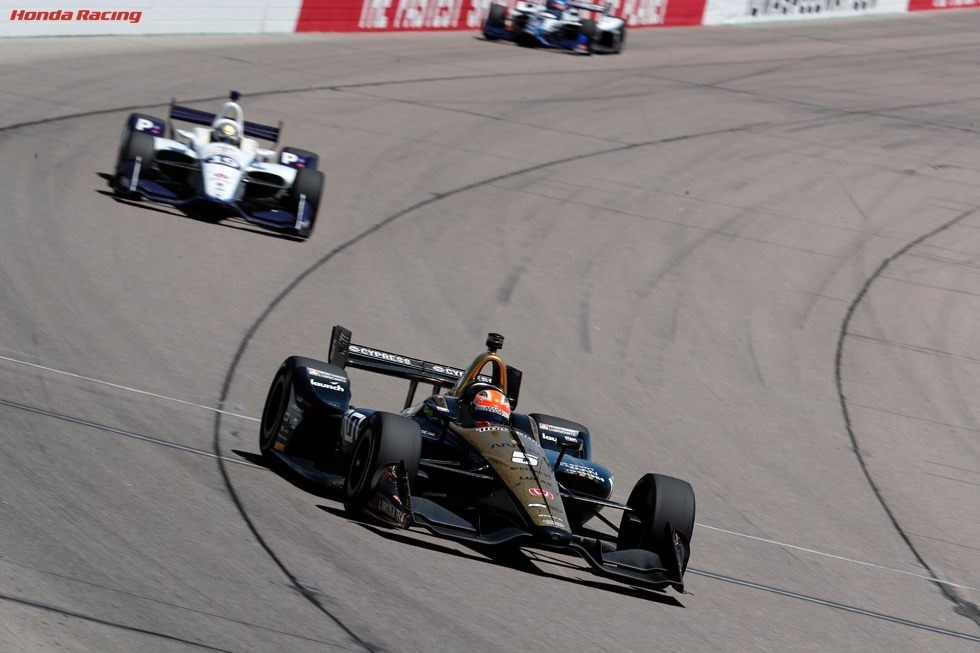 One driver to get that crucial call wrong was long time leader Newgarden who, after leading 229 of the 300 laps, found himself down in fourth by the time the chequered flag emerged. Up until the last fifty laps or so, Newgarden looked to be in a race of his own and a class of one, heading for a repeat of 2016 where he scored his final win for Ed Carpenter Racing before moving to Penske. After the last scheduled stops, Newgarden had started to show some concern about Hinchcliffe but the win still looked to be his – that slight overconfidence may have been his undoing.
Hinchcliffe breezed past Newgarden, leaving the defending champion surprised and rather confused on the radio so when, with the final caution, he saw an opportunity to retake the lead, he leaped on it. The proximity to the end of the race should've been a clue that his gamble wouldn't pay off but, with the huge advantage that the fresher tyres had, it seemed like a no-brainer at the time. Still, with championship leader Scott Dixon down in twelfth, Newgarden leaves Iowa with a much reduced 33-point deficit.
Ed Carpenter Racing scored a podium last year at Iowa with JR Hildebrand and they repeated that feat again this year, this time with Spencer Pigot. It was in fact Pigot's first time at Iowa as he'd previously been in Jordan King's position, sharing the #20 car and only doing road courses, which made this second-place and career best finish all the more impressive. A podium looked out of reach for Pigot until the final caution where he, like Hinchcliffe, stayed out and benefitted from both Newgarden and Robert Wickens pitting from podium places, leaving the young American in second.
It was a similar story for Takuma Sato who came home third, despite late contact with Ed Carpenter that caused the final caution in the first place. Carpenter had got it all a bit wrong and was about to spin when Sato, left with nowhere else to go, hit his front wing and actually straightened him up, saving Carpenter from hitting the wall. This contact, however, had left a sizeable piece of debris on track that had to be cleared which is what brought out the all-important caution. Sato, like most others, didn't pit and was rewarded with his first podium of the year and only the second for Rahal Letterman Lanigan Racing.
One of the major disappointments from the race was the performance, or lack thereof, from the Andretti team. Ryan Hunter-Reay's race looked promising but was troubled from start with radio issues meaning he could hear the team, but they couldn't hear him however, suspension problems put an end to his race with just under 20 laps to go. Alexander Rossi's race was all but ruined when he failed to get away from his first stop, stalling and costing himself two laps while Marco Andretti just lacked any sort of pace all day. The team's rookie Zach Veach looked to be on for the team's best result for a long time, even after a pit stop fire but a small brush with the wall brought out the first caution and left him over twenty laps down, just out there to gain experience.
Another let down was the poor pace shown by championship leader Scott Dixon whose 45-point lead is now a diminished 33. After starting sixth, Dixon had soon dropped down to the brink of the top 10 before being lapped by then race leader Newgarden and falling a further two positions, ending the race in twelfth. While not a disaster, that result has put a dent in Dixon's championship campaign. The same could be said for pole sitter Power who also struggled and lacked pace, ending sixth and meaning he now sits in fifth, 53 points off a lead he once held.
The races are coming thick and fast from now to the season's conclusion in September with only six races left before the 2018 champion is crowned. Next up is Toronto which is this coming weekend and, with three home drivers, it's as important as ever.
Full Race Result:
James Hinchcliffe
Spencer Pigot
Takuma Sato
Josef Newgarden
Robert Wickens (R)
Will Power
Graham Rahal
Simon Pagenaud
Alexander Rossi
Ed Carpenter
Sebastien Bourdais
Scott Dixon
Ed Jones
Charlie Kimball
Max Chilton
Marco Andretti
Tony Kanaan
Zachary Claman De Melo (R)
DNF – Ryan Hunter-Reay, Zach Veach (R), Gabby Chaves, Matheus Leist (R)