The second race of the first ever 'triple header' saw F1 return to the mountains of Austria, for the Grand Prix at Spielberg's Red Bull Ring.
As it's the team's home race, Red Bull Racing had high hopes. These hopes were, however, seemingly shattered when a disappointing qualifying on Saturday meant that Max Verstappen would start the race on Sunday from P5 (which ended up as P4 when Vettel got a three-place grid penalty for impeding Sainz in Q2), with Daniel Ricciardo in P7 behind the Haas of Romain Grosjean. There was no reason for them to be yodelling just yet.
This weekend not only was a special Grand Prix for the Austrian team's management, but also for Max Verstappen personally. With a sea of orange shirts in his very own 'Max Verstappen Grandstand', it is no surprise that this is seen as the second home Grand Prix for the Dutchman (with Belgium being the other one). Not only that, shortly before the weekend he announced he would be driving with a special helmet design. Rather than its normal dark blue, his helmet instead shone yellow as a thank-you to his first big sponsor, the Dutch supermarket Jumbo. Were these things the trigger for Verstappen to get the luck he so desperately needed?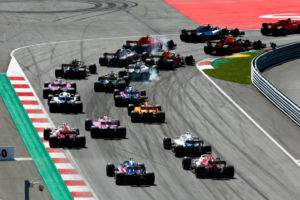 He had a pretty good start, and went from P4 to P3 after turn one as Kimi Räikkönen and Valtteri Bottas ran wide. Still taking risks on the first lap, he made slight contact with Raikkonen, who then had to run wide a bit. He was briefly under investigation for the touch, but the stewards decided it was just a racing incident as the consequences for the drivers were little.
Shortly after Nico Hülkenberg retired with a spectacular engine failure – resulting in some big flames – another car retired. It was none other than Mercedes' Valtteri Bottas, whose gearbox got stuck in second gear, resulting in a loss of drive. This brought out the Virtual Safety Car on lap fourteen. Some teams decided to use this VSC to change their strategy, as Ferrari and Red Bull put on the soft tyres on their cars.
One team that didn't decide to change their strategy, however, was Mercedes, and Lewis Hamilton stayed out on track. This led to a gap of just thirteen seconds to Verstappen, who emerged from his pit stop in P2. It takes roughly twenty-one seconds to complete a pit-stop in Austria, including time spent driving down the pit-lane, so it was looking disastrous for Hamilton. When he finally did pit, Max Verstappen inherited the lead and, from that moment onwards, dominated the race. Things later when from bad to worse for Hamilton, and he eventually had to retire the car due to engine problems.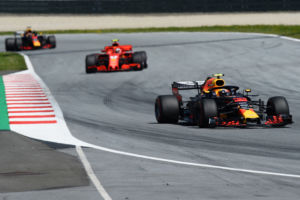 One critical issue during the race for lots of drivers was tyre degradation. Daniel Ricciardo for instance had changed to the softs during the Virtual Safety Car period, but after just twenty-two laps it became clear he would not be able to make it to the end, as his rear-left tyre was destroyed.
Someone that didn't seem to struggle at all with the soft tyres, however, was Verstappen. He drove over fifty laps on those tyres to bring home the victory for Red Bull Racing, claiming his fourth career win. The orange crowds went insane and it didn't look like the party would end very soon for the fans and the team.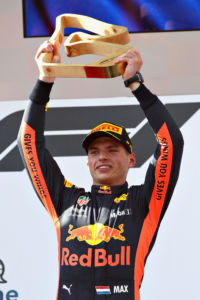 Criticised for his aggressive driving style many times this season, Verstappen has surely shown the press they were wrong. Whilst his teammate struggled on the same tyre compound after just twenty-two laps, Max managed to make it to the end and keep both Ferraris behind. Once again his aggressive driving style brought him a brilliant victory. Should he really change his driving style?