Red Bull team principal Christian Horner has praised Max Verstappen's approach to the Austrian Grand Prix, in light of the Dutchman's win this afternoon.
It was Verstappen's first victory of 2018 after a series of incidents in the early stages of the year, and is Red Bull's first win at their home race since it returned to the F1 calendar, re-branded in their image, in 2014.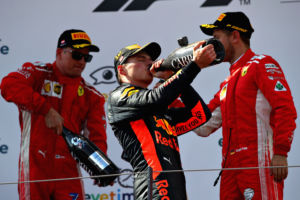 "To win in a Red Bull Car at the Red Bull Ring is something I never imagined would happen this morning," said Horner. "All credit to Max today, he drove a very, very mature race, managing a very tricky situation with the tyres and he completed a very controlled drive to win our first Austrian Grand Prix."
Verstappen started the race in P4 and gained a position on the opening lap when Ferrari's Kimi Raikkonen overcooked an attempt to overtake Lewis Hamilton.
When Valtteri Bottas retired on lap fourteen and brought out the Virtual Safety Car, Verstappen emerged from the round of pit-stops in P2, now on the soft tyres and thirteen seconds behind the other Mercedes of Lewis Hamilton, who had stayed out.
He then inherited the lead of the race when Hamilton finally did pit, and calmly waved off his team's concerns about his tyres blistering, an issue that befell a number of other drivers on the grid. Kimi Raikkonen may have been closing in the final stages of the race, but Verstappen had built up enough of an advantage to hold on to victory.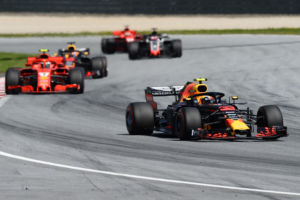 His team-mate Daniel Ricciardo – whose 29th birthday it was today – retired from the race on lap fifty four. "It was a great shame not to have Daniel up on the podium as well," Christian Horner said, "after running for so many laps in P2, but then his rear tyre started to overheat which caused a second pit stop. Shortly after that we began to see an exhaust crack that was causing gearbox damage, forcing his retirement.
"A special word to our pit-crew, again executing a faultless stacked pit stop on our route to victory, as they had done previously this year in China. I have to also applaud out entire staff back at the factory and their commitment to produce a competitive race car. The day belongs to them, to Max, to the team, to Red Bull and particularly to Mr Mateschitz who has given so much to modern Formula One. We are all delighted for him."