We started today off on a sad note with the news, which broke an hour before qualifying, that RedBull co-owner Dietrich Mateschitz had passed away at the age of 78. His passion for motorsport sparked the events which have led to successful teams not just in Formula 1 but in motorsport series across the world.
Nevertheless, the cars headed out on track for the US Grand Prix qualifying.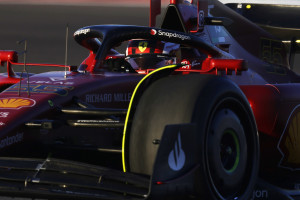 After the first few laps of Q1, the Ferraris were on top with Sainz ahead of his teammate. This pace from the Spaniard would be crucial because it was confirmed that Leclerc will take a 10-place grid penalty for engine parts and turbocharger. Mercedes looked very much in the mix with Hamilton splitting the RedBulls and Russell not too far behind.
As they came across the line at the end Ricciardo could only make it to P13 which wasn't good enough to keep him out of the drop zone while his teammate made it into Q2 in P8. Another shock early exit was Ocon who ended up P18 after not being able to put a good lap together.
It was not a great session for Haas at their home race, as they join Ocon and Ricciardo with both cars dropping out in Q1. Magnussen qualified P16 while Schumacher took a small pirouette on his way to the line meaning he couldn't improve his time and finished P19, ahead of Latifi.
Q2 began with the usual top six topped by Leclerc. Alonso continued his run of form by being the best of the rest in P7 but was still three-tenths behind Hamilton, in P6. The two-time champion was ahead of both Alfa's, who were having a very good qualifying.
The one in trouble was Norris, who was in P10 and on the edge for most of Q2. The Mclaren driver still didn't match the pace of the drivers around him and ended up in P11. He wasn't out though because Zhou's final lap, which had put the Chinese driver in the top 10, was deleted due to track limits. This meant Norris was saved and Zhou was pushed back down to P14.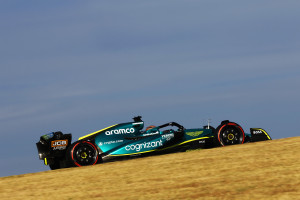 Aston Martin appeared to be continuing their solid practice performances by being well clear of the drop zone in Q1. But by Q2 the pace was closer than the team would like and only Stroll made it to the top 10 shootout with Vettel qualifying in P12.
Also joining Vettel and Zhou were Tsunoda, Albon and Gasly, who was not very happy with his car over the radio on his way into the pits.
The first runs in Q3 continued with the Ferrari's on ahead but this time Hamilton put his Mercedes ahead of both RedBulls which would have effectively put him on the front row with penalties applied. His teammate sat down in P6 with Stroll in P7, ahead of Alonso, Norris and Bottas.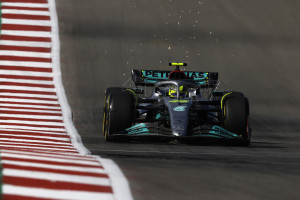 Stroll stayed out for a clear track while the others had their normal break before heading back out on track for their final runs. With Hamilton right in the mix, Verstappen improving in pace and the Ferrari's fastest so far, it was going to be a tight battle for pole.
Hamilton had made sure he was last to cross the line, but he had a poor first sector where everyone else was improving. Sainz was looking quick throughout the session and took the provisional pole, ahead of his teammate just waiting for Verstappen to cross the line.
The 2022 world champion got a bad exit out of the final corner meaning he couldn't beat either Ferrari and ended up qualifying in P3. However, with Leclerc's penalty, Verstappen will start on the front row alongside Sainz.
Perez, Alonso and Zhou also carry five-place grid penalties each meaning the starting grid will be different to the end of qualifying but tomorrow's race is set up to be a great one.