Qualifying:
Heavy rain poured down in Japan for the start of the qualifying but by Q2 it had stopped, the track however was still drenched. The riders went out cautiously.
A surprise, but not a complete surprise, came from one rider – Marc Marquez. He showed he was still very much a champion and put his Honda back on pole position (his first pole since Motegi in 2019). Behind him Johann Zarco (Ducati) took second place and Brad Binder (KTM) took the last slot on front row.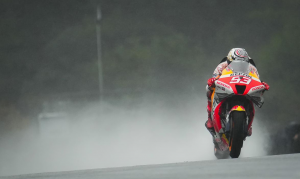 Fabio Quartararo (Yamaha) qualified 9th. 12th was Francesco Bagnaia (Ducati) and in 6th was Aleix Espargaro (Aprilia) – the top championship contenders.
Race:
Clear skies graced the track on Sunday but that didn't mean drama wasn't just round the corner.
Aleix Espargaro had issues with his Aprilia from the start of the sighting lap, before the race had even begun, forcing him to return to pit lane, where he then literally dropped his bike to take his number 2 bike out. He managed to get out of the pit lane in time to join onto the back of the race.
Back on the grid – Marquez got a great start from pole, but Binder had an even better one and was soon leading, from Marquez and Martin. Martin, however, was quick to take 2nd and by turn 3 had also managed to pass Binder to take the lead.
There was another man on a mission though in the form of Jack Miller (Ducati). He had managed to pass both Miguel Oliveria (KTM) and Marquez, in one swift move, to take 3rd place.
Every championship point rang in their ears: – Quartararo was down in 8th place, behind him in 11th was Bagnaia and Espargaro had made it to 22nd. What could any of them do?
Meanwhile Miller had passed next year's teammate (Binder) to take another spot (2nd) on lap 3 of 24. While fastest lap went to Oliveira.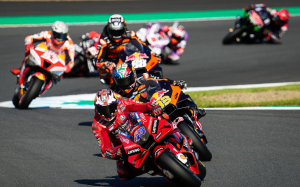 With 22 laps to go Miller fought Martin for the lead – he won and with it took fastest lap. Miller seemed to be untouchable.
In 8th place, Quartararo was under pressure by Luca Marini (Ducati) with 21 laps to go but so was Bagnaia from Bastianini. Enea managed to pass Pecco but Pecco took the position straight back. Meanwhile Marini had also passed Quartararo and managed to make it stick. There was only Pol Espargaro (Honda) between the top two of the championship.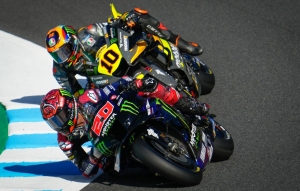 Zarco who had had a great qualifying session had fallen backwards throughout the race and perhaps had an issue with his bike. It was a gift for Quartararo who took 8th spot and Bagnaia promoted himself to 10th. Bastianini was still all over the Ducati rider though, waiting to attack.
With 17 laps to go gapping was being created – Miller's gap between himself and Martin had grown to 1.046 seconds and Martin's gap to Oliveira also had grown to 1.115 seconds. Bastianini managed to pass Bagnaia to take 10th place from him. There certainly were no team orders from Ducati. Bagnaia then had to worry about Marco Bezzecchi (another Ducati) who was already very close behind.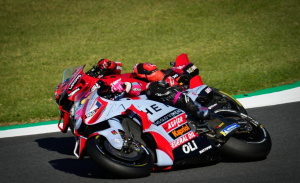 Bastianini soon had pulled away and had already closed the gap between himself and P. Espargaro, managing to pass him on lap 11 of 24. It turned out Bagnaia had nothing to worry about with Bezzecchi as Bagnaia also passed Pol, after Pol made a slight mistake. Now up to 10th place, directly behind Bastianini once more.
Halfway through the race and Takuya Tsuda (who had stepped in for Mir at Suzuki) suddenly had his bike on fire beneath him, causing yellow flags to be waved at sector 2 (turn 5) and ultimately ending his home race.
In 7th place Marini was looking menacing behind Maverick Vinales (Aprilia) and soon had passed him to claim 6th spot and on the same lap (lap 14) Darryn Binder ended his race early sliding off into the gravel. He managed to re-join the race but retired a few laps later.
Back in front, Miller couldn't put a foot wrong, with his metronomic lap times and a gap of 4.369 seconds ahead of Martin, the chequered flag was in reaching distance. Could he win his first race this year?
5 laps to go and Miller remained in command of the Japanese race, while his teammate also managed to dig deep and find some form, beginning to shrink the gap between himself and his future teammate. Into turn 12 he managed to pass Bastianini to take 9th, now he had Quartararo in his sights.
Martin, who had remained in 2nd place for quite some time, was under pressure from Binder. With only 3 laps until the end, who would take 2nd?
Behind them Honda rider Marquez had managed to pass Oliveira to take 4th with 2 laps left. Could he fight for the podium?
Last lap:
Miller continued to lead.
Behind him though, binder passed Martin to take 2nd –
Second-in-the-championship-man Bagnaia suddenly crashed out of 9th, applauding himself for his mistake, while he walked away.
Marini passed Oliveira but couldn't quite make it stick, crossing the line.
But nothing could stop Jack today – the Thriller was back!
Top Ten Finishers:
| | |
| --- | --- |
| 1st | J. Miller |
| 2nd | B. Binder |
| 3rd | J. Martin |
| 4th | M. Marquez |
| 5th | M. Oliveira |
| 6th | L. Marini |
| 7th | M. Vinales |
| 8th | F. Quartararo |
| 9th | E. Bastianini |
| 10th | M. Bezzecchi |
This is Bagnaia's 5th DNF this season and his teammate's first Moto GP victory this year, it was both heartbreak and elation for Ducati.
Top 4 Championship Standings:
| | | |
| --- | --- | --- |
| 1st | F. Quartararo | 219 points |
| 2nd | F. Bagnaia | 201 points |
| 3rd | A. Espargaro | 194 points |
| 4th | E. Bastianini | 170 points |
None of the top championship riders could quite capitalize on today's race, so the championship is still up for grabs with only 4 more races, who will be crowned World Champion?
(Featured image: Courtesy of Moto GP website).