The earlier Superpole race saw Bautista (Aruba.it Ducati), claim his second win of the weekend, followed by the factory Kawasaki team mates of Rea, and Lowes respectively.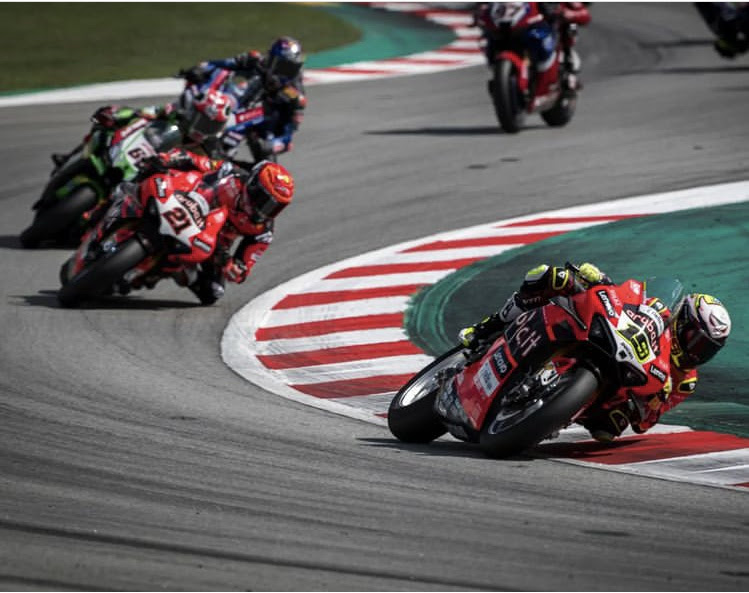 Lights out for race 2, and it was Bautista with the hole shot into turn 1, followed by his team mate Rinaldi, Rea and Toprak (Pata Yamaha). Then early drama as first, Lowes had a high speed crash into turn 10, looking like he lost the front of his Kawasaki. Then Redding (BMW Motorrad), had a brutal looking crash into the last corner. They were both extremely quick corners, and both riders were lucky to walk away.
Next lap and positions were as follows: 1. Bautista 2. Rinaldi 3. Rea 4. Toprak 5. Bassani (Motocorsa Ducati) 6. Vierge (Honda HRC) 7. Locatelli (Pata Yamaha 8. Lecuona (Honda HRC).
With 18 laps to go, Bassani was looking aggressive early on, and cut up the inside of Toprak to take 4th. An amazing start from the young Italian who started from 13th on the grid. As in race 1, the ex MotoGP rider, Lecouna, was looking quick, and set a fastest lap in 8th position. Meanwhile Rea was desperately trying to maintain contact with the Ducati team mates leading the race.
Next lap and Rea decided to make his move on Rinaldi into turn 1, out braking the Italian initially, before Rinaldi snapped straight back to keep the position. Meanwhile at the front Bautista was finding his groove again, and set the new fastest lap of 1:42.405, and was quickly disappearing down the track. Drama then for Locatelli as he crashed out of the race into turn 10, his race was over.
With 16 laps to go Bassani out braked Rea into turn 1 to move into 3rd, Rea now demoted to 4th. Bautista had now extended the gap to his team mate in 2nd to 1.9s, and set a new fastest lap of 1:42.279 in the process. Meanwhile further back it was Gerloff (GRT Yamaha) 11th, Vd Mark (BMW Motorrad) 13th and Laverty (Bonovo Action BMW) 14th.
With 14 laps remaining out of 21, the group of Rinaldi 2nd, Bassani 3rd, Rea 4th, and Toprak 5th, had pulled away from the rest of the field. Bassani continued his aggressive start and moved through on Rinaldi to take 2nd. Toprak held a gap of 1.6s to the group of Vierge behind in 6th.
With 12 laps to go, as in race 1, Bautista was showing no signs of slowing down, and increased his lead to 4.1s. Rea now in 4th was keen to get past Rinaldi, but with the Ducati's acceleration it made pulling off a move difficult. Rea lined up the Ducati into turn 10, and made the move stick this time. Rinaldi then retook the lead down the long straight, and into turn 1, using the power of the Ducati to blow past the Kawasaki ZX 10-RR.
Just over half race distance, and Rea getting increasingly frustrated ran hot into turn 1, allowing Toprak to come through and take 4th. Rinaldi was finding extra pace in the second half of the race, and retook 2nd getting past Bassani, who himself seemed to be struggling with rear grip.
Next lap and after his podium in race 1, Gerloff went down into turn 2. Not having as good a performance, and his race was over. Further back positions were as follows: 6. Vierge 7. Lecuona 8. Oetll (GoEleven Ducati) 9. Baz (Bonovo Action BMW) 10. Bernardi (Barni Racing).
With 8 laps to go Toprak was managing his tyre wear better, and cut under Bassani to take over 3rd. Then as Gerloff did in race 1, Rea pulled off an audacious move into turn 1 out braking both Bassani, and Toprak to move into 3rd. Rinaldi held a gap of 0.9s to Rea behind.
With only 5 laps remaining, tyre wear issues were a major factor for everyone. With both Rinaldi, and Bassani losing ground, Rinaldi in particular was now getting reeled in by Rea. Then big mistake for Rea as he ran hot into turn 7, and rejoined back in 5th. Positions at the front were as follows: 1. Bautista 2. Rinaldi 3. Toprak 4. Bassani 5. Rea.
With 3 laps to go Rinaldi had recovered well, and was maintaining a gap of 0.7s to Toprak behind in 3rd. Rea moved into 4th getting past Bassani who was still suffering with grip issues. Further back positions were as follows: 6. Vierge 7. Oetll 8. Lecuona. Bautista was completely dominating the race and was now an unassailable 10s ahead of everyone, and had the win in the bag, unless affected by a mechanical issue.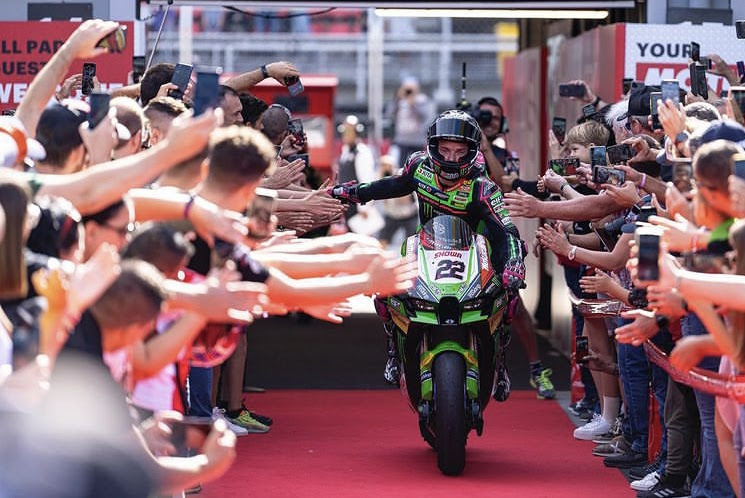 Last lap, and Bautista crossed the line to take a hat trick of wins across the weekend, followed by his team mate in 2nd. And that result is also the first manufacturer 1/2 of the season. Toprak 3rd, Rea 4th, Bassani 5th, Vierge 6th, Oettl 7th, Lecuona 8th, Baz 9th.
A completely dominant set of results across the weekend for Bautista, and he had done serious damage to his title rivals hopes of catching him, with only 4 rounds left in the season.
Result top 5:
Bautista (Aruba.it Ducati)
Rinaldi (Aruba.it Ducati)
Razgatlioglu (Pata Yamaha)
Rea (Kawasaki KRT)
Bassani (Motocorsa Ducati)
Championship top 3:
Bautista – 394
Razgatlioglu – 335
Rea – 327