After a very interesting Spanish Grand Prix we go to Monaco which always tests the talent of the drivers. Unlike most tracks, qualifying is often the most important element of the whole weekend with overtaking almost impossible around the tight street circuit.
Charles Comeback at Home
Last time out in Barcelona it was the turn of Ferrari and Charles Leclerc to have reliability issues when his engine gave up halfway through the race. He was easily controlling the pace after a pit stop for Verstappen put him behind the Mercedes of George Russell with a DRS problem, unable to get past.
It was not all lost hope for Charles Leclerc though. He delivered arguably his best pole lap ever in Spain and the Ferrari's were quicker all weekend on one lap pace compared to the RedBulls. Set up will be very different for Monaco but this is encouraging signs with track position important.
There is one thing that needs to be taken into consideration when it comes to Monaco though… Charles Leclerc is yet to finish a race there. He recently crashed out of the Monaco historic Grand Prix in Niki Lauda's 1974 Ferrari after it had a brake failure around rascasse. He will be hoping to break that run of luck this weekend.
Team Orders Already?
Six rounds in and Verstappen now leads the championship after Leclerc's DNF. The momentum appears to have swung in favour of RedBull over the last few races, so much so that they used team orders this early on in the season to help Verstappen win the race.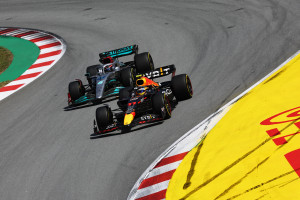 Perez seemed to be the ultimate teammate after having a good strategy and getting past Russell to take the lead towards the end of the race before the radio message came in to let Verstappen past. The 1-2 for RedBull was already secured with only the Mercedes behind them not able to keep up. However, the team have decided already to put all their eggs in Verstappen's basket.
Whilst this is not at all surprising and somewhat expected from RedBull, to have team orders from any team this early on in a very long season does seem to be premature. Even Perez seemed a bit disappointed after the race, saying that they would discuss it later in the race de-brief away from the radio and cameras.
Mercedes with Consistent Pace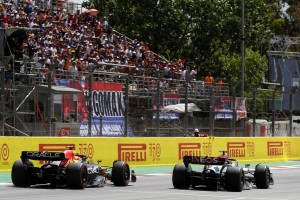 In Spain the upgrades Mercedes brought seemed to have worked and this time they were able to extract much more performance out of the car. Russell kept is cool, making his 2m wide car the same witdth of the track when defending against Verstappen. He was also able to get past a fast Bottas and comfortably stay ahead, something which they could achieve in previous races.
After his lap one incident with Magnussen, Hamilton was P19 having stopped for a puncture. However, he made his way back through the grid, putting in a champions drive to make it back to P5 by the end of the race. He potentially could have finished in P4 but a water leak issue in the final few laps meant he had to back off and Sainz was able to take P4.
It seems Mercedes are most of the way towards solving their issues by being able to operate the car in a wider window of performance compared to Miami. It is now a case of wait and see if they can compete for more poles and race wins.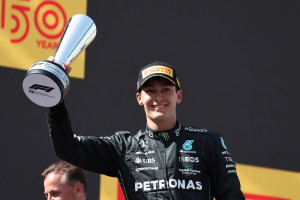 Qualifying on Saturday is at 3pm BST and the Race is at 2pm BST. You can also listen to us live on twitter spaces for all the action on Saturday and Sunday.