Qualifying:
Big news of the weekend is that Marc Marquez (Honda) is finally back, after his surgery which was a complete success this time around. He had some work to do to try and get through to Q2 but, yellow flags hampered him and he narrowly missed out going through to Q2, meaning he would start 13th on Sunday.
It was also a warm welcome back to British racer Cal Crutchlow, who will be racing for the rest of the season in Andrea Dovisiozo's place at Yamaha.
Good news for Ducati though as it was a lock-out on the front-row for them. Francesco Bagnaia took pole with an all-time lap record – 1:46.69, from current teammate Jack Miller and next year's teammate Enea Bastianini.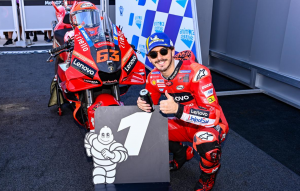 Race:
Sunshine was beaming and the anticipation was bubbling along nicely.
It was all action from lights out – Bagnaia remained in the lead from Miller and Bastianini. While Marquez had made an impressive start and was up into 6th place by turn 2, when suddenly championship leader Fabio Quartararo rode into the rear wheel of Marquez, propelling him from his Yamaha and flying him across the track, lucky not to get caught up in other riders behind him, he recovered on the side of the track. (A medical update later revealed that he had numerous burns to his chest – we wish him a speedy recovery). With this one sudden moment, the championship was flung wide-open!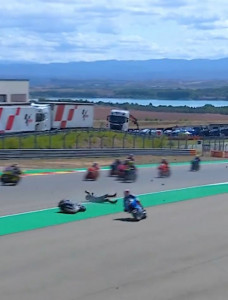 A few moments later Marquez was checking his Honda as there was some of Fabio's Yamaha lodged in the rear of it when Takaaki Nakagami (Honda) nudged him, sending Nakagami also into the line of on-coming bikes and then into the gravel. Quick reactions from the riders behind meant no further collisions were caused. (Medical updates later confirmed Nakagami is doing well but has visited the medical centre, we wish him a speedy recovery also).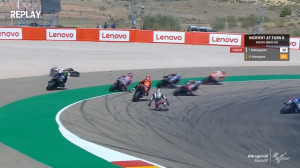 The action wasn't over yet though as Marquez's bike started to smoke from the rear, the Yamaha parts that had gotten lodged in the bike must have damaged his rear wheel. He was forced to retire from his first race back in 2022.
Back at the front, Bastianini went backwards to 4th place, but he had also taken fastest lap.
Bagnaia led Miller, Brad Binder (KTM) and Bastianini onto lap 3 of 23. Bastianini wasn't hanging around though and soon re-took 3rd from Binder. He knew he couldn't let the factory Ducati's get away.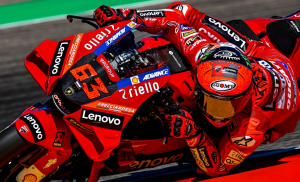 The race pace settled down after the excitement of the opening laps as Bagnaia created a lead of 0.457 seconds ahead of his teammate with 18 laps to go.
Bastianini had plans to thwart Bagnaia's lead though and soon had passed Miller to take 2nd. The gap between himself and his future teammate was 0.700 seconds, knowing he had to hunt him down – he got to work.
Miller's race meanwhile, was going from bad to worse as Binder also passed him as did Aleix Espargaro (Aprilia) moments after, putting him back to 5th place.
With 16 laps to go Bagnaia was still in control, leading Bastianini, Binder and Espargaro.
The gap between the two front Italians had decreased further to 0.412 seconds. Would Bastianini dare challenge Bagnaia for the lead? Ducati had announced prior to the race that their riders are "free to race" so what would he decide?
By lap 9 the gap between the pair had closed dramatically and Bastianini did indeed pass the Duke to take the lead. It was a short-loved lead though as he soon went wide, meaning Bagnaia could re-take the lead with ease. He then made a small mistake on the next corner, nearly letting Binder also take a place from him, fortunately he remained in second, but all his hard work had come undone. The gap between him and the leader was back to 0.786 seconds. He wasn't going to be perturbed though.
Bastianini was on a mission, not letting the number 63 get away he started to claw the gap back. Meanwhile, behind him Binder was being hunted down by Espargaro.
By lap 16 of 23, gapping was appearing between the leading four riders: Bagania's lead was 0.745 seconds ahead of Bastianini, who's gap between him and Binder was 1.579 seconds, who's gap between Binder and Espargaro was 0.405 seconds.
In 14th place – British Yamaha test-rider Cal Crutchlow was remaining in the points, currently higher than any place Dovi had managed to collect this year.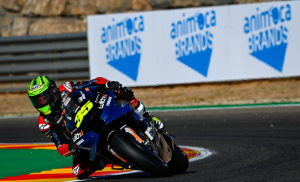 Back at the front the action was becoming tense. With only 6 laps until the chequered flag the gap between Bagnaia and "The Beast" had dropped and Bastianini was very close to the rear of Pecco.
With 4 laps till the end: Crutchlow passed Vinales to take 13th, Espargaro closed the gap between himself and Binder (to 0.193 seconds) and Bastianini started getting tempted to pass his future teammate.
Would he actually do it? Could he actually do it? There weren't many laps left to make a decision.
The gap between the two Ducati's was 0.193 seconds as Bastianini seemed to be testing a corner to pass Bagnaia on. Deciding against it, audiences had to hold their breath.
Espargaro though, decided enough is enough sitting behind Binder and passed him to take the last podium position.
The next lap Bastianini did another tempting move but again decided against it. Was he going to try a pass on Bagnaia?
Last lap:
Baganaia led Bastianini onto turn 1 –
turn 2 –
turn 3 –
turn 4 –
turn 5 and turn 6 but, turn 7 saw a surprise move from Bastianini which saw him re-take the lead at Aragon. Bagnaia had little response to it. The last corner/ the short start-finish straight was his last chance, but it was not to be.
Bastianini claimed his 4th victory for 2022, with Bagnaia extremely close behind.
Top ten finishers:
| | |
| --- | --- |
| 1st | E. Bastianini |
| 2nd | F. Bagnaia |
| 3rd | A. Espargaro |
| 4th | B. Binder |
| 5th | J. Miller |
| 6th | J. Martin |
| 7th | L. Marini |
| 8th | J. Zarco |
| 9th | A. Rins |
| 10th | M. Bezzecchi |
Surprising turn of events for round 15 sees the championship blow wide-open:
Top four championship standings:
| | | |
| --- | --- | --- |
| 1st | F. Quartararo | 211 points |
| 2nd | F. Bagnaia | 201 points |
| 3rd | A. Espargaro | 194 points |
| 4th | E. Bastianini | 163 points |
Now only 10 points between Fabio and Pecco and 17 points between Aleix and first place.
With a 1, 2 in the bag for this round, Ducati had more to celebrate as they became the 2022 Constructors World Champions!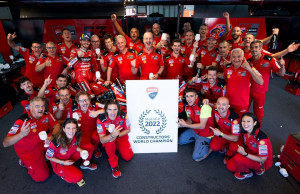 What could possibly happen next time in Motegi, Japan? Be sure to join in with the action on Sunday 25th September.
(Featured image. Courtesy of: Enea Bastianini Twitter page)