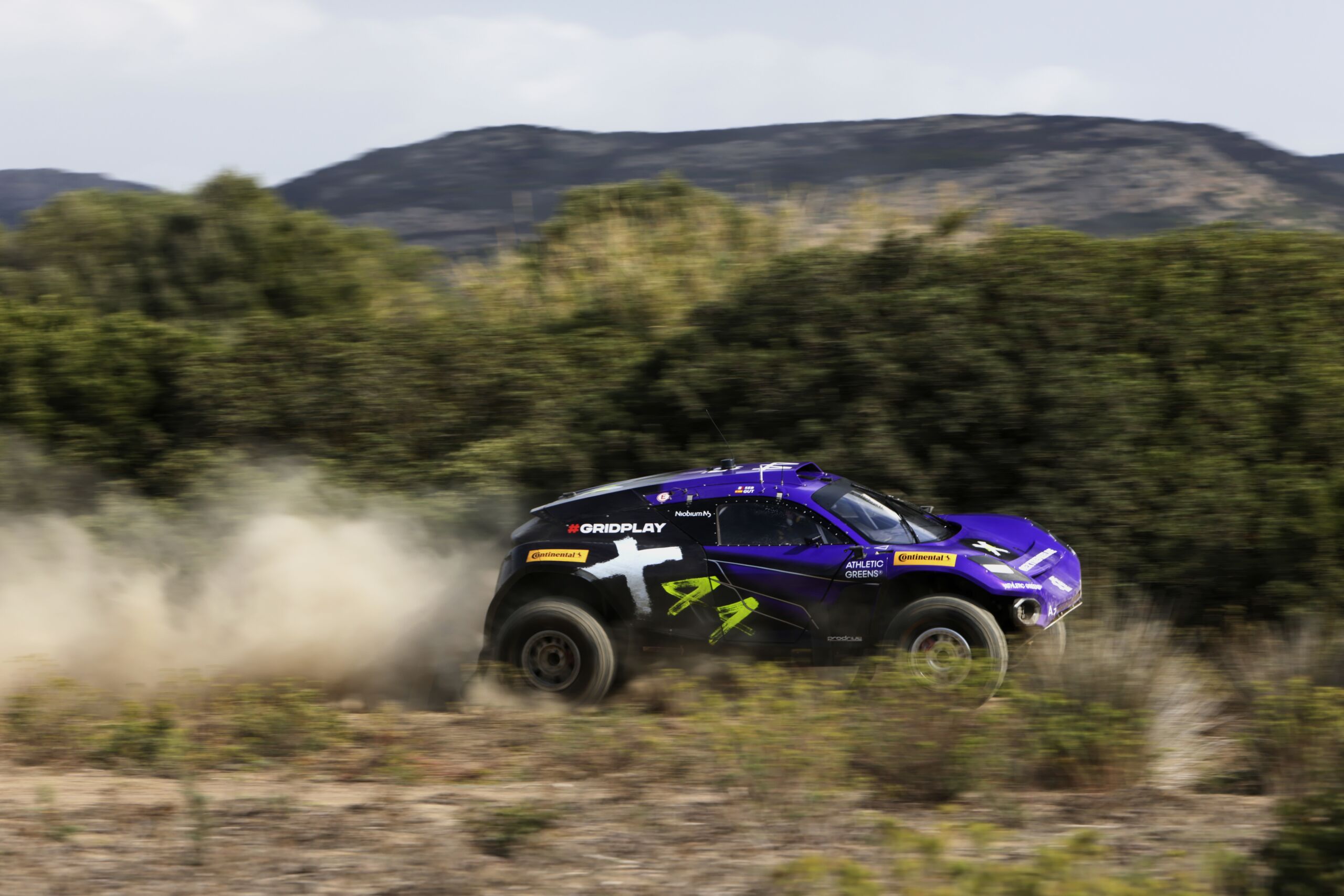 image courtesy of ExtremeE
Lewis Hamilton's team, X44, qualified fastest for the fourth race in a row this weekend in Sardinia; putting in a dominant display over their championship rivals.
Qualifying 1:
Championship leaders Rosberg X Racing (RXR) kicked off the Island X Prix qualifying, with the German team coming into the weekend mathematically able to win the title. Johan Kristofferson showed some strong early pace but that was to be undone as teammate Molly Taylor had an off. The RXR car stepped out as she was going over a blind crest and it rolled as the tires dug into the dust. Fortunately for the team, the car landed upright and Molly was able to finish her lap, setting a respectable time of 11:37.557.
Chip Ganassi's Sara Price was next to take to the track as the team hoped they had put all their bad luck behind them. It was not to be, however, as the suspension broke within the first minute. Christine GZ also suffered from mechanical problems on her lap, which meant both Chip Ganassi and Xite Energy recorded a DNF.
X44 followed Xite Energy as they looked to continue their hot run of qualifying form. Christine Gutierrez was first out and barring a minor spin, set a solid foundation for Loeb to build upon. And build upon it he did! Loeb flew round the course to comfortably set the fastest time of the session so far with a 11:05.105.
Andretti United's Timmy Hansen had the unfortunate job of trying to follow that run and a loss of power steering certainly didn't help the cause. He limped the car to the pits and the issue was fixed as Katie Munnings jumped in. She had a steady lap and the American outfit posted a time 1:18.79 off of X44's benchmark.
The final four teams all had quick runs, but none were able to match the pace of the X44 team, who finished Q1 top of the pile and took maximum qualifying points from the opening session.
Qualifying 1 Classification:
X44 11:05.105 (9 Points)
Acciona Sainz +12.28 (8 Points)
Veloce +18.07 (7 Points)
ABT Cupra +19.69 (6 Points)
JBXE +22.90 (5 Points)
RXR +32.45 (4 Points)
Andretti United +1:18.79 (3 Points)
Xite Energy +1 Lap (2 Points)
Chip Ganassi +2 Laps (1 Point)
Qualifying 2:
Christine GZ kicked off Qualifying 2 for Xite Energy. Fortunately for them, she and teammate Oliver Bennett were able to finish their run and set a decent time of 11:33.636. Not so fortunately, the team received a 10 second time penalty after Bennett missed a waypoint flag.
Current Qualifying leaders X44 were next onto the track and they set a blistering run to smash their Q1 time and go provisionally to the top of the standings with a time of 10:55.401. They were to be the only team to go under 11 minutes.
Andretti United's Katie Munnings followed as the team looked to just get round the course without a repeat of the issues from Q1. They did so, just 18.72s off of X44's time.
It was disaster for Acciona Sainz and Veloce though, with both teams suffering from mechanical faults. The Sainz team had an issue with the steering which saw them finish some two minutes off the back of the pack, whilst Stephane Sarrazin's suspension broke completely and he was unable to complete a lap.
The remaining four teams all had fast and uneventful runs to put themselves right up the order. None, however, were able to get near X44, who had taken maximum qualifying points.
Qualifying 2 Classification:
X44 10:45.401 (9 Points)
Chip Ganassi +17.20 (8 Points)
RXR +18.37 (7 Points)
Andretti United +18.72 (6 Points)
ABT Cupra +47.16 (5 Points)
JBXE +48.75 (4 Points)
Xite Energy +58.23 (3 Points)
Acciona Sainz +2:32.54 (2 Points)
Veloce +2 Laps (1 Points)
Overall Qualifying Classification:
X44 18 Points
RXR 11 Points
ABT Cupra 11 Points
Acciona Sainz 10 Points
Chip Ganassi 9 Points
Andretti United 9 Points
JBXE 9 Points
Veloce 8 Points
Xite Energy 5 Points
Teams on the same number of qualifying points were separated by the fastest traction zone (formerly super sector) times. Qualifying points do not count towards the championship, the points for which were distributed 12-4 through the field.
It will be X44 racing against Chip Ganassi and Andretti United in the first semi final, as the teams battle it out for their spot in the final. RXR, ABT Cupra, and Acciona Sainz will compete in semi final 2, whilst JBXE, Veloce, and Xite Energy will face off in the crazy race.
RXR's championship lead shrunk (albeit ever so slightly) today as X44 look to chase them down. Chip Ganassi, who sit at the bottom of the table, were also able to close in on the team above them (Xite Energy).
Championship Standings:
RXR 104 Points
X44 96 Points
Andretti United 83 Points
JBXE 74 Points
Acciona Sainz 70 Points
ABT Cupra 64 Points
Veloce 54 Points
Xite Energy 51 Points
Chip Ganassi 48 Points