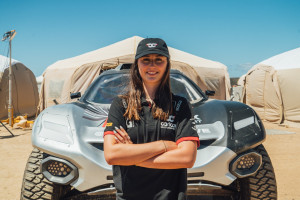 There's a new kid on the block in Extreme E this weekend: teenage superstar Lia Block, who will replace Christine GZ at Carl Cox Motorsport for the rest of the season.
Block, who is the daughter of the late rally driver Ken Block, is currently sixth in the American Rally Association championship standings.
Lia brings with her a renewal of the Block name to Extreme E. Her father tested the Odyssey 21 car at Dakar Rally in 2020, the first time it had been raced in competitive motorsport.
Elsewhere, rally legend Sebastian Loeb returns to the series at the Island XPrix, replacing Nasser Al-Attiyah for ABT Cupra.
Loeb was part of the X44 team that won the 2022 Extreme E championship, and was the runner-up the year before.
Form Guide:
The surprise of the season so far has been current championship leaders, Veloce.
Prior to this season, the team had achieved just one podium finish across two seasons.
But a change in driver line-up has seen the team take two wins in four rounds, and has put them eleven points clear of nearest rivals, Acciona Sainz.
X44 also come to the Island XPrix off the back of a win the previous weekend.
Championship Standings:
Veloce – 80 Points
Acciona Sainz – 69 Points
RXR – 52 Points
X44 – 51 Points
Chip Ganassi – 50 Points
McLaren – 36 Points
Andretti United – 29 Points
Carl Cox Motorsport – 23 Points
ABT Cupra – 20 Points
JBXE – 15 Points
With a new driver on the scene, and the return of an old one, it is set to be a thrilling weekend at the Island XPrix.