The third season of Extreme E will reach its conclusion in Antofagasta, Chile this weekend (2nd-3rd December) with five teams still in title contention.
Current championship leaders, Acciona Sainz, hold a narrow three point gap over Season 1 winners, Rosberg X Racing (RXR). The two teams have been the most consistent on the grid, scoring an impressive five podiums (two wins) each.
Also still in the championship battle are Veloce, Chip Ganassi, and X44, who currently lie 21, 40, and 52 points off the top respectively. It would take a bizarre set of circumstances for X44 to retain their crown come the end of the season, but anything can (and usually does) happen in Extreme E.
Driver Changes
Aside from the championship battle, we also have some new (and old) faces returning to the Extreme E grid.
McLaren driver Emma Gilmour is still recovering from her injury from last time out in Sardinia and is replaced by JBXE's Hedda Hosas. Hosas and JBXE have struggled to find form so far this year, making the Grand Final just twice in eight races.
Tamara Molinaro, who had previously stood in for Gilmour as the championship driver, will fill Hosas' seat at JBXE.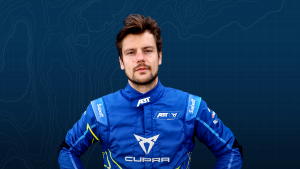 Over at ABT Cupra, Adrien Tambay will make his Extreme E debut, taking over from fellow Frenchman Sebastian Loeb. Tambay has little to no off-road racing experience, but he did win the eTouring Car World Cup in 2022 with the Cupra team.
Standing in as reserves for this weekend are Patrick O'Donovan, and the loveable Christine GZ.
Format
The format for the weekend remains unchanged from the rest of the season.
Teams will take part in two qualifying races, earning classification points depending on their finishing positions. The points will be added up, and the five teams with the most points will progress to the final. The remaining five teams will compete in the redemption race.
Bonus championship points will be awarded for the fastest Continental Traction Challenge time for each round of the double-header.
Championship Standings:
Acciona Sainz – 139 Points
Rosberg X Racing – 136 Points
Veloce Racing – 118 Points
Chip Ganassi – 99 Points
X44 – 87 Points
ABT Cupra – 75 Points
Andretti – 71 Points
McLaren – 45 Points
JBXE – 42 Points
Carl Cox Motorsport – 40 Points