Prema's Arthur Leclerc dominated the second Paul Ricard sprint race, leading from pole position to the chequered flag to score his first win and first points of the season.
Leclerc got a perfect start from the head of the field, as second-placed Jak Crawford stalled as the lights went out and Olli Caldwell and Dennis Hauger had to avoid the Hitech rather than challenge for the lead.
Hauger initially got past Caldwell for second, but Caldwell retook the position after the first few corners and Hauger dropped back towards Ayumu Iwasa instead. But Iwasa wasn't able to keep up the challenge and instead fell to fifth behind Jack Doohan by the end of lap 1.
After the opening lap, the three Premas then started to pull away from Doohan and the rest of the field. Meanwhile, Victor Martins put in moves as he improved from 11th on the grid. By the end of lap 1 Martins was already up to sixth ahead of Juan Manuel Correa and Clement Novalak. On lap 3 Martins picked off Iwasa, then passed Doohan for fourth on lap 7.
At the front, Caldwell set a couple of fastest laps to keep within DRS range of Leclerc. But he was unable to get close enough to challenge for the lead, and instead he dropped to third on lap 8 as Hauger passed him into Turn 1.
However, Hauger was no more able to close the gap than Caldwell was, and Leclerc began setting fastest laps of his own. By lap 10 Leclerc was already more than two seconds clear of his teammates, helped somewhat by Hauger needing to drive defensively to keep Caldwell at bay.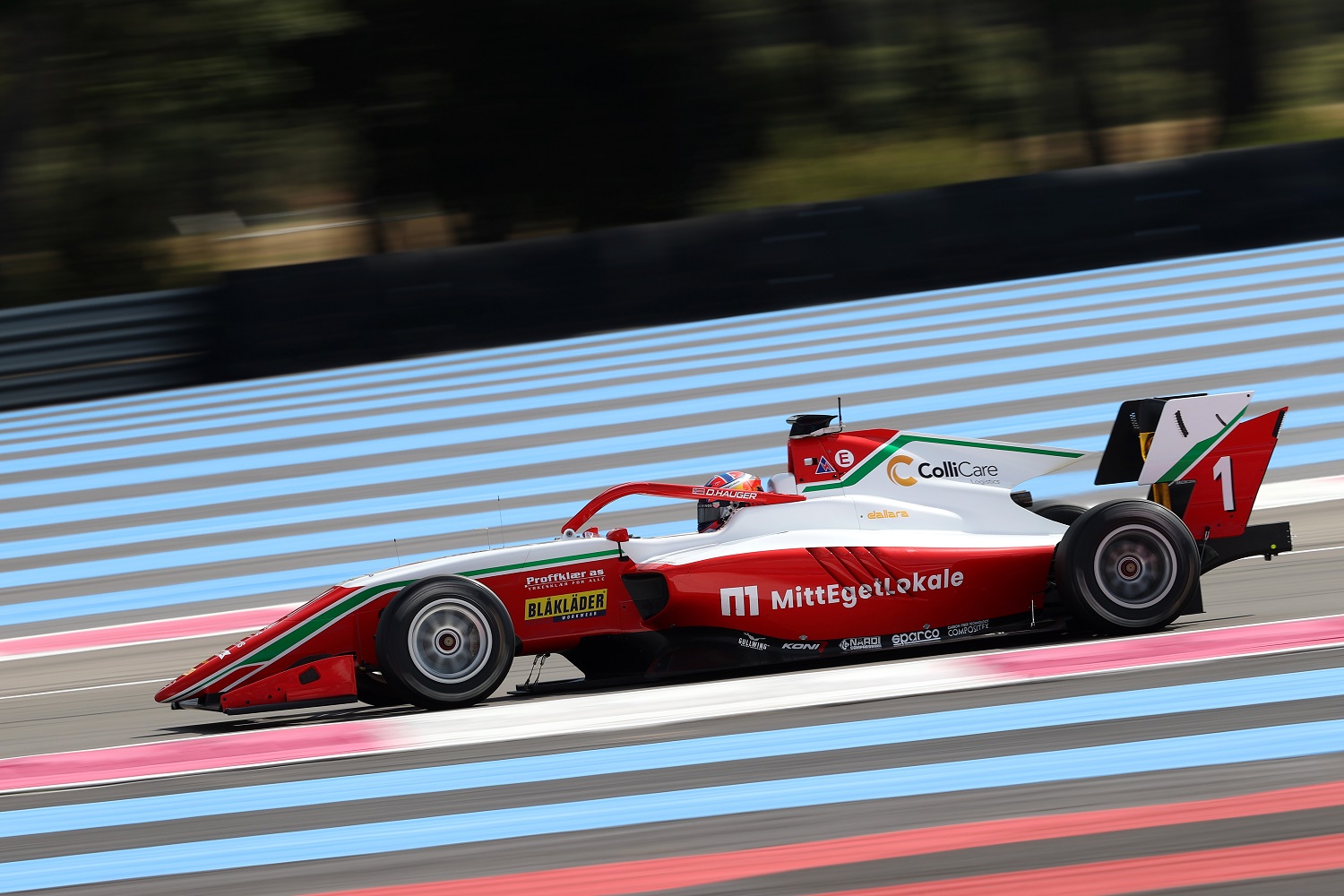 As Leclerc built his gap up to three seconds in the closing laps, Caldwell's pace dropped off and brought Martins into play for the podium. Martins managed to cut the gap from 2.3 seconds on lap 13 to a second on lap 18, before then taking third away from Caldwell on the penultimate lap.
Leclerc led Hauger across the line for a Prema 1–2, while Martins' third place marked his second podium of the day. Doohan finished fifth behind Caldwell and ahead of teammate Novalak. Alex Smolyar, Calan Williams, Iwasa and Frederik Vesti rounded out the points.