On July 25th 2004, Michael Schumacher took victory at the Hockenheim circuit in the last of his championship winning cars, the Ferrari F2004. Fifteen years later almost to the day, his 20-year old son Mick drove some demo runs at Hockenheim in that very same car. The crowd were erupting with cheers for Mick, but it was no easy ride to get there.
Mick began his career in 2008 at the same kart track where his father started. For most of his karting career he went by the pseudonym Mick Bestch, using his mother's maiden name to avoid media attention.
In his first three years, Mick committed to the Kerpen Kartchallenge Bambini races. He finished 4th in 2009 and won the following year. With the KSM Racing Team, he moved up to KF3 for 2011, competing in German championships and even finishing third in the Euro Wintercup. He did so again the following year, as well as securing third place finishes in the ADAC Kart Championship and DMV Kart Championship and 7th in the ADAC Kart Masters.
2013 would be the year that Mick would sneak out of relative anonymity, as he stepped up to compete at a European level. He took part in the CIK-FIA European, WSK Euro Series and WSK Super Master Series KF-Junior championships, and finished third in both the German Junior Kart Championship and the CIK-FIA Super Cup event. With it, the media started picking up that he was in fact Michael's son.
In what would be Mick's last year of karting, he would go by a new pseudonym Mick Junior, and finished runner-up in the Deutsche Junior Kart Meisterschaft, and the CIK-FIA European and World KF-Junior Championships. Tragedy followed in late 2013, as Mick was skiing with his father when Michael had the accident that resulted in the injury that has seen him away from the public ever since.
Mick has understandably remained very quiet about that fateful day, but he hasn't let it prevent him from chasing his dream and, after what was predictably an emotionally difficult final year in karting, he would move up to cars for 2015.
Signing for the Van Amersfoort outfit, Mick would hit the ground running in his first weekend in the opening round of the German ADAC Formula 4 championship with a win in the third race at Oschersleben. He wouldn't herald much more success that year, with only one further visit to the podium on his way to 10th overall.
For 2016, Mick moved to Prema PowerTeam and doubled up his commitments with a dual campaign in the German and Italian F4 championships. This is the point where Mick began impressing me. He took five wins in both championships and just missed out on winning both. He ended the year by finishing third in the MRF Challenge Formula 2000 winter series.
Mick remained with Prema as he stepped up to the FIA F3 European Championship for the following year. The transition didn't herald immediate success, with only a single podium and a 12th-place finish overall, third of the first-year F3 drivers behind Jehan Daruvala and outright champion Lando Norris.
So far, it was a career that was promising but hadn't been hugely stellar. Understandably, he is carrying the burden of being the son of the most successful F1 driver of all time, and most sons of former drivers get grouped in with pay drivers. But 2018 would prove to be Mick's year.
Remaining in F3, he began the year under the radar. It would be the second half of the season at the venue where his father had a lot of his career highs though that he would finally find form, Spa-Francorchamps. Earning pole position in the second race but having to retire, he battled team-mates Robert Shwartzman and Marcus Armstrong in race three and finally got that first win.
That was the start of a great run of form, as he went on to pick up wins at the following rounds at Silverstone and Misano. At the Nürburgring round, Mick joined an illustrious group of racers by picking up all three wins in a single Euro F3 meeting, a group that includes the likes of Max Verstappen, Esteban Ocon and Lance Stroll.
With two further wins at the following round at Red Bull Ring, he overtook long-time series leader Dan Ticktum, a polarising figure who was being hyped up as Red Bull's next F1 star. Ticktum openly suggested on his social media that there were factors towards Mick's success, seemingly an accusation of cheating. Nevertheless, Mick sealed the championship, his first in car racing.
Before his 2019 campaign began, Mick had a choice to make. Prema often houses a lot of Ferrari young drivers, and with the F3 team being powered by Mercedes, Mick had gotten offers from both of his father's former teams. He ultimately decided to go with Ferrari, the team that his father won five straight championships with, rather than the team he was with for his three-year comeback.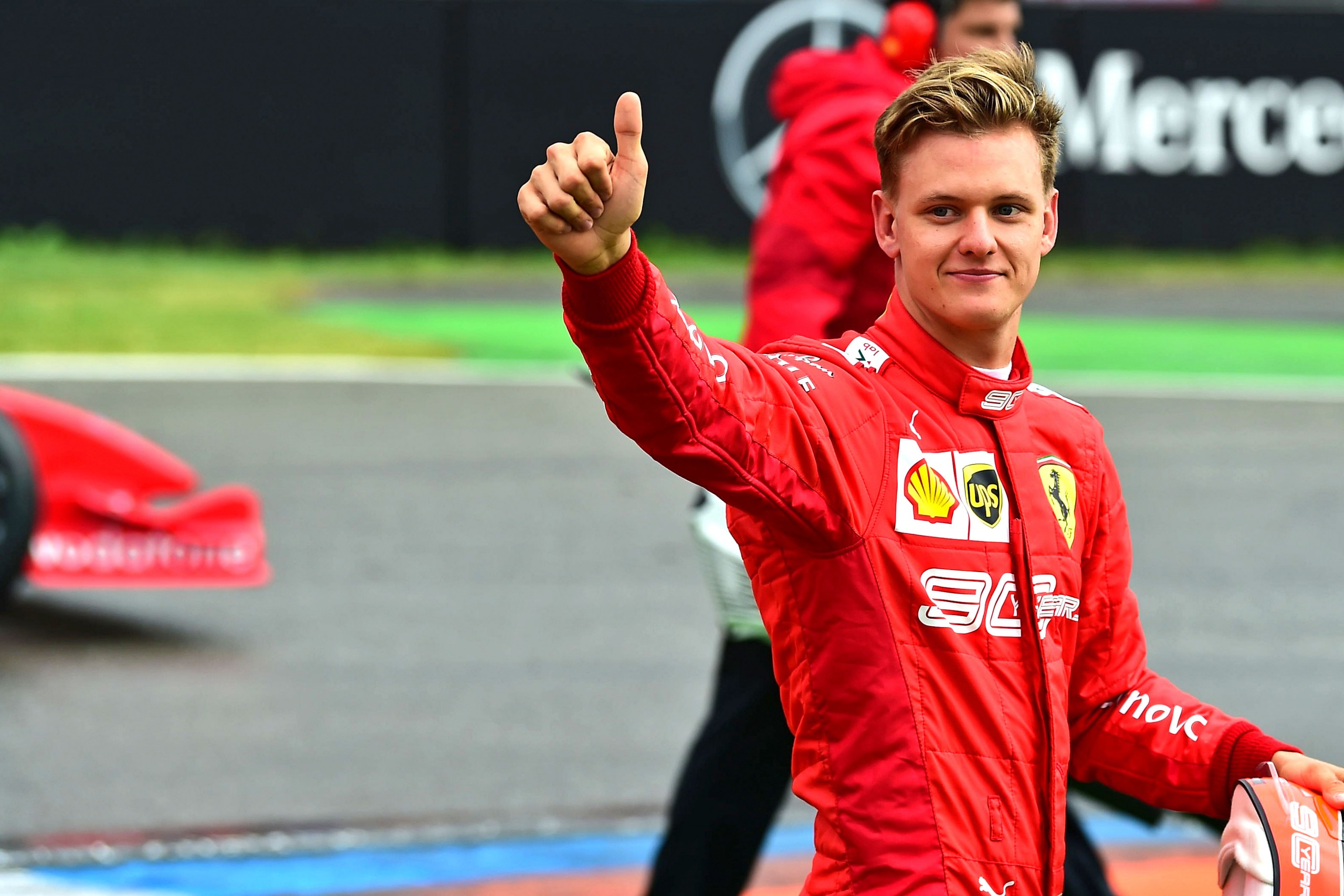 On his debut in the Grand Prix-supported Formula 2 championship, he finished 8th in the feature race at Bahrain, meaning he would start on pole for the sprint race, although he was unable to keep his tyres in good condition. However, the week after driving his dad's 2004 F1 car, he repeated the performance he'd put in in the Bahrain feature race, this time in Hungary, and went on to win the sprint race too.
He also took part in tests with both Ferrari and Alfa Romeo after the Bahrain Grand Prix, and a seat looks set to open up at Alfa should Ferrari decide to either promote or drop current driver Antonio Giovinazzi from the lease Alfa seat. However, 2020 is a make-or-break year for Schumacher, as he faces stiff competition from his teammate, fellow Ferrari Academy driver and reigning F3 champion Robert Shwartzman.
I do rate Mick, but if he is outperformed in F2 this year by the highly-rated Shwartzman then that theoretically should be it for him. If he isn't in championship contention or if the Russian outperforms him, I don't think Mick should get that seat. But I believe Mick will do well, and hopefully he proves his doubters wrong and that he isn't just there because of the name.
Mick has a cousin too, Ralf Schumacher's son David who is a runner-up in the German Kart Championship, best-placed rookie in German F4 and will be racing this year in the same paddock, albeit in F3 for Charouz.
The Schumacher legacy lives on. Hopefully Mick does prove this year that he is worthy of a place in F1, and he can forge his own.
Images courtesy of Scuderia Ferrari