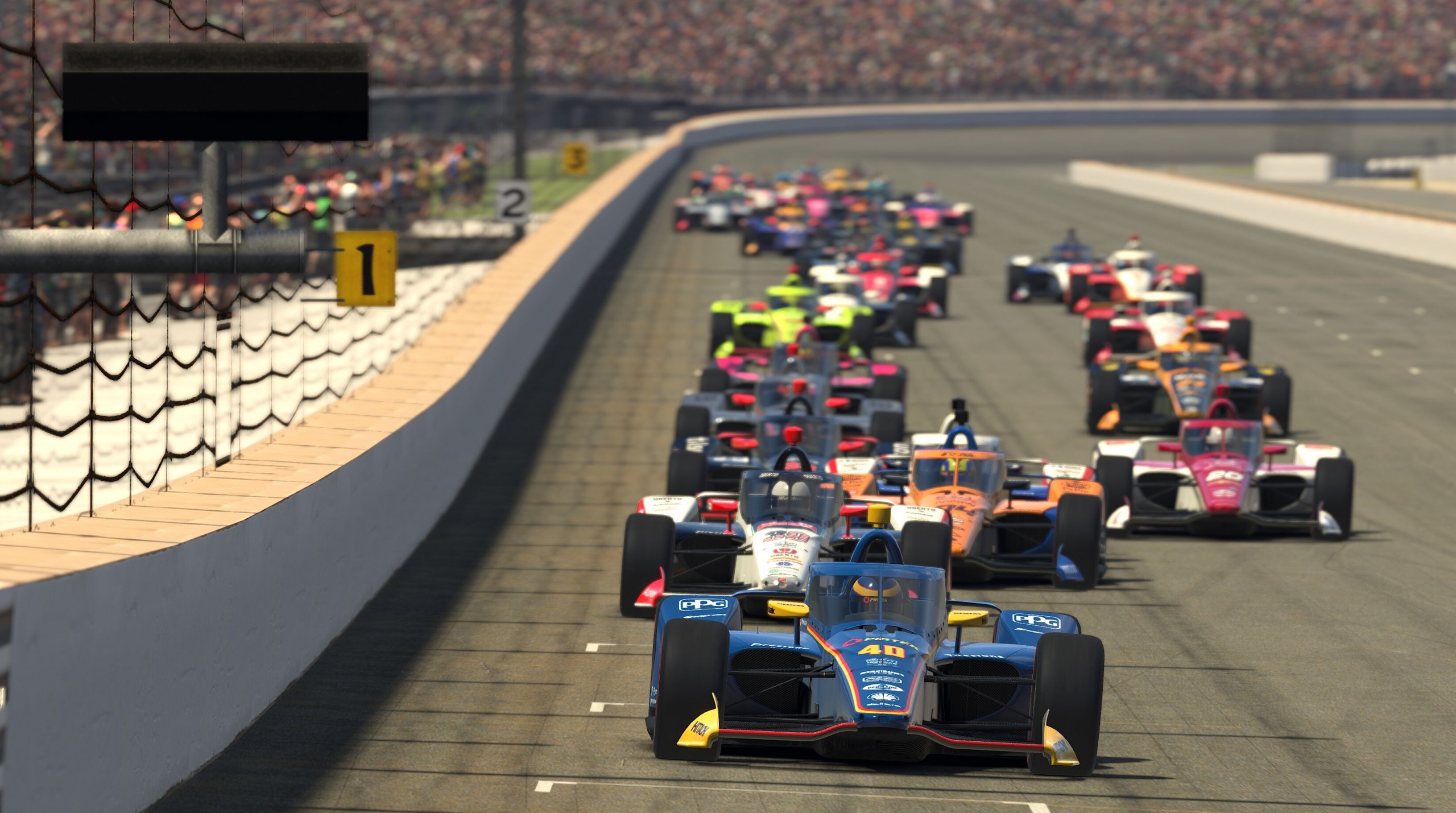 There was a lot to be enjoyed in the Esports races on Saturday. Firstly there was the second round of the Formula E Stay At Home Challenge, taking place on rFactor 2 with Studio 397's own circuit Electric Docks which made for some incredible high speed racing. Then we had the first of a set of rounds that made up a new season of the All-Star Esports Series by The Race where Pros, Sim drivers and Legends all raced at Sepang to contend for their own championships and it even included brands such as Mercedes, BMW, Bentley, Aston Martin, Williams and Venturi officially taking part in it too. Finally, we also saw two races in Veloce's Not The GP series where Ferrari's Charles Leclerc had some incredible battles on the Hockenheim circuit with some of the top names from the world of Formula 1 Esports and Online Content Creation.
But we are talking about the final round of the IndyCar iRacing Challenge, racing 70 laps of the Indianapolis Motor Speedway. McLaren's own Lando Norris was participating after making a guest appearance in last week's race at the Circuit of the Americas, and despite spinning in the middle of the race, he still blitzed the field. This seemingly ruffled a few feathers.
Norris qualified second for the defacto 'Indy 175' to Aussie SuperCars champion Scott McLaughlin and despite never having done oval racing before, he was doing very good. He had put an immense amount of practice in with the help of his former F1 engineer Andrew Jarvis, who left McLaren's F1 division to a new role in their upcoming IndyCar programme.
At one point in the race, a caution period had come out and Lando had just pitted so he had the grippiest rubber out of all the leading group so he looked to be in the best position to win. Ahead of him is reigning Indy 500 winner Simon Pagenaud, who in all the previous IndyCar iRacing Challenge events, had won all the oval races and was looking to get a clean sweep.
Pagenaud and Graham Rahal were fighting for the lead and Norris went low on both of them, there was a noticeable gap between Norris and Rahal, but there is an unfortunate thing that happens in online racing called netcode, where there's a slight lag in connection and subsequently, it feels like there is a collision when there isn't. So Rahal unfortunately was netcode hit by Norris even though Norris didn't do such a thing, and Rahal collided with Pagenaud and it ruined their races. A shame all round because I was looking forward to watching the battle between all these top-level professionals, but that term seems to not apply now, at least to Pagenaud.
Through I believe Pagenaud's engineer's Twitch stream, they seemed to joke about wanting to take out Norris and were badmouthing him as if he actually had done something wrong. But as clear as day in the video I'm going to provide of Lando watching a replay of that Twitch stream after the race, Pagenaud turned in on him heading into the last lap and what seemed to be an all-but-certain victory for Lando was taken from him. Pagenaud even tried to play it off as trying to go to the pits..
You'll also hear in that clip, Lando was in an online chat with fellow Team RedLine sim racing drivers Graham Carroll, Bono Huis and Max Verstappen, and it was Max who suggested they settle these incidents with a boxing match. Rather amusing.
Not only what Pagenaud did, but on the last lap, McLaren's two other drivers got involved in incidents. Patricio O'Ward tried to overtake Ganassi's Marcus Ericsson heading into the last corner but was way too overly ambitious and desperate, it was never on and it cost Ericsson the victory. So it was left to McLaren's third driver Oliver Askew to win the race for the team, but it wasn't to be as the polarising Santino Ferrucci swerved across him on the run to the line, and there to pick up the pieces despite not being anywhere near the front for most of the last few laps, was pole-sitter Scott McLaughlin.
An absolute mess. Inevitably you'll hear the "Just a game" argument, both from people like Ferrucci (who has form for doing this in real world racing as well!) who pull a David Perel and say it's okay to be dirty in the virtual world since nobody gets hurt, and then you have the people who see this as insignificant because it's some immature boy's hobby to play video games so what's the fuss about?
I love my virtual racing but this has just left a sour taste in my mouth. I've lost a lot of respect for Simon Pagenaud, and I didn't have any for Ferrucci anyway since he was said to have been racist to his then-F2 teammate Arjun Maini back in 2018 and also purposely driving into him on the cooldown lap.
It's also been disappointing seeing IndyCar commentator Paul Tracy put on his tin foil hat and claim that Ferrucci's steering conveniently had been hacked or glitched on the run to the line. It's not surprising honestly, they love him on the IndyCar coverage.
This doesn't ruin Esports and sim racing for me, I'll always love it but it's not surprising at all to know that people from outside the virtual racing bubble don't take this seriously. With all the progress being made by Esports whilst we don't have real racing, this has been a huge step backwards for both Esports and also IndyCar.
Image courtesy of IndyCar