When we watch sports – be it tennis, football (round and pointy) or our favourite motorsport series we look for the new star, that person who will shake things up. Senna did that in the Tolman, Niki in the Ferrari and Lewis in the McLaren, with one of the most awe inspiring first season's in F1.
There's one person I left off of that list, and that is Michael Schumacher. His rise to fame was nothing short of amazing jumping from Endurance cars  to F1 in the Jordan and then to eventually win seven Formula One World Driver Championships.
True greats end up with two situations which can be blemishes on their career, firstly teammates that look grey in comparison. Senna, Prost, Lauda, Alonso and Hamilton – barring when teammates were world champions themselves had less than stellar teammates, either via talent not being the same or because of contracts, is one thing that is to be expected. You aren't going to be a world champion in a no.2 seat – ask Mark Webber. McLaren and Mercedes have mostly for instance run with no preferred main driver. Hamilton/Alonso and Senna/Prost are the two that most remember. But since Mercedes returned as a works team in 2010, their drivers have no preferential treatment. Alonso more or less dismissed the talent of Hamilton, and then scrapped with his teammate for the most of the season, perhaps to his cost and his Championship chances. Senna and Prost, were completely different in how they raced, both were racers. They mostly worked "well together" until well that corner at Suzuka and Senna, being Senna wasn't happy with the tarmac being "inferior" to the P2 slot of Prost's Mclaren.
One team in Formula One has traditionally has had contracted driver placings, that is Scuderia Ferrari S.p.A.. The system of number one and two drivers has worked well for them up until the mid 90's. That started to erode, first with the paring of Eddie Irvine and then later with Rubens Barrichello from 2000. Both were fast drivers, and if Michael wasn't there, they'd have probably won championships with Ferrari.  Both Barrichello and Irvine suffered from retirements, we won't ever know if those were due to testing parts or for genuine reasons.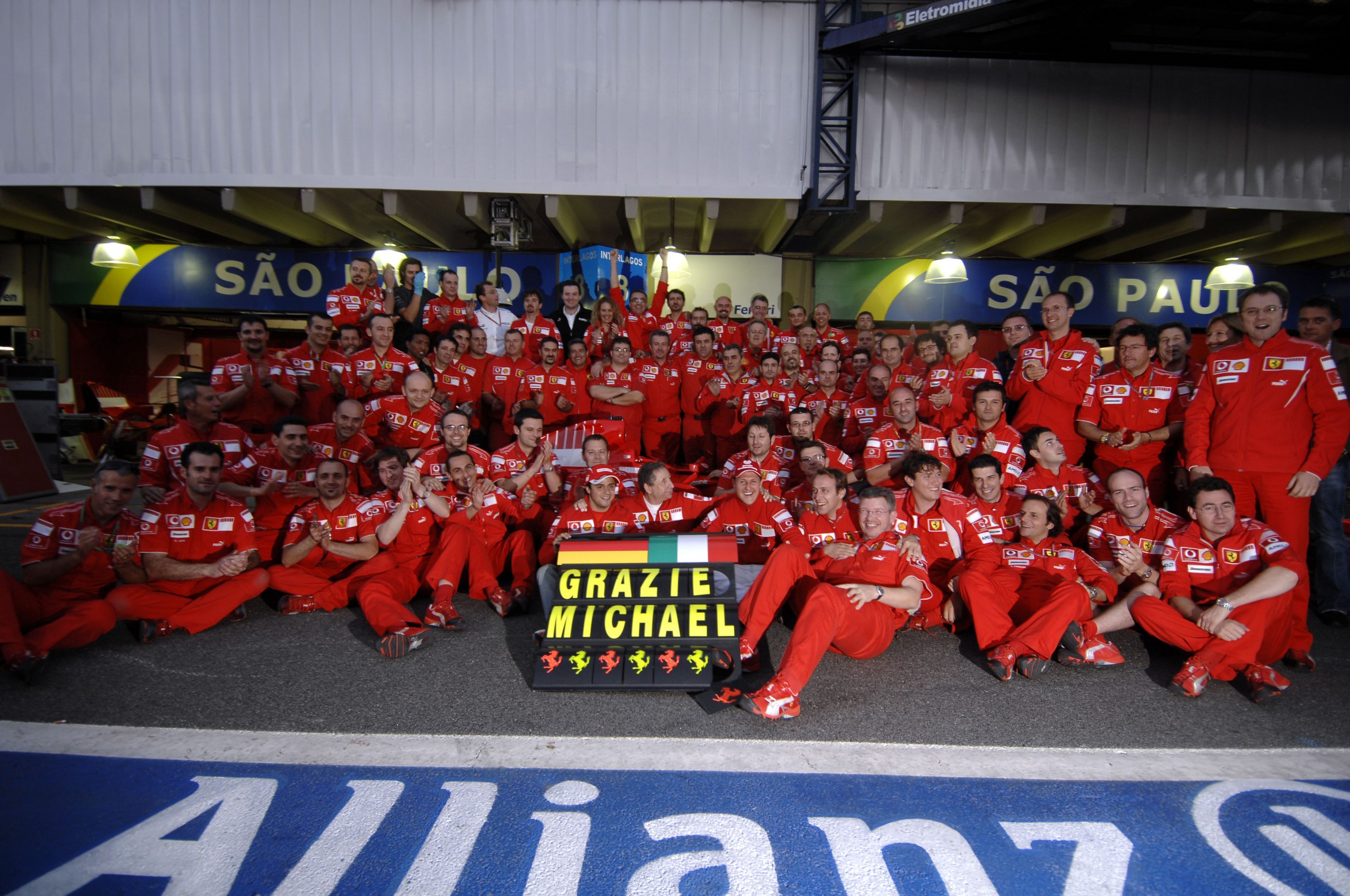 The second situation which nearly every dominant world champion faces (Senna and Prost didn't as much), is that if you start to win as many world championships as Prost, Lauda, Senna, Vettel, and perhaps more acutely, Schumacher and Hamilton – well drivers retire, either to race in another series, or start their own vineyard!. Sometimes you are done with the sport, for which theirs many reasons, from health issues to the simple fact of not being good enough to be beat the best. But as a world champion you crave to have the best fight for the championship that you can, ideally not with the little new kid but that one, who has won a lot.
In any sport, you have golden eras, where there isn't just one great but three maybe four individuals (and teams in team sports) who stand out. In Formula One we've had had the late 80's, where we had, Piquet, Prost, Senna and Mansell whom where fighting for the world championship, they all became world champions.
In the 90's we had Häkkinen, Hill, Villeneuve, Senna, Prost and Mansell all gunning for the championship. Schumacher won two world championships in 94-95 – early in his F1 career, it was a rich fabric of talent, that were World champions or in waiting. Schumacher became the best because he beat the best. But slowly one by one, they, had their names engraved upon the Formula One world champions trophy. Some jumped to another Series, Mansell to Indycar in 1993. Or others, going to less competitive cars, Villeneuve (British American Racing) and Hill (Arrows). Others simply stayed on a year and retired, Häkkinen and Prost. Senna, of course sadly lost his life at Imola in '94.
He didn't have the competition. Those world champion weren't there, or in uncompetitive cars. Ferrari where the only competition, and Rubens was prevented from racing Michael, which came to a head in 2002 at the Austrian GP with Barrichello being ordered to let Schumacher pass him for the win. This lead to one of the most embarrassing podiums known in recent years.
Schumacher won in 94,95 and then from 2000,01,02,03 and 04 being his last championship win before he retired in 06. Those years (00 to 04) whilst showing his ability as a driver, to win. But you always felt with the team orders that win rate was partly Barrichello's input as well as his own.
I entitled this piece, "Michael Schumacher – a true great but left with no competition" that is true, his existing competition of world champions left the sport one way or another. But he then had to fight off new competition in the form of Raikkonen and Alonso, whom ended up with three world championships between them. Alonso beat Schumacher in 2005 and 2006, Räikkönen nearly did so in 2003 but bested McLaren teammates Alonso and Hamilton in 2007 by one point.
Featured Image courtesy of Ferrari