Ask every driver in Formula 1, the home race is guaranteed to be their favourite. This was no exception for current World Champion Lewis Hamilton going in to the British Grand Prix at Silverstone this weekend, aiming to build on his lead over rivals Sebastian Vettel and team-mate Valterri Bottas.
It wasn't an ideal start for Hamilton though, having qualified in P2 on Saturday afternoon after being pipped to the top spot by fellow Mercedes driver Bottas, with only 0.006s between the two laps. This time Hamilton didn't simply have the luxury of building a lead from the start, he'd have to earn his keep and get past the fiery Finn before getting to the golden trophy.
Behind the two Mercedes' drivers sat Charles Leclerc in P3, eager for another opportunity to be on the podium following a dramatic Austrian Grand Prix which saw him lose out on 1stplace to the ballsy Dutchman, Max Verstappen and Red Bull who coincidentally sat in P4, providing fans with a great deal of entertainment throughout the race.
It was a relatively clean start all round, however Haas's week of drama continued as Kevin Magnussen and Roman Grosjean made contact in the first lap, which unfortunately forced both drivers to retire from the race. This unlucky accident resulted in Grosjean's 5thretirement of the season, and no doubt, 2 pairs of thoroughly boxed ears from an extremely angry Gunter Steiner in the post-race briefing.
At the front of the grid, both Mercedes' drivers had a good start, with Bottas' managing to hold his team-mate at bay with some excellent defending. Bottas' looked to be building a lead on Hamilton. This was all in vain as Antonio Giovannazi beached his Alfa Romeo in the gravel giving Hamilton the opportunity for a free pit stop.  Unfortunately, Bottas wasn't able to catch up with the Brit, who had been rewarded by opportunistic strategy from Mercedes engineers. This lead was held for the duration of the race, much to the joy of the hordes of Hamilton fans in the stands that day.
But we expected that.
Meanwhile, a little bit further down the track, some exciting racing was finally taking place.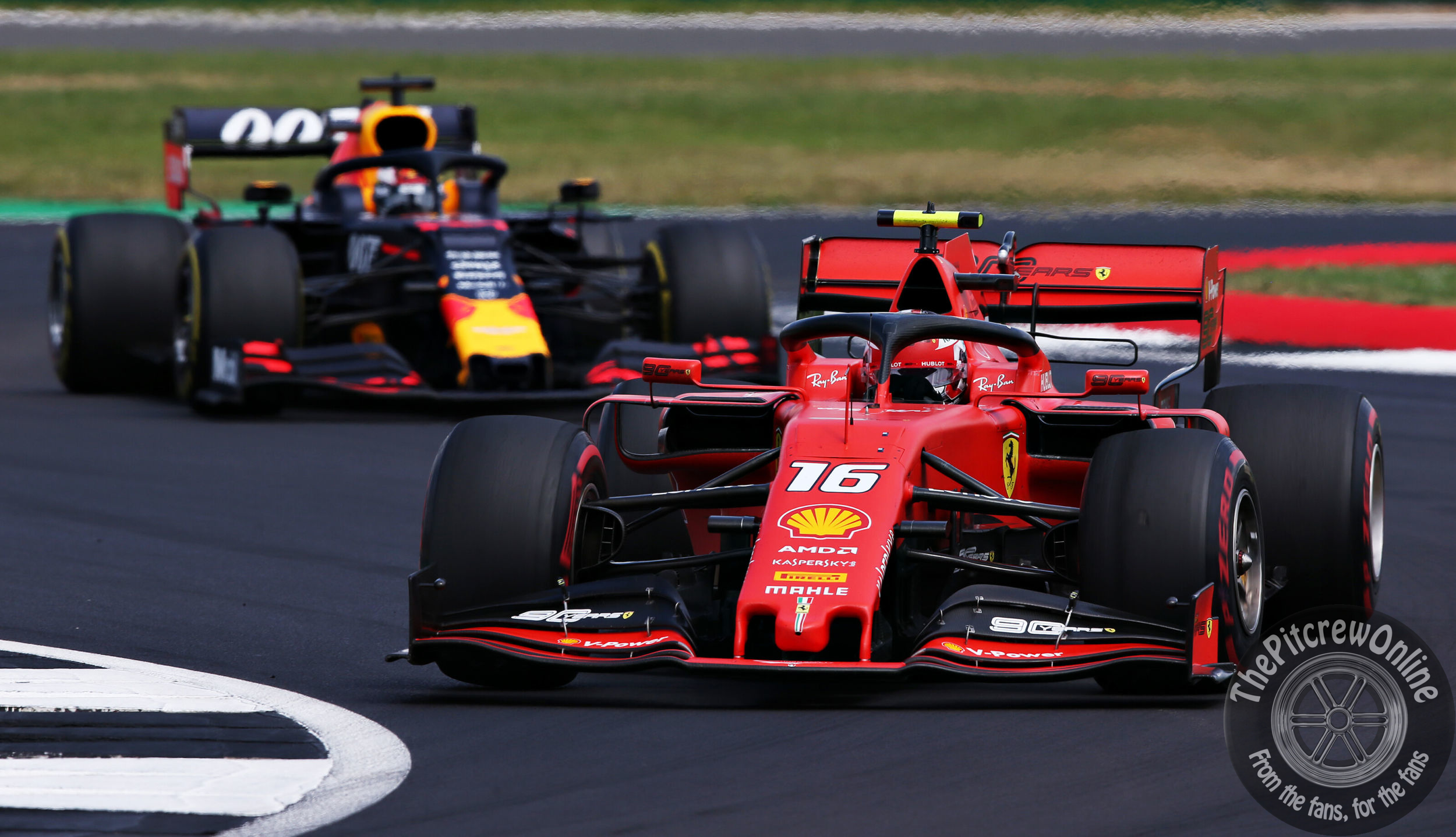 Verstappen was keen to rub yet more salt in Leclerc's wounds for another podium finish, providing fans with some clean, excellent racing for 13 laps, after which came an overtake that had fans (aka me) screaming at their TV's in amazement. Both Leclerc and Verstappen came into the pits at the same time, putting enormous pressure on both Ferrari and Red Bull mechanics to get the tyres changed flawlessly and quicker than the other team.
Red Bull won the battle, but as soon as the mechanics had stopped cheering on Verstappen taking 3rdplace from Leclerc in the pitlane, the young Ferrari driver had re-gained the position emerging back on track. New tyres on a newly re-surfaced track caused Verstappen to run wide at turn four, leaving the door wide open for Leclerc to take back 3rdplace.
To pit or not to pit, that was the question once again for Leclerc's strategists at Ferrari who were slow to bring their number two driver in to change his boots during the safety car. This cost the young Monégasque track position, coming out ahead of Verstappen who had also pitted and emerged in 6th.
The re-start was promising for Verstappen who managed to overtake Leclerc for a second time (on track this time), and push on towards his team-mate Pierre Gasly for 4thposition. Gasly honourably moved aside to allow Verstappen to charge after the other prancing horse, which he quickly met and began the battle for 3rdplace once again.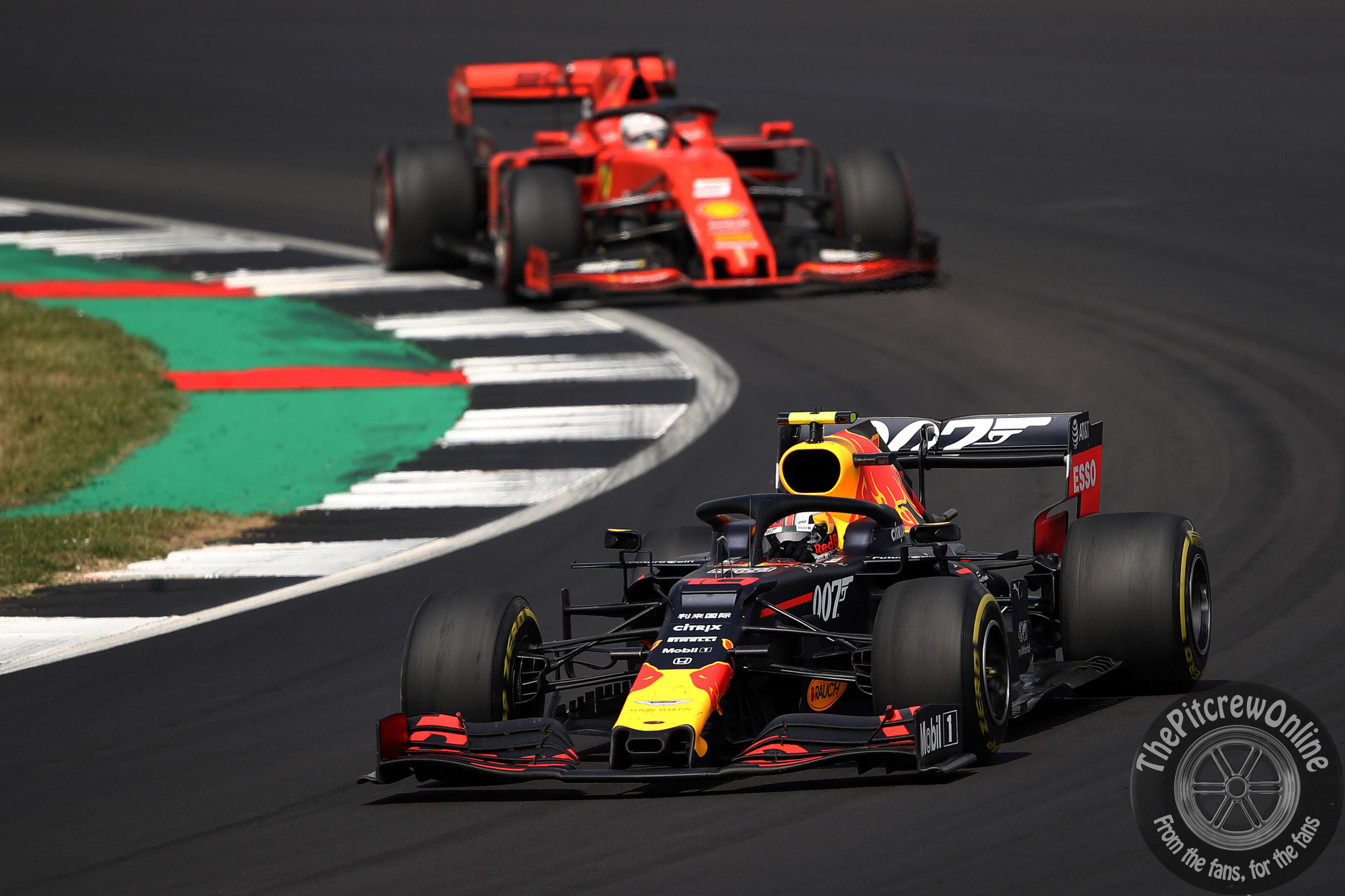 Verstappen overtaking Vettel going into Stowe could have been one of those moments that go down in fondly remembered Formula 1 history, unfortunately, the gods of racing weren't happy to leave well enough alone. Almost immediately after Verstappen had gained the position, he had lost it once again after Vettel misjudged his braking and shunted the back of the Red Bull which caused them both to run off the track.
By some miracle, the only thing that was damaged was the two drivers' egos, and the pair somehow managed to work their way out of the notoriously tricky gravel trap and back onto the track to continue with the race. Vettel was slapped with a 10-second time penalty for this incident, which adds to what has been a gut-wrenching season for the 4-time World Champion.
This weekend was not simply an opportunity for fans to bask in Hamilton's never-ending glory, British fans were also able to say thank you to a F1 icon, Sir Frank Williams who was celebrating an astonishing 50 Years in Formula 1. Although Vettel's mistake cost Ferrari important championship points, it also gave the Williams' drivers the opportunity to not finish last for the first time this season. British driver George Russel finished 14thahead of his team-mate Robert Kubica in 15th, although it doesn't seem like much of an achievement, it was a welcome change for the struggling team.
The racing wasn't simply reserved for Ferrari and Red Bull, McLaren and Renault were also able to get stuck in. McLaren golden-boy Lando Norris made his intentions quite clear from the beginning, as payback for Ricciardo's cheekiness in the driver's conference at the start of the weekend.
The two battled it out wheel-to-wheel, quite literally from the start of the race, through Copse, Maggots and Becketts until Ricciardo eventually lost out to the youngster in the hair-raising battle. Norris' spectacular driving ability was over-shadowed by McLaren's poor strategy choice which eventually kept Norris out of the points, finishing in 11th; Ricciardo managed to score his first few points since Canada, finishing in 7thplace.
Following his win at Silverstone, Lewis Hamilton is able to go into the German Grand Prix with a 39-point lead on his main rivals, Valterri Bottas and Max Verstappen. That said, after this weekend, there's quite clearly something special about a home race, and with Hockenheim just around the corner, perhaps this is where Vettel will start to make his comeback.
Featured Photo by Gareth Harford / LAT Images via Pirelli