Emma Kimilainen won from pole after a close battle with Alice Powell, who led much of the race, as championship rivals Jamie Chadwick and Beitske Visser fought for third place.
In her second race back after injuries kept her out of action earlier in the season, Kimilainen took pole in Saturday morning's qualifying session with a time of 1:34.758. 
Powell set the second fastest time, despite having the same car that had suffered a number of issues last time out at the Norisring, due to a rule that meant, while normally drivers swap cars at each round, she had to keep the same car going into this weekend.
Championship leader Chadwick put in the third best time, with her closest title rival and local favourite Visser joining her on the second row of the grid.
Further back on the grid, Norisring winner Marta Garcia and Lichtenstein's Fabienne Wohlwend qualified 7th and 8th. Meanwhile, Vicky Piria lined up 12th after suffering a fiery failure, cutting her qualifying session short.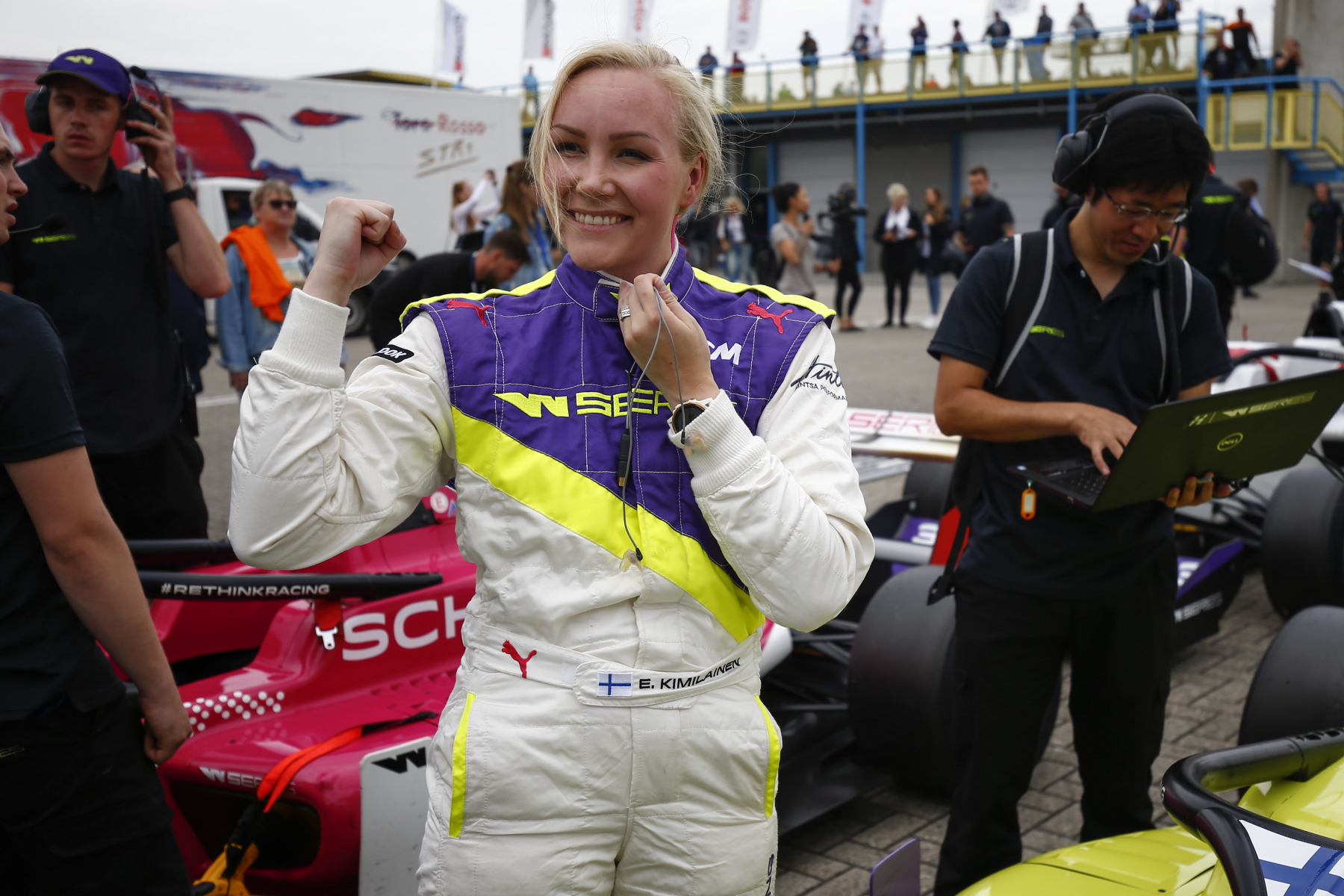 As the lights went out for the start of Saturday's championship race, Kimilainen made a sluggish start, handing Powell the lead, and almost allowing a charging Chadwick through. Meanwhile, Visser dropped to fifth behind Caitlin Wood. Further back, Garcia tapped the rear of Tasmin Pepper, who then spun, making contact with Miki Koyama, bringing out the safety car on the opening lap.
After the safety car period, pole-sitter Kimilainen pressured Powell throughout the race, with Powell eventually making a small mistake and running onto the kerb with 10 minutes remaining, allowing Kimilainen past. Kimilainen then quickly built up a sizeable lead, crossing the line 5.7 seconds ahead of Powell in second.
Chadwick rounded out the podium, despite seemingly lacking in pace to Powell and Kimilainen ahead, but was able to hold off a strong challenge from title rival Visser, who finished in fourth and pulled off the move of the race, making an early decisive move to pass Wood down the inside.
Wohlwend, still in mathematical championship contention at the start of this race, is now out of the title fight after running wide and damaging her front wing, forcing her to pit. Garcia is also now out of contention after finishing in ninth.
Tomorrow's race, which will not award points, will see an experimental reverse grid based on today's race results. After today's penultimate championship race, Chadwick leads with 98 points, with her sole remaining challenger Visser on 85 points going into the final round at Brands Hatch on 11th August.