Time for the fiftieth world rally championship season to start with the new rules and new cars that were launched on Saturday evening. The driver movements are well documented as well, so let's get on and review this incredibly iconic rally. With four days of competition ahead, lets take a look at the stages.
The 90th running of this event this year is based in Monaco instead of Gap and with 296km over 17 stages the challenge of this rally remains as tricky as ever. We may not see any snow, but there will almost certainly be ice on the stages making it a big challenge to stay on the road.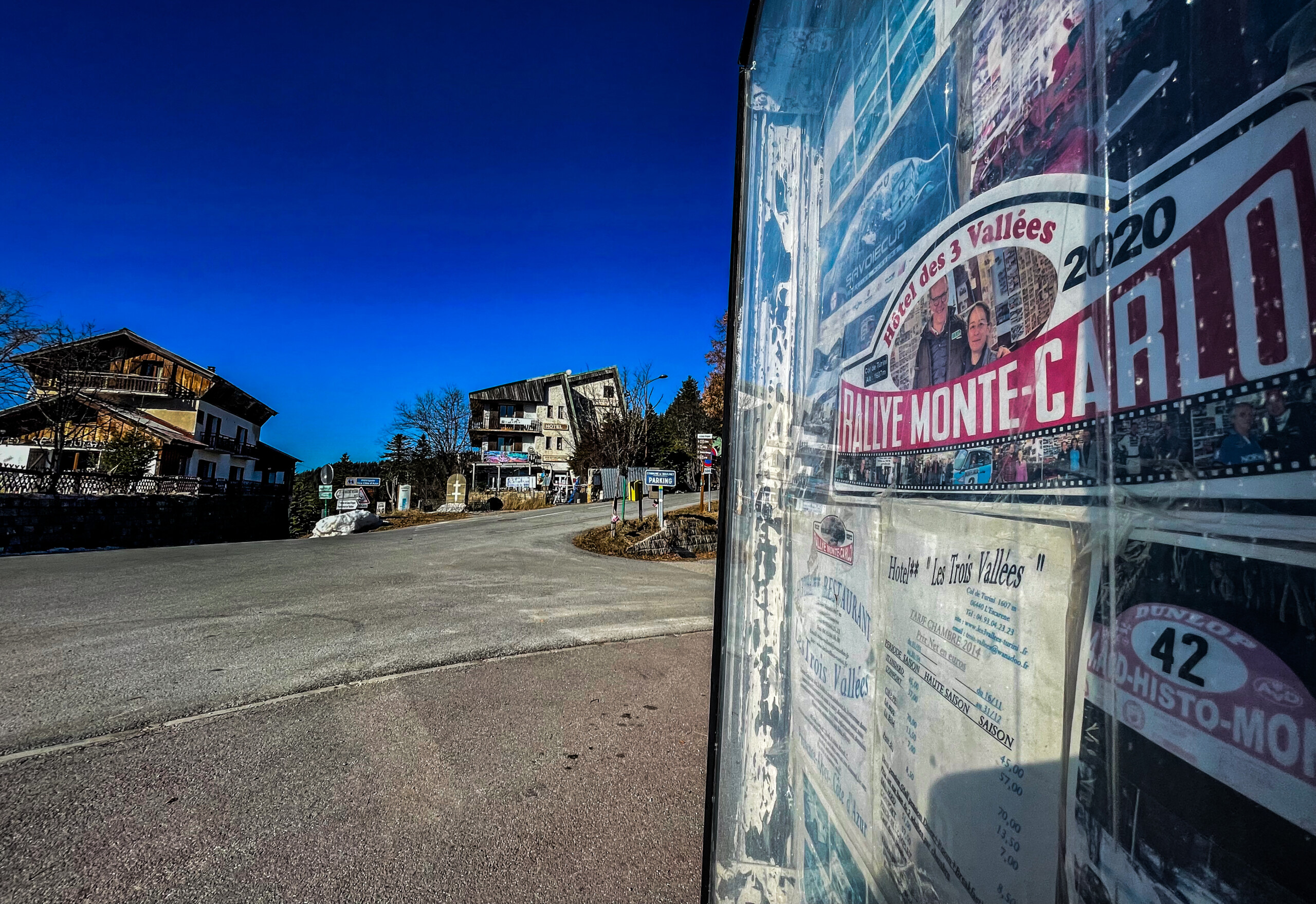 Shakedown takes place on Thursday the 20th of January with a short 2.29km stage that starts at 9:31 local French time.
Later the same day the opening ceremony takes place in Monaco followed by two stages run in the dark: Luceram / Lantosque (15.20km) and La Bollène-Vésubie / Moulinet (23.25km)
Friday's itinerary consists of two attempts of Roure / Bevil (18.33km), Guillaumes / Péone / Valberg (13.49km) and Val-de-Chalvagne / Entrevaux (17.11km) with just a tyre fitting zone between the morning and afternoon loops
Saturday begins with Le Fugeret / Thorame-Haute (16.80km), before presenting the challenge of two passes of Saint-Jeannet / Malijai (17.04km) and Saint-Geniez / Thoard (20.79km)
Sunday features two loops of La Penne / Collongues (19.37km) and Briançonnet / Entrevaux (14.26km). The second pass of the latter will be the rally's Power Stage.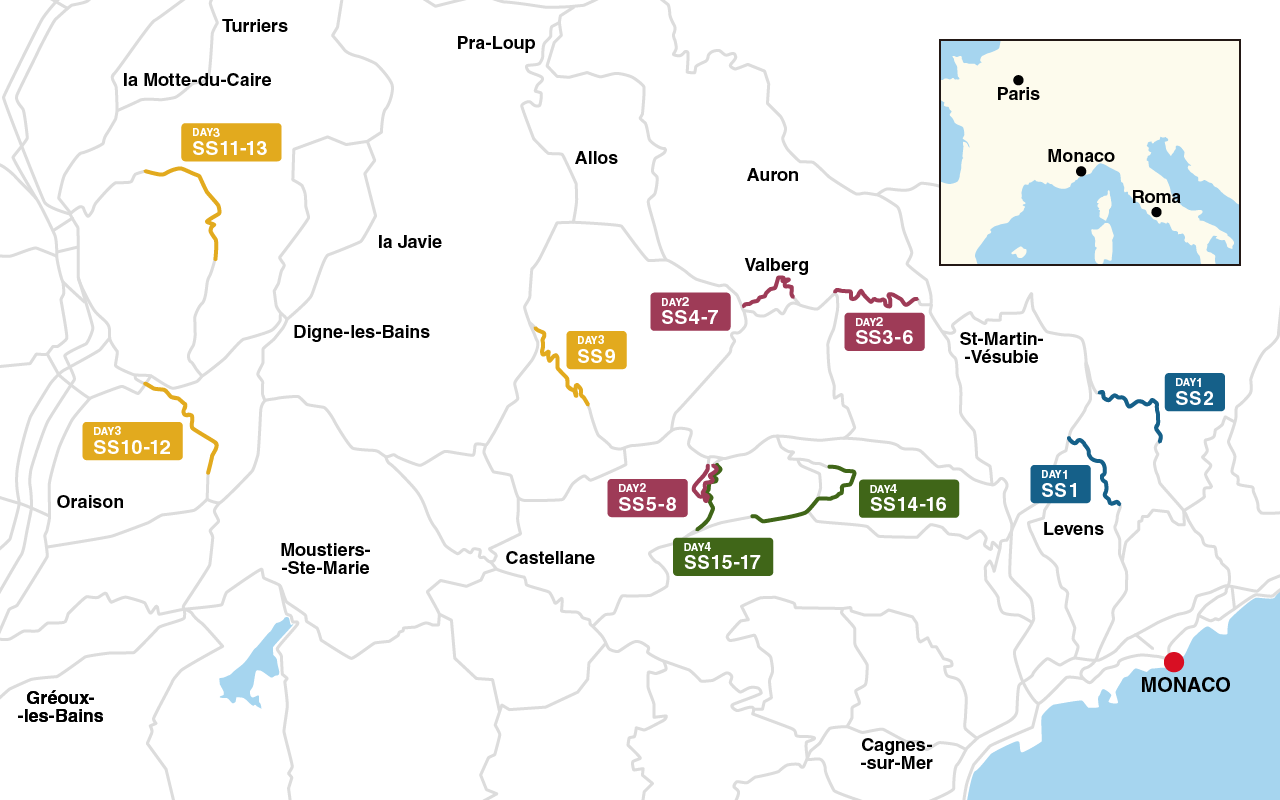 The usual crews will be challenging for the podium spots I suspect.
Let's hear from the drivers!
Toyota Gazoo Racing WRT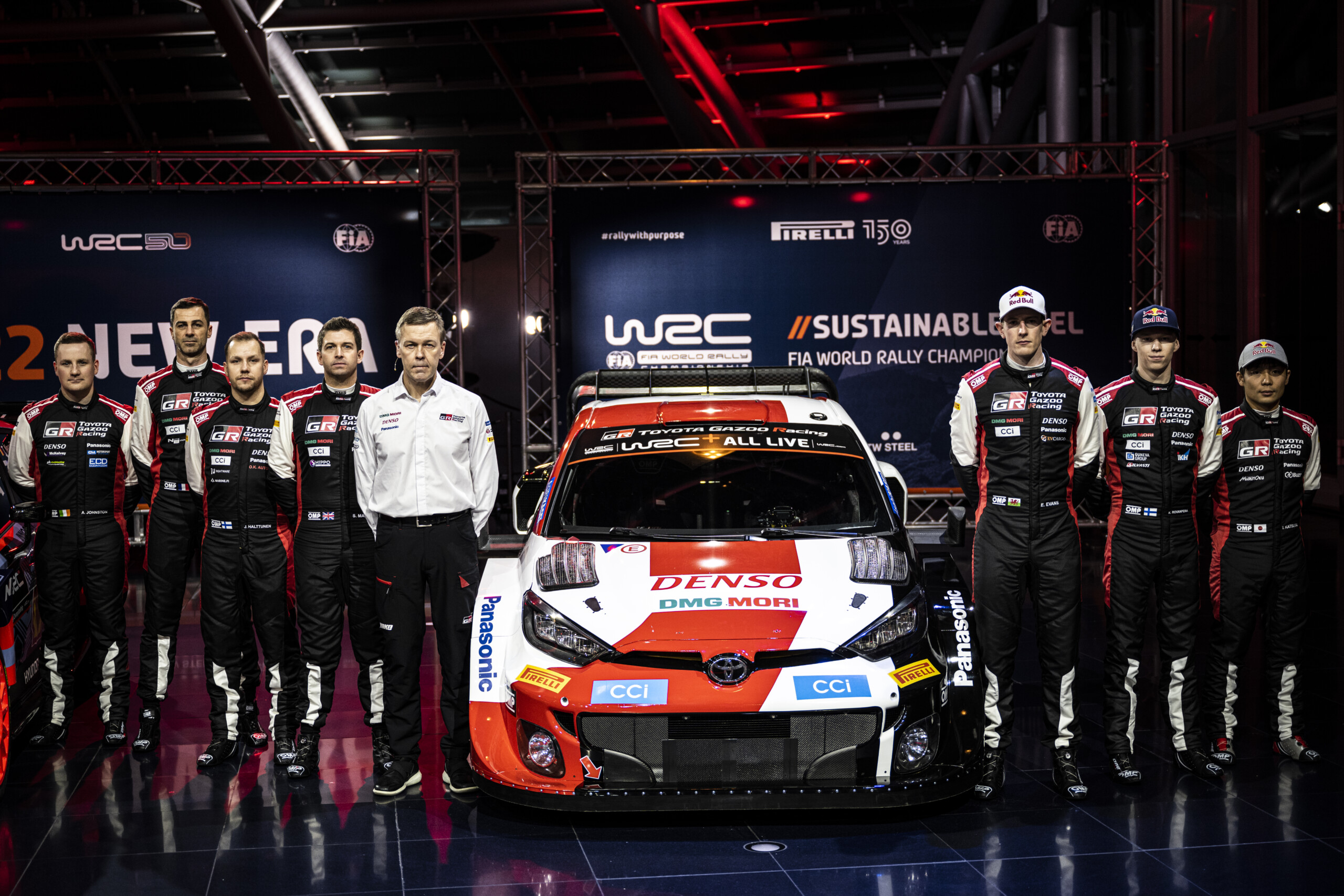 Sébastien Ogier
"I'm at the beginning of a different stage in my career, and as I'm not taking part in the full championship the feeling is a little bit different to usual for me at this time of the year. But being part of this programme with TOYOTA GAZOO Racing is still exciting and going to Rallye Monte-Carlo is always special for me. I'm still a competitor and I still want to win, so I will be giving my best to perform. I know the team has been working very hard to be ready with this new generation of car and big steps have been made in every test. I've had the chance to do three days of testing in the GR YARIS Rally1 in December and another day last week, all to prepare for this event. It's quite a big change and it's an exciting challenge to try and adapt to that. But I think going to Monte Carlo will be a huge challenge for everybody: There's more uncertainty than ever going into this rally."
Elfyn Evans
"This is an exciting time in our sport and I'm looking forward to the challenge of these new cars. Since I first tested the GR YARIS Rally1 we've made some good progress, but it's impossible to know where we stand relative to the competition until we get to Monte Carlo. So much has changed and it's a clean sheet of paper. It's not been easy to jump from a car that was so well-developed, where everything was coming quite easily, and into something that is a lot more unknown. The additional power from the hybrid system makes a huge difference and how you manage it could be worth quite a lot in certain cases. We've already learned a lot in testing and I'm sure we're going to continue learning a lot during the year, starting in Monte Carlo. It's a rally that's always a bit of a lottery with the weather anyway, and now the base has moved south there's a lot of new stages and different terrain to get to grips with."
Kalle Rovanperä
"My feeling with the new car is good and we have some good preparation behind us. With any new car there are always many things to work on and to improve, but I feel we have been making good progress all the time. It's been especially interesting to get used to the boost from the hybrid. It gives you much more power, and that's usually a good thing, but it can also be a bit tricky in certain points if you're not ready to use it. As a driver you need to think about how to use it and if you can do that better than the others it could make quite a big difference. Rallye Monte-Carlo is going to be quite special this year. It's always a tricky rally but this year we are going to have a lot of new stages as well as a totally new car. Friday and Saturday are going to be long days without mid-day service and if you can get through those days without issues that will already be quite good."
Hyundai Motorsport
Thierry Neuville
"Our main target in Monte-Carlo is to finish and gain experience in the car. I don't think we are going to have a completely dry event but I don't think it will be full of snow either; as usual, we are expecting a mix of conditions. Because of this, it's very hard to have the perfect tyre choice for all the stages, so it's all about compromise next weekend – the driver who does it best is going to be the most competitive. Choosing the tyres is not so easy because you have to collect a lot of information, trust yourself and commit. It will be a challenge, but I like driving in these conditions, so it is going to be exciting."
Ott Tänak
"I think there is some uncertainty heading to Monte-Carlo, so it is important that we get through the rally without any major issues and keep the car running so we gain as much experience as possible – that will be the priority. Rallye Monte-Carlo is not as much about pure performance; it is about the reliability and the small decisions you make. Of course, we want to finish well and score many points for the championship this weekend. The very first stage in the dark with the new car will certainly be an adventure."
Oliver Solberg
"Starting my first WRC campaign in Monte-Carlo is going to be very exciting. I think we have realistic expectations for the event – the most important part for us is just finishing and helping the team as much as possible. Rallye Monte-Carlo is an event where everything can happen; a stage can start with snow and end with tarmac, so it's a very interesting and unpredictable way to begin the season with the new cars, but it's also very exciting. I know I will take some time to find my feet but I have the best guys in the team to learn from."
M-Sport Ford WRT
Sebastien Loeb
"It's a radical change of scenery after spending three weeks on the Dakar Rally but it's still very exciting to be at the start of the Monte Carlo Rally, especially with the WRC's new hybrid era.
"I'm also proud of this collaboration with Malcolm's team, working with them has been talked about throughout my career but never quite managed to happen, so thank you all, M-Sport, Ford Performance and Red Bull for finally making this happen on such an amazing event.
"For this rally, I will certainly be less prepared than the other drivers but the feeling with the Puma Hybrid Rally1 was immediately very good and everything just came together. I am looking forward to having fun this weekend with Isabelle, my new co-driver, and the whole M-Sport team."
Craig Breen
"It is always something very special competing on Rallye Monte Carlo, but to be doing it for the M-Sport Ford World Rally Team, is a dream come true! The team has done an unbelievable job building and developing the Puma Hybrid Rally1 and it really shows. It is by far the best rally car I have ever driven and with the addition of the hybrid unit, it is going to add another dimension to the rally. Paul and I are relishing the challenge and are really looking forward to the year ahead with M-Sport and Ford."
Adrien Fourmaux
"For Rallye Monte-Carlo, we will try to do our best, feel the car and understand its level of performance compared to the others. It will be the first time here in the top category of the WRC, I have been here previously in the Fiesta Rally2, my first appearance was already a top ten overall finish! I love these roads; I have performed quite well in the past so I have good hopes. By the way it's a new era for everyone so we'll need the perfect match between the car's reliability and driving skill to perform well until the end of the rally. We hope to deliver the best result as we can, everything is possible!"
Gus Greensmith
"I'm excited to be a part of the 2022 M-Sport Ford World Rally Team as we head into the most significant rule change in WRC history. The team has done a great job developing the new car, and I feel really comfortable driving it. We're all confident the car should be a lot more competitive than recent years, which will hopefully give us more opportunities to fight near the front. I was happy with my improvements last season, and I want to build on that going into 2022. I was within a second of my first stage win last year, and I feel that with the new package, this is definitely an achievable goal, and we also want to try to push for our first podium as well. Monte Carlo has always been a tricky opener for the championship, but I have done the rally a few times now, and with the new car feeling so good, I am really looking forward to the challenge. It will be essential to build the speed throughout the weekend, especially with this being Jonas and I's second rally together. Thanks again to all the team for all the hard work they have put into the Puma Hybrid Rally1, and I hope we can repay them with a good result in Monte."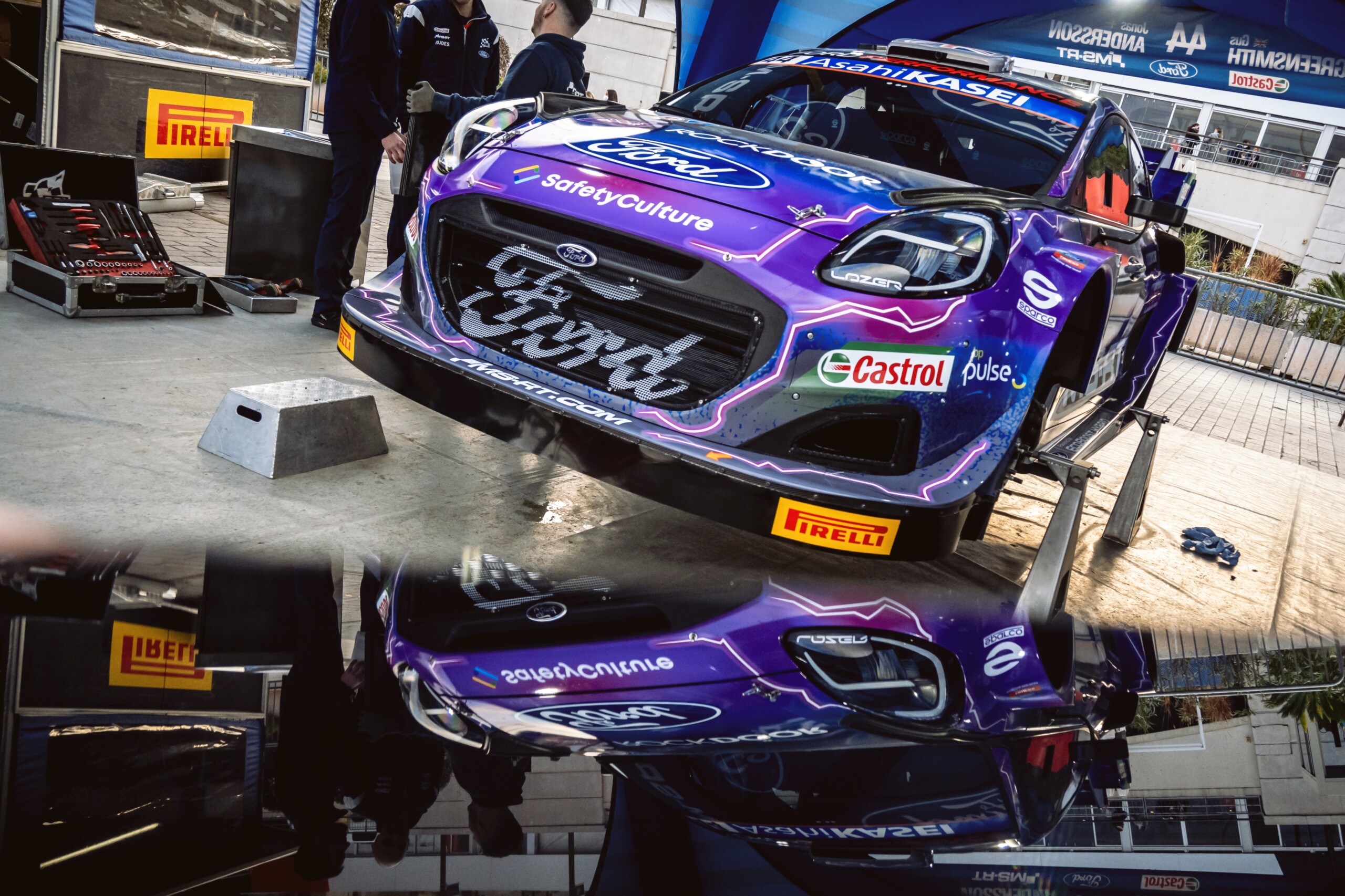 Summary
Well, we are set for another gripping season of top-level rallying. Which team have done the best job with the new regulations and who will take victory this weekend? Make sure that you are following the action online and pop back at the end of each day for my daily reports.