The final day then of this epic round of the championship and we had 75km's over six stages to bring the event to a close. EP re-joined the action and would open the road throughout the day's stages.
Into SS14 Malewa 1 – 8.33 km and when Esapekka got to the finish it emerged that he had another propshaft had failed. What, again?! Unbelievable for the Finn. Meanwhile Kalle took the stage win from Seb and Takamoto. Elfyn suffered a spin in the stage and with his Japanese teammate setting such a good time the gap between them came down to 11.4 seconds. Another gap that reduced was that between Kalle and Seb. Just 8.6 seconds was now separating them. The top three in WRC2 remained Kajetan, Martin and Carl.
Next up was SS15 Oserian 1 – 18.33 km and Seb won the stage from Kalle and Ott. The Frenchman doubled his lead as well over his younger teammate to 17.2 seconds. Their teammate Elfyn also increased the gap to Takamoto by 10 seconds.
The final stage before service then, SS16 Hell's Gate 1 – 10.53 km and the first look at the power stage. EP struggled through with what he thought was front wheel-drive. His Spanish teammate also had technical problems after his powersteering failed. The Toyota's had their problems, with Takamoto getting a problem with his hybrid system. There was a bigger problem for Seb though as he went wide and removed his rear wing and hatch completely. However, he only lost around four seconds of his lead. He was lucky that this happened on the stage before service. The top three were Ott, Thierry and Kalle.
After service SS17 Malewa 2 – 8.33 km was won by Kalle by just 6 tenths of a second from Seb and Takamoto third. Further back, Thierry was closing on eighth place overall which had been kept by Kajetan for most of the rally, the gap was just 13 seconds now.
Time then for the penultimate stage, SS18 Oserian 2 – 18.33 km and Takamoto took his second stage win of the weekend, beating Elfyn to the top spot, whilst Kalle was third. Once again, the gap reduced to just 9.2 seconds between the top two. Thierry made it past Kajetan and into eighth overall.
The final stage then SS19 Hell's Gate 2[Power Stage] – 10.53 km and early pace setter EP's time was eclipsed by first Thierry then Ott went second fastest and Kalle third. Rounding out the top five were Seb whose car crossed the line with a smashed windscreen, courtesy of a rock that flicked up near the end of the stage and Esapekka.
Let's check out the final finishing positions and hear from the drivers.
Final Overall Classification –Safari Rally Kenya
| | | | | |
| --- | --- | --- | --- | --- |
| 1 | S. Ogier | V. Landais | Toyota GR Yaris Rally1 Hybrid | 3:30:42.5 |
| 2 | K. Rovanperä | J. Halttunen | Toyota GR Yaris Rally1 | +6.7 |
| 3 | E. Evans | S. Martin | Toyota GR Yaris Rally1 | +2:58.5 |
| 4 | T. Katsuta | A. Johnston | Toyota GR Yaris Rally1 | +3:23.8 |
| 5 | D. Sordo | C. Carrera | Hyundai i20 N Rally1 Hybrid | +5:05.4 |
| 6 | O. Tänak | M. Järveoja | Ford Puma Rally1 Hybrid | +9:14.4 |
| 7 | P. L. Loubet | N. Gilsoul | Ford Puma Rally1 Hybrid | +16:15.7 |
| 8 | T. Neuville | M. Wydaeghe | Hyundai i20 N Rally1 | +24:47.0 |
| 9 | K. Kajetanowicz | M. Szczepaniak | Škoda Fabia Evo | + 26:33.4 |
| 10 | O. Solberg | E. Edmondson | Škoda Fabia Evo | + 27:04.0 |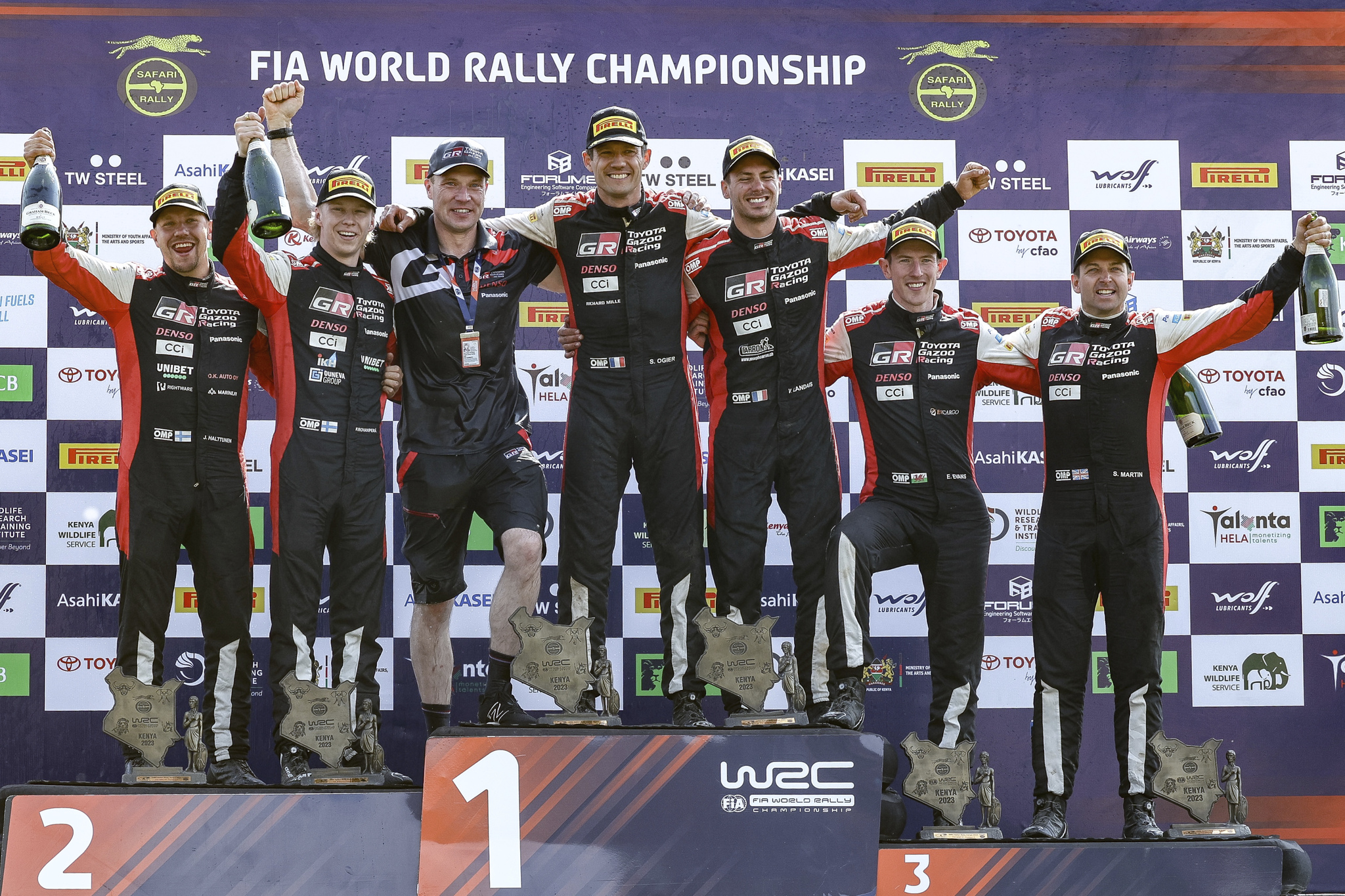 Toyota Gazoo Racing WRT
Sébastien Ogier (1st)
"This was a hell of a rally and a hell of a fight. I really enjoyed it but I would have liked to have a few less incidents because it could have been a much more comfortable race: the pace was really good, the car was great to drive, I had a good feeling and it seemed that we had everything under control. But we were hit by some little things here and there, including today when we lost the tailgate, and we had some overheating in the fesh-fesh sand. But I'm happy that we could bring it home. I think it's a deserved victory and result for the whole team and we need to enjoy it."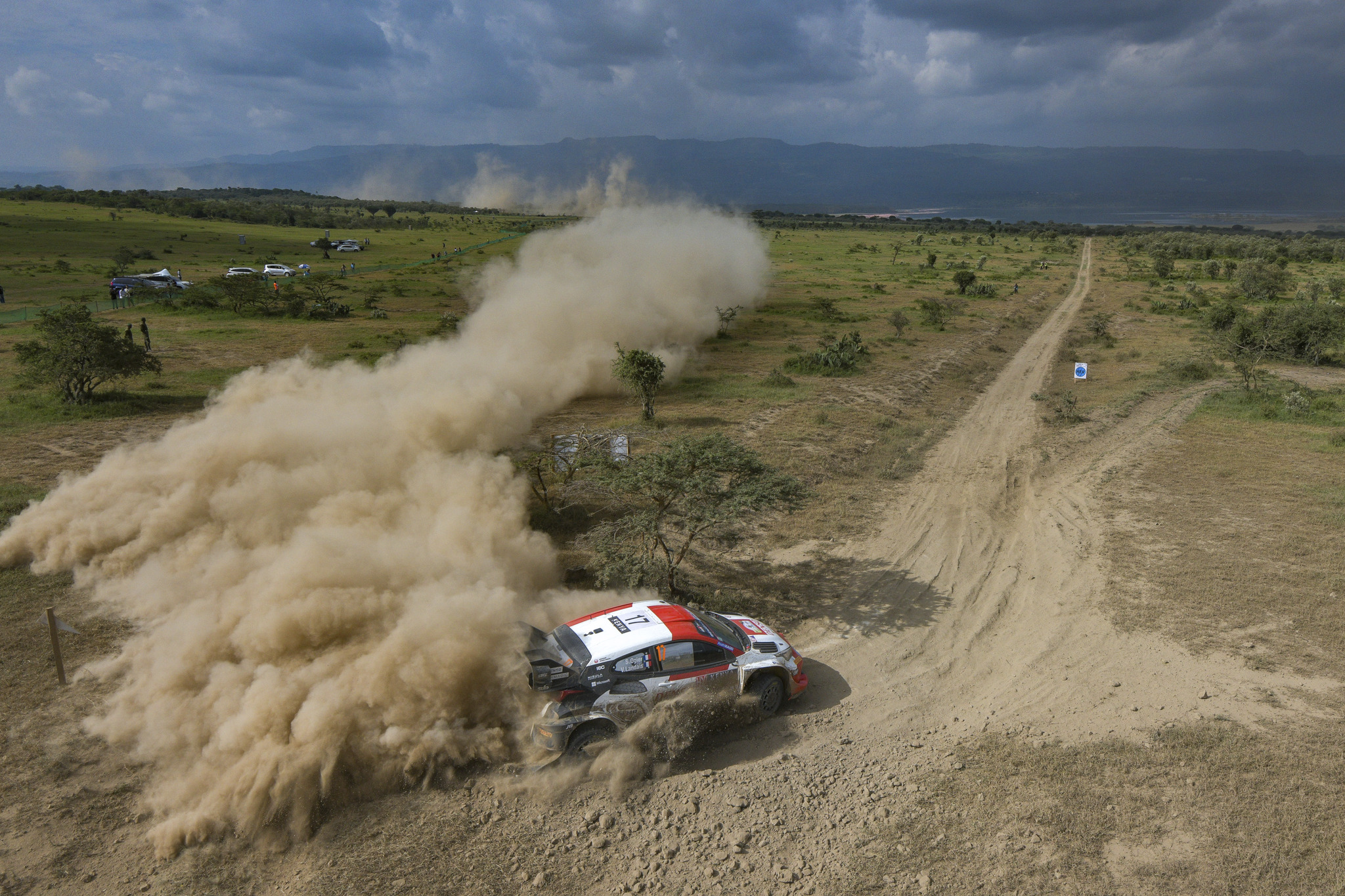 Kalle Rovanperä (2nd)
"The battle with Seb got quite tight at the end, and when you miss out on the win by a small margin like this then it's not always the best feeling for a driver. But at the end we still scored good points for the championship. I stuck to my plan for the whole weekend, driving with quite good pace but not taking huge risks. So to still finish like this is quite nice. The final day was really tough for the cars: the penultimate stage especially with a lot of deep sand and ruts. It's good that our cars were so strong and made it through, because to have the 1-2-3-4 finish for the team again here in Kenya is amazing."
Elfyn Evans (3rd)
"It's been quite a rally with a lot of challenges, so I think the team can be very proud to again get four cars in the top four. It shows both the speed and the strength of the GR YARIS Rally1 HYBRID and I'm proud to be a part of that and of this team. Of course, from a personal perspective I can't be totally satisfied to be third in the order at the finish, but I'm very pleased for the team and of course to be on the podium in third means we take some reasonable points for the championship as well."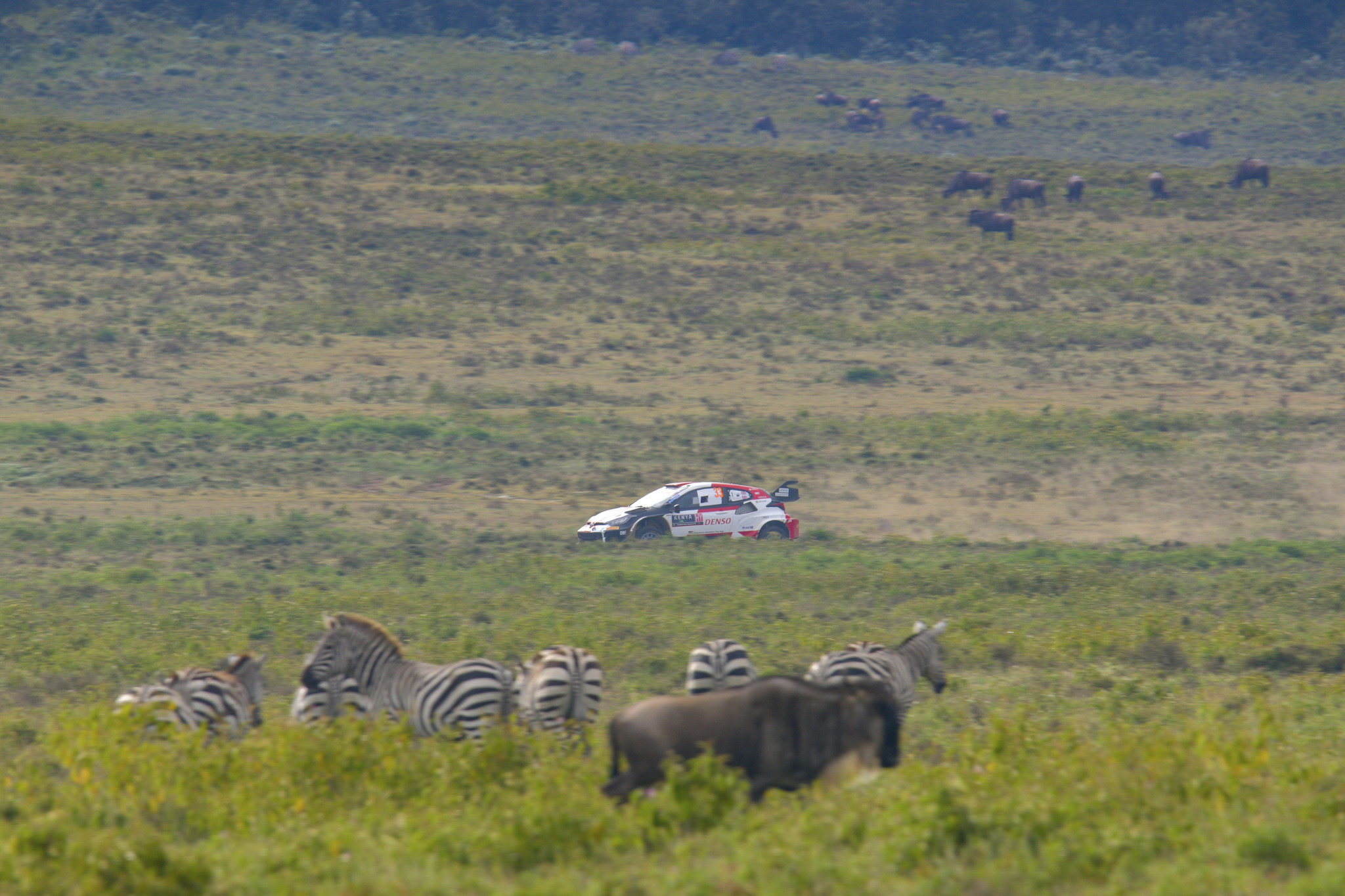 Hyundai Motorsport
Dani Sordo (5th)
"Safari Rally Kenya was a really tough event, but at least we took home some points. In the end it was not as bad as it could have been, but we did expect a little bit more. Today was quite ok, quite rough in some places but the car was really strong – it is amazing how much you can put these cars through. We were running well and trying not to make any mistakes to bring car the home in fifth, which we achieved."
Thierry Neuville (8th)
"A tough and challenging weekend. Obviously, we tried what we could but unfortunately, another time in Kenya where it didn't work out for us. There's a lot of frustration to be honest, because it is not good for our championship aspirations, but it is what it is. We did our best in the car, took the five points in the Power Stage and fought back to eighth place, which was the maximum we could do today."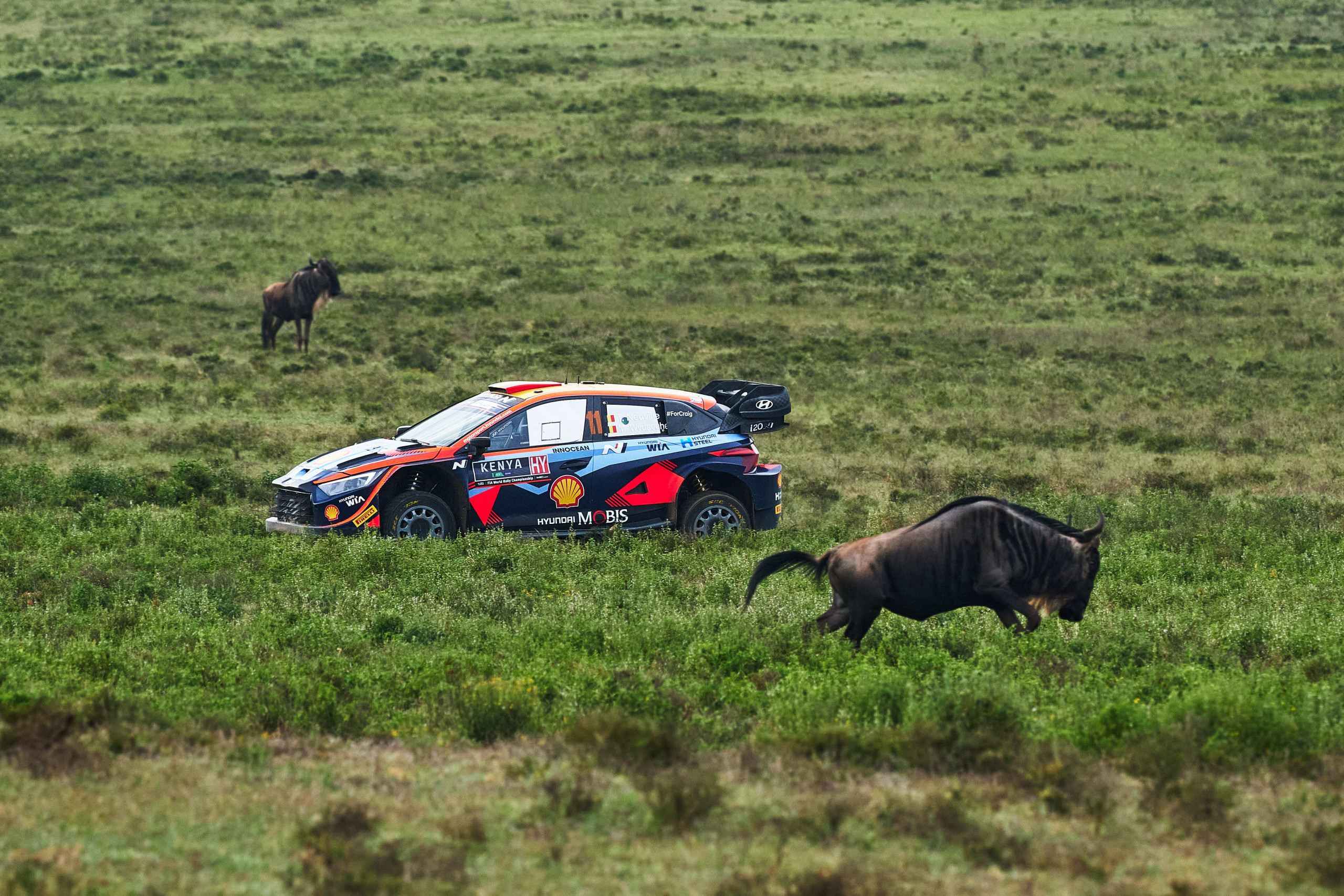 Esapekka Lappi (13th)
"It was an interesting week in many perspectives. The result is not what we all wanted but that's a different story; I need to be pleased with the pace that we had and that we were really fighting for the podium positions until our technical problem yesterday. At least in the Power Stage I could try to drive more normally, but overall, I have to say it has been a good experience."
M-Sport Ford WRT
Ott Tänak (6th)
"Altogether a great safari with a lot of passionate fans a people who clearly love rally. So far it's been a bit tricky this year, so we need to find a bit of speed for the next rally as it is all about the speed now."
Pierre-Louis Loubet (7th)
"A lot of things happened! A couple of punctures on Friday unfortunately meant we missed the opportunity to do good things, and after that we were missing a bit of confidence and pace. We struggled to find good balance. It was a bit disappointing with the power stage, I wasn't able to do a good run because I had an issue with the turbo pressure. So, I'm a bit disappointed about that, but it's part of the game."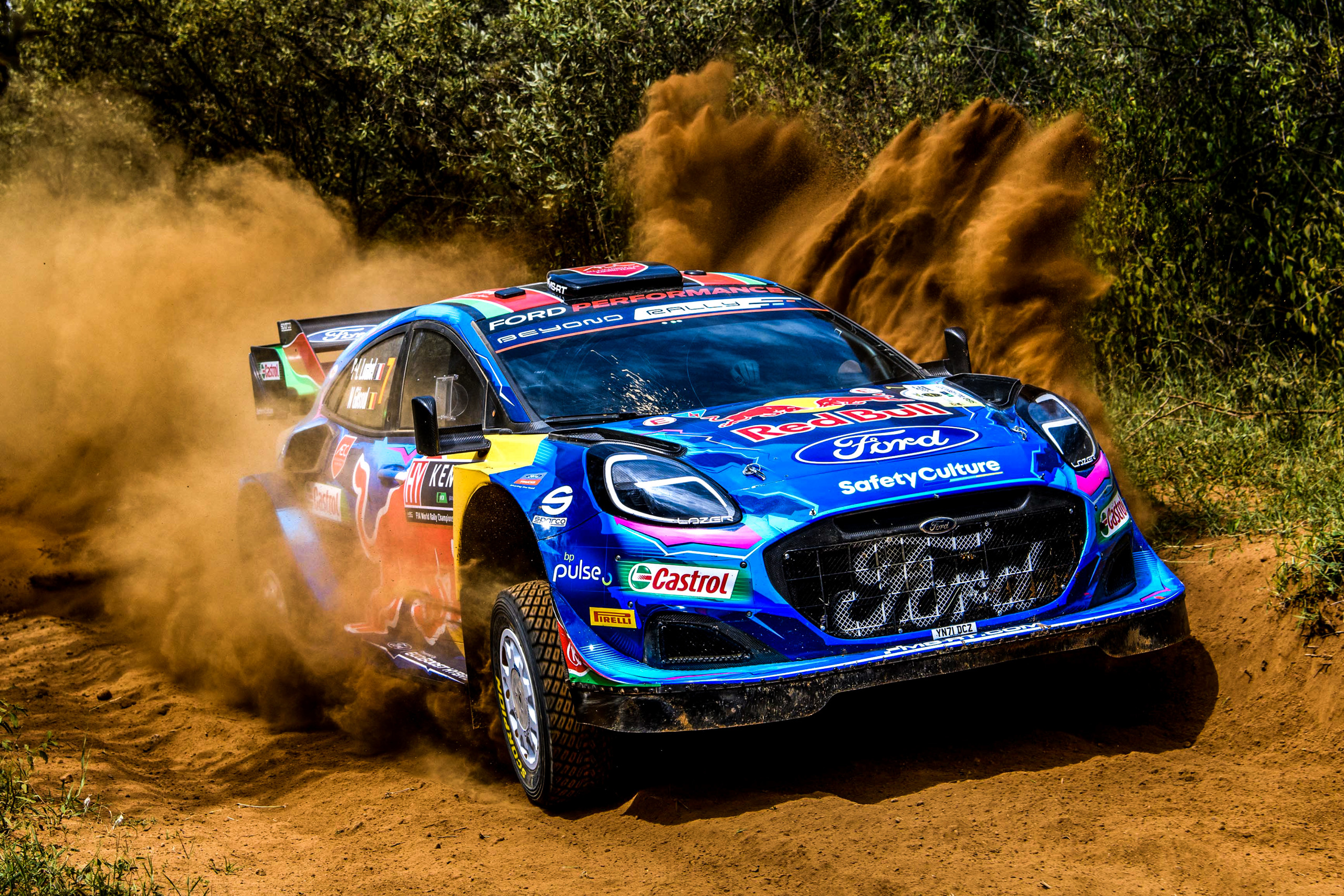 Oliver Solberg (10th)
"What a fantastic rally. Before I say anything else, to Daniel [Chwist], thank you my friend for helping us this week – and to all of the Eurosol team. We couldn't have managed to do this rally without you guys.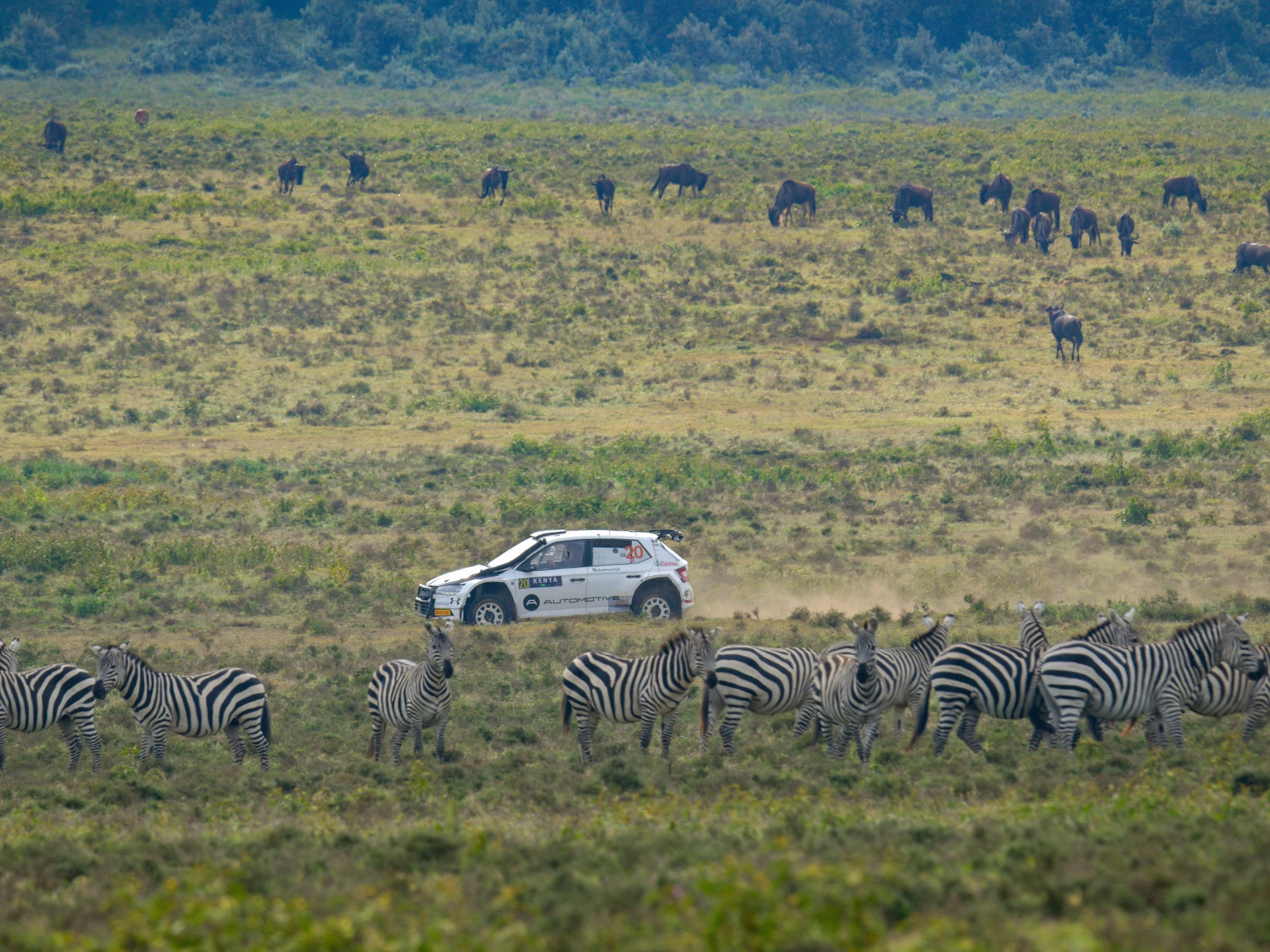 "And I'm so glad we came here. The roads have changed a lot from last year to this and it's so important to keep up the knowledge base for next year.
"For the performance, I'm really happy. We weren't pushing near the limit, that wasn't what this rally was about for us. Of course, it would have been nice to win [RC2 class] but maybe that would have made the story too perfect."
"Like I said, it would have been nice," said Solberg, "but winning so many stages and even making fifth fastest time overall in the second run at that crazy Sleeping Warrior stage on Saturday afternoon was cool for me.
"I'm sure there will be time and chase a bigger Safari Rally Kenya trophy in the years to come. For me, this is really mission accomplished. It only remains to say congratulations to all of the organisers and thank you to the beautiful people of Kenya."
2023 FIA World Rally Championship for Drivers' Standings
After round 7
| | | |
| --- | --- | --- |
| 1 | K. Rovanperä | 139 |
| 2 | T. Neuville | 102 |
| 3 | E. Evans | 98 |
| 4 | O. Tänak | 97 |
| 5 | S. Ogier | 97 |
| 6 | E. Lappi | 68 |
| 7 | D. Sordo | 46 |
| 8 | T. Katsuta | 35 |
| 9 | P.L Loubet | 20 |
2023 FIA World Rally Championship for Manufacturers' Standings
After round 7
| | | |
| --- | --- | --- |
| 1 | Toyota Gazoo Racing World Rally Team | 283 |
| 2 | Hyundai Shell Mobis World Rally Team | 241 |
| 3 | M-Sport Ford World Rally Team | 174 |
Summary
Well, what an epic rally we were treated to and another victory for the eight-time champion, his fifty-eighth as well! Just amazing. His decision to run throughout Friday with just one spare showed his intent that he wanted a second victory in Kenya. It was a brilliant drive.
Kalle had a great run and deserved a podium which he got. Not only that, but he increased his lead over Thierry and in fact all his challengers for the championship.
Elfyn took third of course and although he didn't take a stage win, should be happy as the championship heads for two very fast rallies. He will have a good road position indeed.
Takamoto rounded out the top four with a very good drive which included two stage wins. Third place slipped away after some spins in the tricky conditions yesterday, plus the hybrid issues on the final day.
The next round is Rally Estonia on the weekend of the 20th to 23rd of July. Look out for my preview in the days ahead. The teams will enjoy something of a summer break till then.