Time to unleash these new Rally1 cars on gravel and what a place to do it with an iconic rally and one of the all-time great events, which is going to be run this year for the fifty-fifth time.
This year there will be 338km over 21 stages. Returning to the top cars are Seb Loeb and Seb Ogier, and with the two most successful drivers returning, you have to consider that they will challenge at the top of the standings, especially given their starting positions.
Let's take a look then at the stages.
Rally de Portugal begins on Thursday evening with a single super special stage: Coimbra (2.82km)
Friday's running consists of two loops of Lousã (12.03km), Góis (19.33km) and Arganil (18.72km) followed by a single pass each of Mortágua (18.15km) and the Lousada super special (3.36km)
Saturday is the longest day of the event, with its seven stages totalling 164.98km. It also contains the longest individual test in Amarante (37.24km), which the crews must tackle twice
The Sunday itinerary boasts five stages, including two passes of the Fafe stage and its famous jump. The second pass of Fafe (11.18km) will offer additional points, acting as the rally's Power Stage.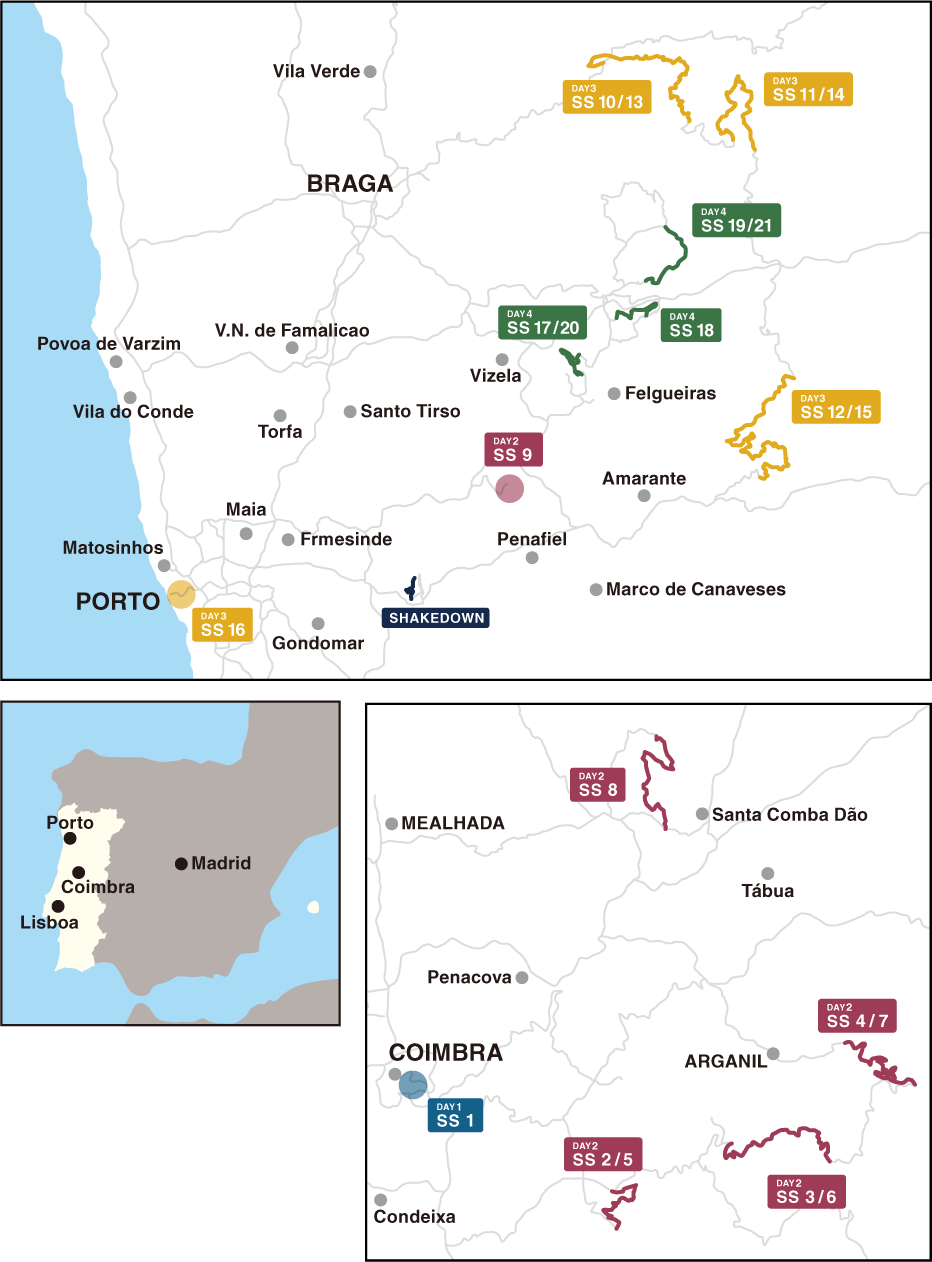 Let's hear from the drivers
Toyota Gazoo Racing WRT
Kalle Rovanperä
"The feeling with the new car on gravel has been quite good overall, especially in our pre-event test last week with some improvements made from before. Portugal is a rally that I usually like; the stages are nice and technical and there is a great atmosphere. For us, the road-cleaning will probably be the biggest challenge, especially as it's something quite new for us. Friday could be much more important than on other rallies and we will try to be at a good pace straightaway to remain in contention for the rest of the weekend. The key thing in these next rallies will be to just try to keep calm and focus on doing a good job, without taking too much pressure or making mistakes, and keep taking good points where we can."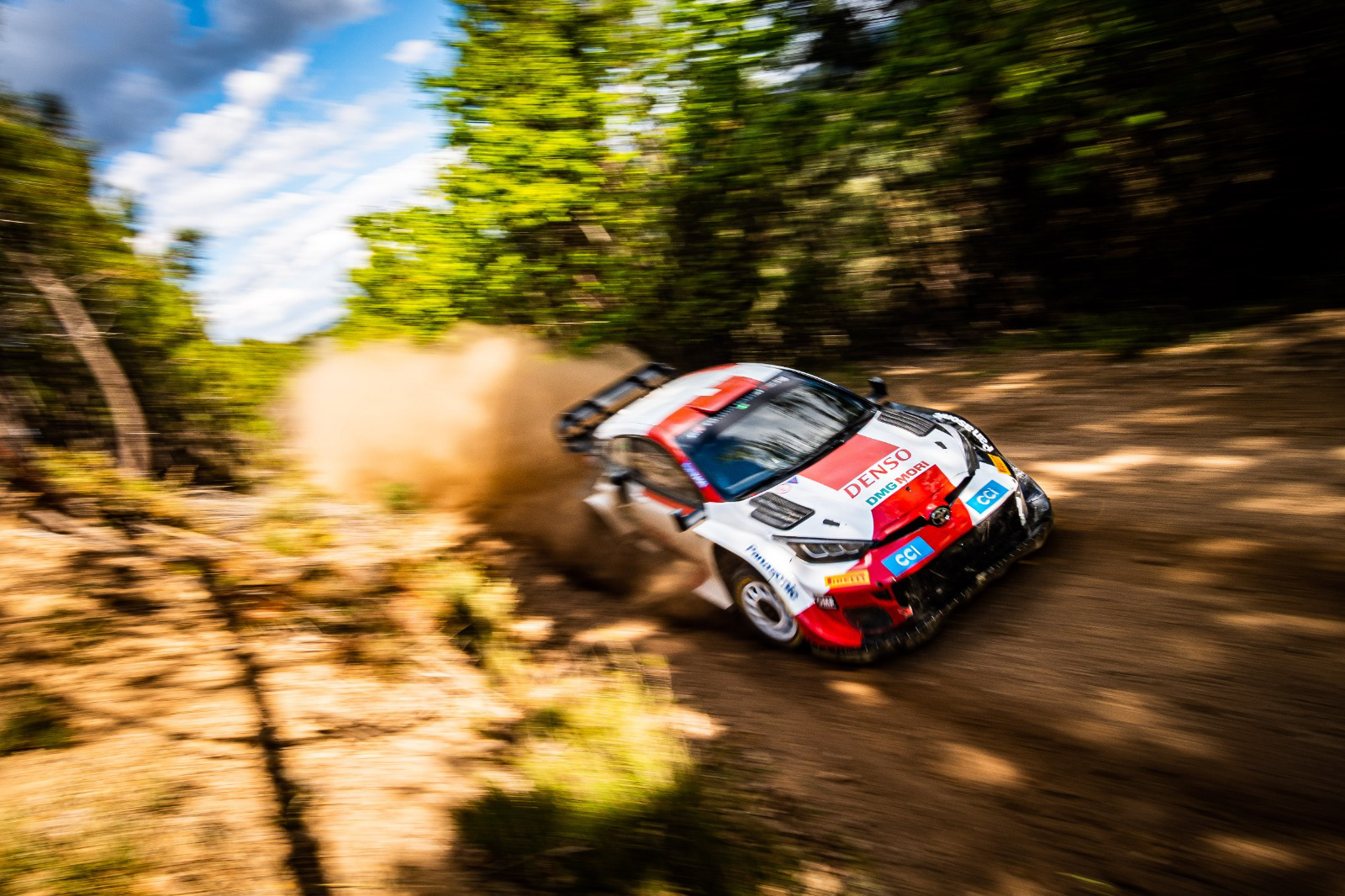 Elfyn Evans
"As with a lot of rallies this year, it's difficult to know how we will fare against the competition in our first event on gravel with the Rally1 cars, but the feeling in testing last week was generally quite positive. Portugal is a rally I've enjoyed more and more as the years have gone on, and it was great to win there last year. We could definitely do with a strong result on this occasion too and that will be the aim like always. With a run of gravel events coming up, hopefully we can hit the ground running in Portugal and then carry some momentum forwards. If it's dry then our road position should be favourable, but that's not an automatic ticket to a good result and there's still a lot to focus on and to get right in order to make the most of it, especially as everyone tries to get comfortable in these cars."
Sébastien Ogier
"I'm excited to be back competing in Portugal. I've really enjoyed having some time off and now I feel quite fresh coming back. I'm of course happy to see the team has continued winning in the last couple of rallies, and I'm here not only to enjoy it and get some good results for myself but also to help win another manufacturers' title. Portugal is a special place for me: I have a good connection with the country and the fans and have had some good success there over the years. It will be something different for me to not be starting near the front and hopefully that can be a bit of an advantage if it doesn't rain. The biggest challenge will be getting back in the rhythm straightaway after only one test day on gravel last week. But at the same time, these cars are new for everyone on gravel, so let's see what we can do."
Hyundai Motorsport
Thierry Neuville
"Rally de Portugal is very exciting event for us competitors; there are always huge crowds of fans and a great atmosphere. The stages are enjoyable yet challenging. This is mainly due to the high temperatures, so tyre wear is important here as well, and it can be quite rough on the second pass of the stage. It's going to be our first gravel event with the new hybrid cars; we saw in Sweden on the gravel set-up in the snow that the car was fast and we hope that we are going to be strong on this surface."
Ott Tänak
"Portugal is a very fun rally to drive, and one that I really enjoy. It's the first time this year we are competing on gravel, so this will be our first indicator of how competitive we are. Portugal is fast with a rather soft surface, and the second loop of the stages can be tough and demanding after the first pass. You need good reliability as well as speed here to be successful. Martin and I know what it takes to win in Portugal; we hope that the momentum from our podium last time out in Croatia will continue with a good result next weekend."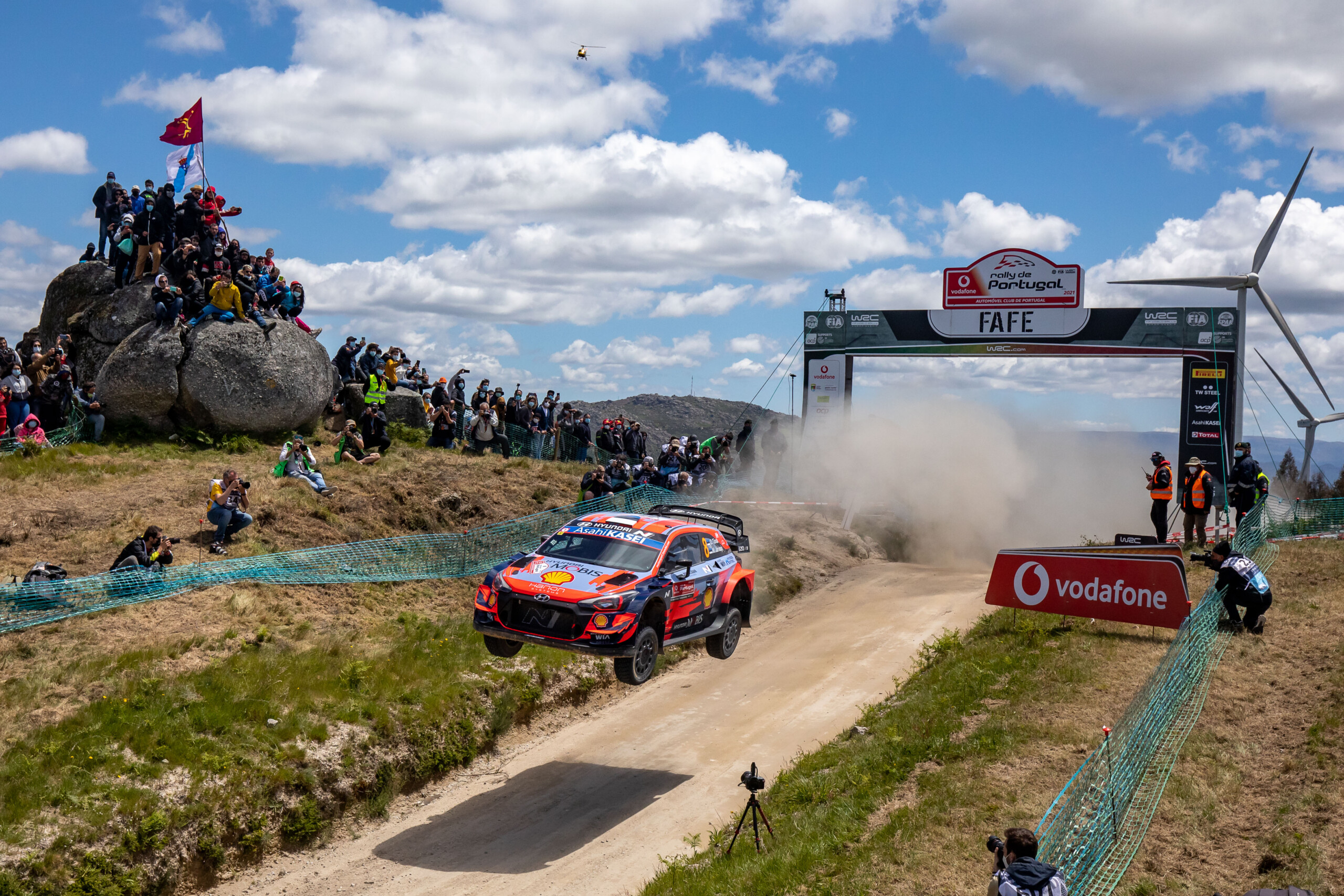 Dani Sordo
"Portugal is always really nice, so I am very happy that this will be my first event of the season, as I've scored a podium here twice in the past with Hyundai. There are normally a lot of spectators who travel from my home of Spain and the crowds have always been fantastic. I'm excited to drive the car on gravel for the first time. I'm hoping to have a good rhythm with the car and adapt myself quickly to this new challenge. It won't be easy as the other drivers have done three rallies already so I hope the feeling for the car comes quickly.
Oliver Solberg
"It's cool to be back again after last year – we had a couple of issues that stopped us getting a great result, but won a couple of stages and I enjoyed the rally! This year will be very tricky with so many quality WRC2 cars – over 40 – but we prepared well in the test and will be pushing for a top result. It's also cool to have the new all black livery and show off my partners with such a nice design so that's a nice thing this weekend too."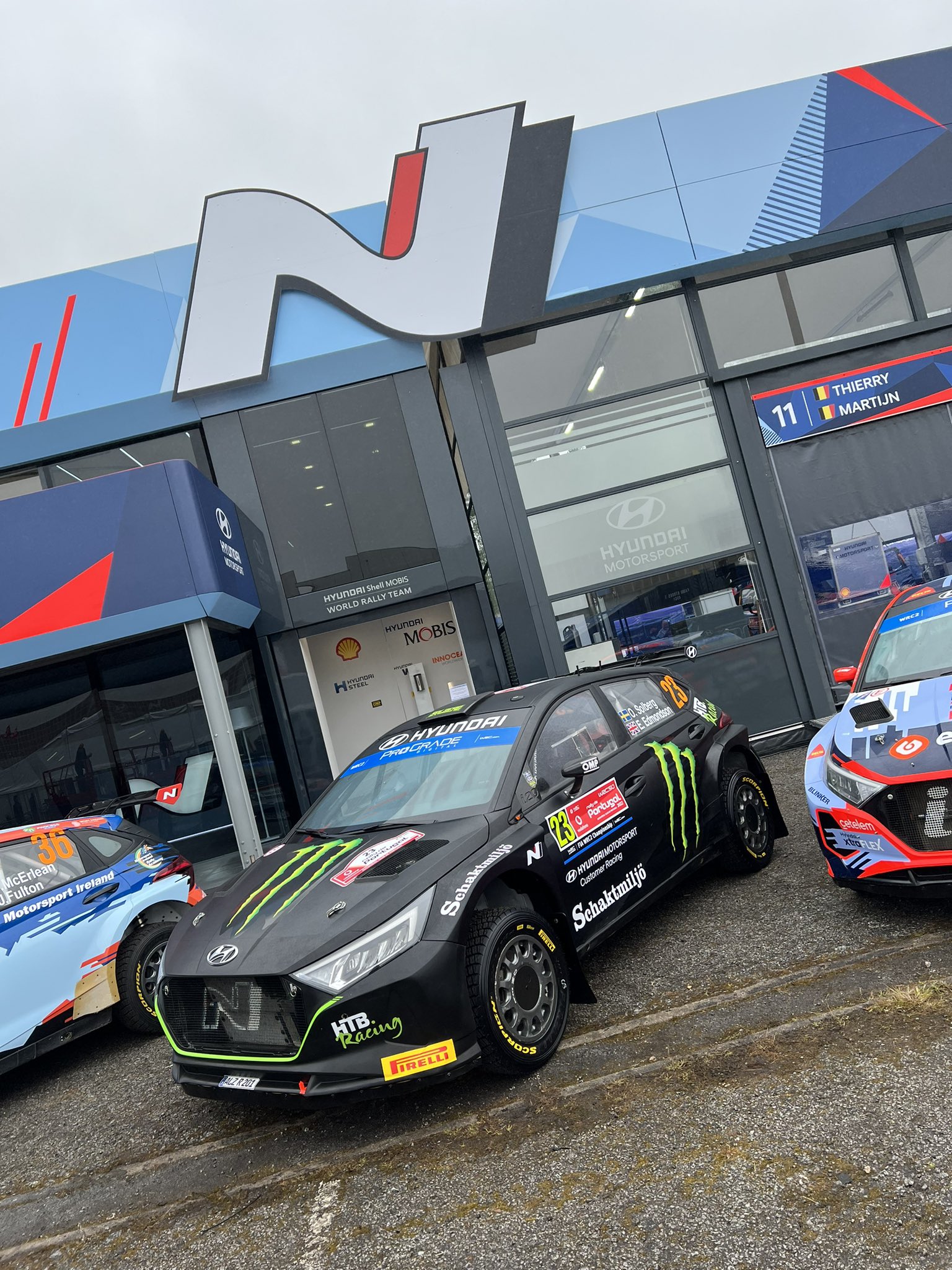 M-Sport Ford WRT
Sebastien Loeb
"The first feeling in the Puma on gravel at our test was quite good, I was quite happy with the feeling I had as we worked on the suspension and the differential setups. Only one day of testing isn't a lot when it's the first time you are driving a car on gravel, but at the end I was happy with the feeling I had.
"My goal will be to find a rhythm as quickly as possible, hopefully I will be in a good rhythm to fight at the front, if I could be not far from the podium that would be a good performance. The challenges of Rally de Portugal for me will be that I am fourth on the road, road cleaning is always a challenge in this kind of rally if it is dry. I don't really know what to expect there so we need to do a good first day, and for the rest we will see where we are."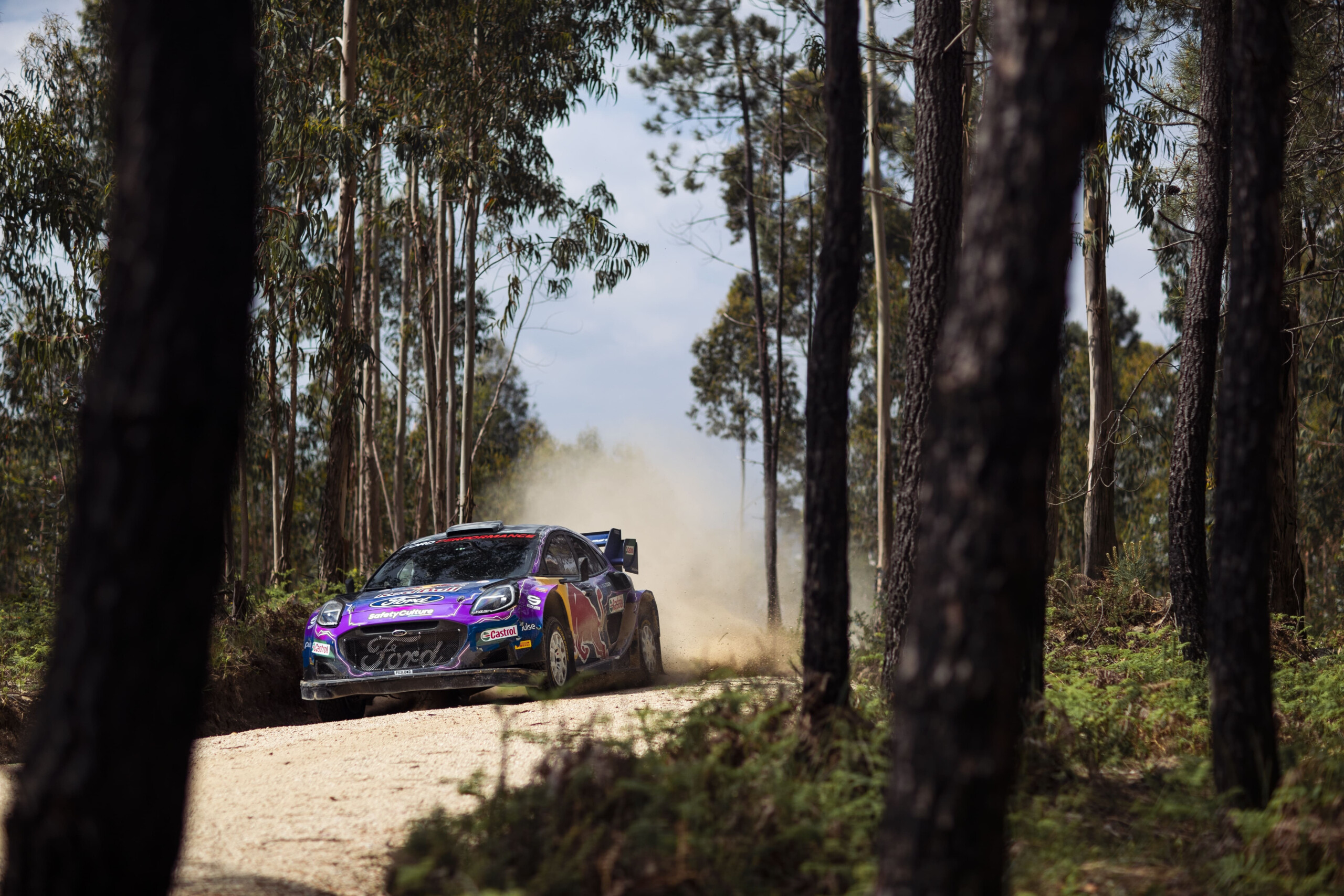 Craig Breen
"I am looking forward to Portugal, it's a rally that I haven't done for several years, I think it was 2018 the last time I did it. After the first three rallies, they were all a bit unique in their own way, so looking forward to seeing what the pace of the Puma will be in Portugal.
"We had a good test, I felt good in the car and we got some good work done. I am looking forward to discovering the rally, there are a lot of new stages and some changes since the last time I was there, so it will be interesting. I'd like to have a bit more speed than what we showed in Croatia, so we'll be working as hard as we can to make that possible."
Gus Greensmith
"I am really looking forward to Portugal, it is without doubt my favourite rally and the first rally I did overseas. I've got a lot of fond memories of this rally, it will be my seventh time doing the rally, so I've got lots of experience here.
"I feel like I'm in the right place at the right time with the car, co-driver and everything. There's no pressure this weekend as I'm not scoring any manufacturer points so I'm just here to enjoy myself. Usually when I enjoy myself, things go well, so that's the plan."
Adrien Fourmaux
"This will be my second time in Portugal, and I had a good feeling last year with the WRC car, so I am looking forward to getting out in the Puma and see how it goes. It is a really nice event, the spectators are great and it's a fantastic atmosphere.
"We are looking forward to all the gravel events coming up, there are quite a few ahead of us now, so we're really excited to get going in Portugal and hoping for a good result for the team."
Pierre-Louis Loubet
"Portugal has always been my favourite rally in the past, it's where I have had some of my best results. It was my first ever WRC event, when I was only 18, so I'm looking forward to it and hope it will be a strong second event for us this season.
"We were happy with our pace in Croatia, and we're hoping that with the same pace, and no punctures, it will go well and we can hope for a good result."
Summary
Well, we are set for another spectacular rally on the Portuguese stages, and really any of the top drivers could take victory. The two Seb's will be well placed to challenge just because of their stating position on Friday, whilst Elfyn, Craig and Ott will be targeting victory to get their championship challenges really underway. We shall get our first idea of the crews that have the pace to take stage wins and challenge at the top when shakedown is over. All the teams have been testing and preparing for the challenge ahead, and we know that championships are won with good consistent results and if a victory is up for grabs, being in there to take it.
Enjoy and pop back at the end of Friday for my first day report!