Max Verstappen is the new World champion after a dramatic finish to what has been an incredible season. Hamilton gave it all he had but it came down to the final lap of the race after a safety car.
To start the day of drama Mazepin tested positive for Covid and was not able to race. It was too short notice for Haas so they ran with only 1 car.
Lights out and Hamilton gets a much better start leading Verstappen into turn 1. This meant Verstappen had the slipstream down the back straight, he made a lunge into the corner alongside Hamilton who had left the door open. It nearly ended in tears when the 2 touched as Verstappen went too deep and Hamilton had to go to the escape road, coming out ahead. The stewards decided that the gap had not changed from before the move and that Verstappen forced Hamilton wide and therefore did not investigate. Perez gained a place on Norris in turn 1 but Bottas had lost 2 places in the first lap so RedBull had both cars fighting Hamilton in his lone Mercedes out at the front.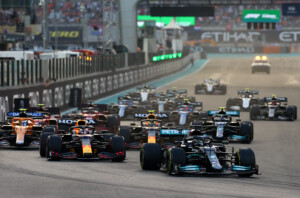 The RedBulls pitted first for the hard tyres on lap 14 and came out behind Norris and Leclerc. However, Leclerc went straight on at turn 3 so Verstappen only had to dispatch of Norris down the back straight. Hamilton responded just 1 lap later but came out P2 while Verstappen was in P4. This meant they now had tyres at the same level. With Perez in the lead RedBull tried to use their 2nd driver to hold up Hamilton.
On lap 17 Verstappen was pushing hard behind Sainz who was driving very well. In the penultimate corner Verstappen got caught int the dirty air and went very wide into the corner. This meant he had to wait another lap to overtake his former teammate using DRS down the back straight. So, on lap 18 the gap between Perez and Hamilton was shrinking but Verstappen was now in P3 catching the pair of them.
Hamilton had caught Perez on lap 20 but Perez was doing his job by making his RedBull by having a fantastic battle all the way from the back straight to the start/finish straight constantly swapping places cleanly and fairly. This gave Verstappen plenty of time to catch and the ordered swap between the teammates was clean making the gap between the championship rivals just under 2 seconds.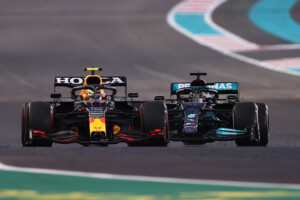 Lots of things were happening at the end of this season, including Kimi Raikkonen leaving Formula 1, and on lap 23 he came in for his final ever scheduled pit stop. Every fan around the world shed a small tear. Just 4 laps later and his career in formula 1 nearly ended in the barriers. He had a brake issue going into turn 9 and spun, brushing the barrier. He made it back to the pits, but he turned car off and had to retire from the race.
George Russell was also having problems with his gears right up until his power unit appeared to lose drive. He also had to retire from his last race with Williams before moving on the Mercedes next year. Not the end these 2 drivers would want.
The day went from bad to worse for Alfa Romeo because on lap 36 Giovinazzi stopped on track with gear shifting problems. This brought out the VSC and whilst some cars did pit, including both Ferrari's but Mercedes decided to stay out. Verstappen and RedBull did pit coming out with a gap of 17 seconds behind Hamilton. So, with fresh tyres they were hoping to catch Hamilton as his tyres lose grip later on in the race. The battle was truly on.
There was a battle for the final points positions with Alonso losing places to both Alpha Tauri's on lap 41 and 42. It was a tense fight from both Alpha's, Alpine's and Ricciardo. Leclerc was catching this pack hoping to get back into the points. Not too much further up the road Bottas was fighting Norris for P5. At this point Mercedes were still winning the constructors championship with the RedBulls in P2 and P3.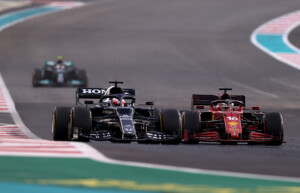 Lap 50, the gap at the from was down to 12 seconds but Verstappen had to get through the same traffic of that pack fighting for the last points positions. Norris came in with a puncture in the hard tyres from the curbs. This could have come into play for the 7 time world champion who was now running tyres over 30 laps old.
With 5 laps to go Latifi had a big crash into the barrier and a full safety car was deployed. In an odd choice Mercedes decided not to pit Hamilton to keep track position. Again, RedBull did pit Verstappen for new soft tyres knowing that if the race did restart that he would get a good jump on Hamilton who had heavily used tyres.
Perez pitted to retire the car at this point to retire the car and Mercedes had officially won the constructors title for the 9th year in a row. The stewards decided they wanted to see the race finish on a racing lap and therefore the lapped cars were not allowed through. It is not mandatory for the stewards or FIA to let the lapped cars through, the rule says they may be let through. However, they then changed their minds to let just 5 lapped cars in front of max through.
This set up a dramatic race to the finish with a 1 lap shoot out. Into turn 5 Verstappen used his soft tyres to his advantage. But Hamilton fought back gaining a slipstream on the back straight. Verstappen would come out on top though with Hamilton having to concede in the final complex.
Verstappen finished P1 and was therefore the new World Champion! Hamilton finished a very disappointed P2 but once out of the car both him and his dad headed straight to the Verstappen's to congratulate them.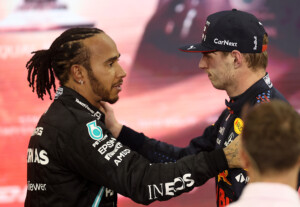 A shout out to Carlos Sainz who finished P3 helping his team to solidify their P3 finish in the constructor's championship.
It was a crazy end to an amazing season. This may yet continue into the next few weeks with Mercedes questioning why only 5 cars were allowed through. Despite this both Hamilton and Verstappen have driven heroically all season and it will go down as one of the greatest championship rivalries of all time.