Max Verstappen wins with a dominant performance after a lap 1, turn 1 overtake. Hamilton finished P2 but local hero Perez finished in P3, celebrating with the crowd after an excellent performance.
After an unexpected first front row lock out of the season for Mercedes, the anticipation was high! With Bottas finally entering the battle this year it was thought that both teams would use both cars to full advantage and team orders would be in play.
Lights out and Hamilton got a better start than Bottas going side by side into turn 1 but Verstappen from behind had a blistering second phase and went around the outside of both Mercedes in turn 1 with Hamilton moving into P2. Bottas between them both began to back out, causing Perez to take avoiding action onto the grass but the McLaren of Ricciardo behind locked up and tapped Bottas on the inside spinning him. Further back Ocon, Schumacher and Tsunoda got caught up in the cars slowing and avoiding Bottas now facing the wrong way. Ocon was sandwich between Tsunoda on the inside and Schumacher on the outside, both hitting the Alpine and causing damage to their cars. This brought out the safety car before the end of lap 1.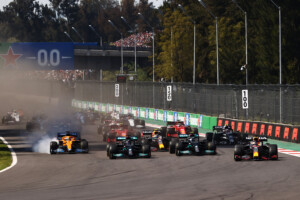 On the restart and through the stadium section Verstappen launched leaving Hamilton to go through a slow corner and gets away comfortably. The rest of the pack followed suit with some attempts but no successful passes, with Giovinazzi challenging Sainz for P6 but not able to make it stick. Bottas was now out of play for Mercedes, the strategy needed to change as Hamilton fights the Bulls.
Lap 25 and the cat and mouse game between the championship rivals was in full swing with Verstappen managing to open up the gap. However, Perez was putting in a solid performance and it looked increasingly likely that Hamilton would spend most of the race defending from Perez rather than attacking Verstappen. Hamilton's teammate had made his way up to P12, following Ricciardo all the way through the pack and were now behind Norris.
Hamilton was the first to pit on lap 30 but it didn't work out for them coming out behind Leclerc in the Ferrari, who thankfully for Mercedes, pitted the next lap. This put Hamilton in P4, behind Gasly, but was nearly 2 seconds per lap faster than Verstappen on fresh hard tyres. Gasly pitted which meant Hamilton had clear air, at this point both RedBull's said their tyres were good and looked to be going longer.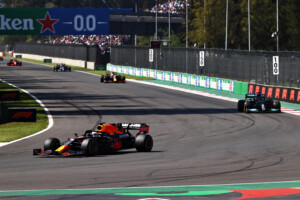 However, lap 33 and car number 33 came in for a quick stop from the team. Importantly he was now on fresh mediums comfortably ahead of Hamilton. Sergio Perez was leading the race having not pitted. He is the first Mexican driver to lead a Mexican Grand Prix. Often known as a master on the tyres, he stayed out for a longer stint saying that the tyres were good and wanted Verstappen to hold up Hamilton while Perez was holding the lead.
On lap 40 Perez finally pitted for hard tyres, coming out behind Hamilton. Bottas pitted a lap later but had a very slow stop. The front left wheel nut got stuck, meaning he had a 12 second stop, bringing him out in P15. The Finn's day going from bad to worse.
Sainz looking faster than Leclerc puts in the call for a team orders switch. In a bid to stay ahead Leclerc started to make mistakes. Eventually there was a clean swap between the 2 drivers.
Lap 56 and Perez had now closed the gap to Hamilton to 3 seconds, gaining nearly 3 tenths on him each lap. Hamilton begun to make unusual mistakes under pressure as he went off track at turn 12, bringing in the RedBull even more. Just 4 laps later Perez was within DRS, gaining on Hamilton every straight. Hamilton was also suffering behind a lapped Norris. Due to the turbulent air Hamilton couldn't get within the 1.3 second requirement for Norris to be shown blue flags. When they eventually were shown, Norris moved aside and let both cars through, keeping the battle alive.
The Mercedes began to overheat in the traffic, Hamilton told to lift and coast to give the brakes a chance to cool. At this point Perez had dropped out of DRS and then caught in traffic it neutralised the battle for P2.
Verstappen was nearly 20 seconds in front on lap 65 and was dominating this race. However, Bottas pitted for a set of used soft tyres in an attempt to take away the fastest lap point from Verstappen. This was a strategy call from Mercedes because Bottas wouldn't get the point for the lap as he was still down in P14.
With 1 lap to go Bottas pitted again for a fresh set of soft tyres because the positioning hadn't worked for Mercedes. Perez was now back within the DRS range for 1 final charge at the 7 time world champ to get on the second step of the podium. However, through both DRS zones he couldn't get quite close enough, so Hamilton manged to hang on to P2.
Max Verstappen won the Mexican Grand Prix but Bottas achieved fastest lap right at the end. Hamilton P2, but the home hero, Sergio Perez finished in P3. This is the first time a Mexican driver has been on the podium of his home Grand Prix, when this time last year he didn't have a seat for the 2021 season. He put in a solid performance all race, chasing down Hamilton and added to RedBulls constructors' points, meaning they now lead both championships. This is a great way to celebrate the 30th anniversary of Adrian Newey's first win in Formula 1.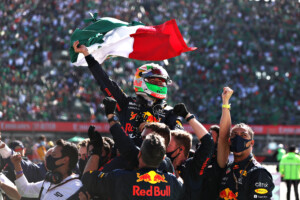 Verstappen goes to Brazil next week with a 20 point lead over Hamilton. The gap is getting wider but 1 DNF could swing this championship either way. The pressure is still on both drivers to perform at their best to complete the job. The question now is can Verstappen hold onto his lead or can Hamilton use his experience to claw back the points?