Max Verstappen extended his title advantage to 19 points last weekend in Mexico City, and with four rounds to go, Formula One now heads to the scene of many championship classics – the Brazilian Grand Prix.
Instant thrillers such as 2008, 2012 and 2016 spring to mind, and the championship has been decided six times at the 4.3 kilometre track, but that will not be happening this weekend. 107 points remain up for grabs, so there is still plenty of time for Lewis Hamilton to turn the tide and claim a record-breaking eighth championship.
But Brazil is traditionally a reasonable rack for Red Bull, and they have won here five times, with the first coming in 2009 via Mark Webber during Jenson Button's crowning moment. High altitude coupled with tight corners make for a technically demanding lap, while also necessitating an enormous amount of fitness and concentration on race day. Mercedes, however, have largely dominated since 2014, and have taken the chequered flag four times in Sao Paulo. Since the beginning of the Hybrid era, Ferrari have won just one race, and their increasingly impressive strength this season makes for a promising weekend in their fight with McLaren for third in the Constructors' standings.
And this is the reason for the fanfare at Brazil. McLaren's last win in the V8 era arrived at Interlagos, and there will be an opportunity for themselves, Ferrari, and possibly even Alpine to fight it out for the podium come Sunday. This is a notoriously unpredictable weekend, making the title race ever the more gripping in Brazil.
The Woking-based team are another in need of a good race this weekend. Daniel Ricciardo T-boned Valtteri Bottas at the start in Mexico, and would eventually finish outside the points, while Lando Norris claimed just one point in tenth, with Charles Leclerc and Carlos Sainz taking fifth and sixth respectively. McLaren now trail the Scuderia by 13.5 points, and their dual will be another fascinating watch until Abu Dhabi in December.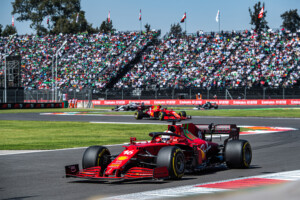 These fights are not all; Sergio Perez's momentous home podium in Mexico, coupled with Valtteri Bottas' horrible day from pole has resulted in Red Bull sitting just one point behind Mercedes. The Constructors' title will surely also go down to the wire, and with just four rounds left, the tension between Christian Horner and Toto Wolff will likely be immeasurable.
Furthermore, it is not as if there is no history between the two teams here. Michael Schumacher moved over to aid Sebastian Vettel during his title-winning recovery in 2012, and Verstappen has competed with Mercedes for victories here over the years, winning in 2019, and claiming a sensational podium in 2016 following his infamous save.
We will see the last of the three sprint events take place in Brazil, with the sprint race on Saturday potentially playing a key role in the outcome of the race on Sunday. And of course, we all know what happened in each of the first two sprint weekends of the season.
This will be an incredibly pivotal weekend for the championship, and two-time winner here Lewis Hamilton will be fully aware of the importance of a strong result to keep himself in check with Verstappen. But can the Flying Dutchman take the win and put himself further out of reach? The Brazilian Grand Prix promises to be another classic.