Qualifying:
With the five week break finally at an end, the qualifying saw Fabio Quartararo (Yamaha) snatch pole from Francesco Bagnaia (Ducati), in the closing minutes. Only seconds later to find that he transgressed track limits on turn nine, which resulted in him ending in third.
Marc Marquez (Honda), was on a hot-lap but crashed out and finished in eighth.
But it was the rookie Jorge Martin (Ducati) who claimed pole, for the second time this season. Riding a sensational lap of 1:22.994, bagging pole and a new all-time lap record along with it.
The front row was now: J. Martin, F. Bagnaia and F. Quartararo. The Ducati's looked dominant in Austria, with all four bikes on the front two rows. Jack Miller (Ducati), Joan Mir (Suzuki) and Johann Zarco (Ducati) rounded off the front.
If fans were getting withdrawal symptoms from bike racing then this race was sure looking like it was going to quench that.
Race One:
All eyes may have been on Jorge Martin, in pole but all hearts were with Valentino Rossi (Yamaha) who, on just Thursday, had announced this was going to be his final season racing.
With rain clouds looming large overhead, the Styrian Grand Prix was about to be on its way, after being declared a dry race.
Bagnaia got a great start from Martin, but Martin was quickly leading the race. Marc Marquez (Honda) chose a more aggressive tactic, after having a poor start and trying to gather positions quickly, he made a move past Aleix Espargaro (Aprilia), nudging him in the process, causing him to go wide and also pushed past Quartararo to go into fourth place. This caused an on-track argument between the two Spanish riders later, on track.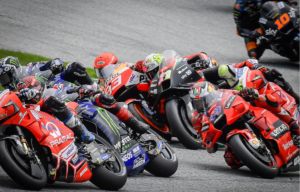 Mir reacted well and quickly went from fourth to second as Bagnaia re-claimed first. Marquez seemed to be in all-out attack-mode but fell back to sixth place after his fiery start.
The championship leader, Quartararo picked up the pace and soon had fastest lap moments before red flags began to wave.
Flash back to 2020, Franco Morbidelli and Johann Zarco collided, causing their bikes to hurtle through the air, across the track and land cartwheeling in-front of the path of then team-mates Rossi and Vinales, understandably shaking both riders up before they re-started the race, after a red flag.
Since then, the track has been slightly modified. That should have been the only an odd occurrence however, this track seems to entice odd occurrences, only this time, lap 3 of 28 saw the wildcard and ex-Moto GP race winner Dani Pedrosa (KTM) fall leaving his bike stranded in the way of on-coming riders. Lorenzo Savadori (Aprilia) rode straight into the KTM, causing both bikes to immediately erupt into flames. The race was red-flagged, signaling an end to proceedings. The marshals were quick to respond and fortunately neither rider nor marshal were hurt.
Just another freak accident in Austria, has made some question the suitability of this track for racing.
All bikes returned to the pits as fire extinguishers, brushes and man-power set about cleaning up the mess caused on track.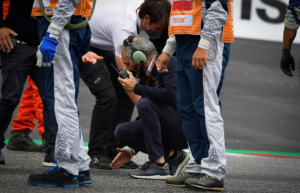 As the race was only on lap 3, it was re-started with just one lap being removed. The stewards allowed Pedrosa to start again but unfortunately for Aprilia, Savadori could not re-join.
A quick-start procedure took place during the second attempt, which meant pit lane re-opened for 60 seconds ahead of a sighting lap where all riders took their original grid positions and one mechanic met them at their lines. They then went out for their warm-up lap and the race continued thereafter.
Although, it was a disaster for Maverick Vinales (Yamaha), who stalled prior to the sighting lap on the grid and had to start his race from the pit lane, going from ninth to last.
Race Two:
The dark grey clouds still overhead had refrained from raining and continued to watch alongside the few spectators at trackside for take-two of the Styrian Grand Prix.
It was the Ducati power both times, this time Martin got another great start but Miller soon took the lead.
Quartararo nudged past M. Marquez, who in-turn nudged into none-other than Aleix Espargaro again and again he went wide.
Mir looked like he was on a mission, wanting to break up the Ducati rule. He was soon on the back of Martin and took second place on lap 2.
Lap 3 saw Martin re-take second and Bagnaia went backwards into eighth place. The re-start did not go the same way for him.
With 24 laps to go, Martin re-took the lead from Miller, Mir and Quartararo.
Things went from bad to worse for A. Espargaro, on lap 6 he pulled to the side of the track and had to retire due to a mechanical failure.
Miller and Quartararo had a mini battle between themselves. And soon all five front riders took fastest lap within quick succession of each other.
Martin and Mir broke away from the pack as did Quartararo, Miller and Zarco, creating their own group. The gap between the two groups quickly extended to over 3 seconds.
Vinales also couldn't turn his luck around and ended up getting a long-lap penalty, putting him back to last place again, in 21st, due to exceeding track limits. Track limit warnings were thrown about to all sorts of riders, including the race leader Martin, who was still leading with 11 laps to go.
With 10 laps to go, Miller looked set to strike on Quartararo, closing him down on every corner. But then, he crashed out on turn 7. He returned to the track but had to end his race sooner than expected and pulled into the pits, leaving Fabio in third position, to race alone.
Another long-lap penalty was handed out to the other Espargaro brother – Pol, for also exceeding track limits.
Having led for most of the race, Jorge Martin, the rookie reigned supreme and took victory for the first time for himself and Pramac Ducati in the Moto GP class. Having come from a hospital bed earlier on in the season, due to an accident which left him with numerous broken bones he was now on the top step of the podium. Securing both the pole and the win! He is now the 6th different winner in 2021.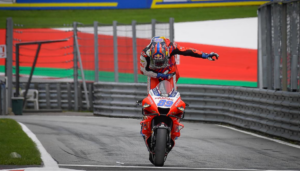 Brad Binder (KTM) rode a sensational last lap and finished an incredible fourth place, passing Zarco and Takaaki Nakagami (Honda) on the way to the line.
Bagnaia however was given a 3 second penalty on the last lap, for also exceeding track limits and was demoted out of the top ten, promoting Dani Pedrosa into tenth.
Top ten finishers:
| | |
| --- | --- |
| 1st | J. Martin |
| 2nd | J. Mir |
| 3rd | F. Quartararo |
| 4th | B. Binder |
| 5th | T. Nakagami |
| 6th | J. Zarco |
| 7th | A. Rins |
| 8th | M. Marquez |
| 9th | A. Marquez |
| 10th | D. Pedrosa |
Current Championship Standings:
| | | |
| --- | --- | --- |
| 1st | Quartararo | 172 points |
| 2nd | Zarco | 132 points |
| 3rd | Mir | 121 points |
| 4th | Bagnaia | 116 points |
Moto GP will be returning to Austria again next weekend, as will British rider Cal Crutchlow (Petronas), who even though didn't produce a spectacular race result this weekend after stepping in for injured rider Franco Morbidelli, he will do so again for the next two races. Will we see a top ten or podium finish for fan favourite Cal?
(Featured image: courtesy of Moto GP website).