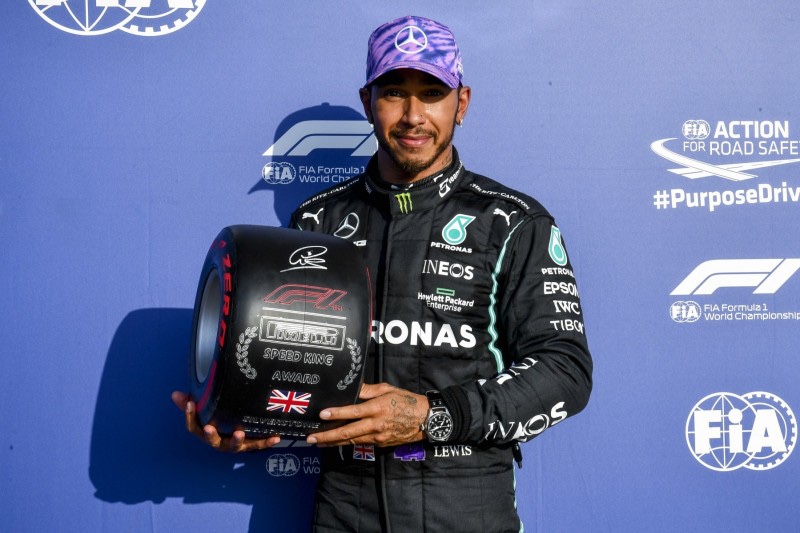 Image courtesy of Pirelli Motorsports
Lewis Hamilton was the fastest on Friday qualifying after a blistering first lap in Q3 made sure that he would be starting from P1 for the sprint race on Saturday. An all new trial format for Formula 1 this weekend means that the drivers will go again on Saturday with a 17 lap race at Silverstone and the winner from that race will be awarded pole position for the actual race on Sunday. Hamilton's teammate Bottas in the other Mercedes is set to start from P3 after his lap was two tenths shy of Hamilton's lap time.
Hamilton's closest title rival Max Verstappen was complaining of understeer through out qualifying and fell short of P1 by just about 0.075 seconds while his teammate Sergio Perez could only qualify 5th after his time from the second run during Q3 was deleted due to him exceeding track limits. Redbull who have been fastest during the course of the season will not be happy with this result and will have their work cut out before the sprint race.
Ferrari will take heart from Friday qualifying after Charles Leclerc managed to be the 4th fastest on Friday courtesy of a Perez deleted lap time. Carlos Sainz in the other Ferrari could only manage a P9 but crucially for Ferrari, they have atleast one car ahead of McLaren at P4.
In what was a tough few days for McLaren off track with Lando Norris incident at Wemblely and team boss Zak Brown coming down with the coronavirus, it was not a bad outing for the British team after Lando Norris and Daniel Ricciardo have both put in lap times which are good enough for a P6 and P7 on the grid for sprint race tomorrow.
'Mr. Saturday' Geroge Russell has also proved that he would be an excellent 'Mr.Friday' should this new race weekend format stick, after a brilliant Q2 lap meant that he was into Q3 yet again. He then set another excellent lap time in Q3 which means 8th position on the starting grid is his for the sprint race. Things were not that great for his Canadian teammate Latifi in the other Williams after he could not get out of Q1 and will be starting from P18.
Aston Martin's Sebastian Vettel makes up the last of top 10 fastest drivers on the grid after having his first lap time in Q3 deleted for exceeding track limits and will be starting P10 for the sprint race. His teammate Lance Stroll couldn't quite find a similar pace and will be starting from P15.
It was a bad Friday outing for Alpha Tauri in comparison with the last few weekends, after Pierre Gasly only managed a lap good enough to put him on P12 for tomorrow while his teammate Tsunoda had things go worse for him after his lap was not good enough for the rookie driver to go to Q2 and he is set to start from P16.
Alpine's Esteban Ocon finally managed to get out Q1 this time around and is set to start P13 for tomorrow while his teammate Fernando Alonso narrowly missed out on Q3 and will be starting P11. Alfa Romeo's Giovinazzi managed to get out of Q1 but could only go as high as P14 while his teammate Kimi Raikkonen could not manage that and will only be starting P17. Both the Haas cars will be starting with Schumacher at P19 and Mazepin at P20, which has become rather predictable based on how their season is going.
A new format in on trial at a packed Silverstone but it is the old and familiar top 3 of Hamilton, Verstappena and Bottas is set to start the sprint race. With points up for grabs and of course the pole position for the main race on Sunday, it is set to be an interesting 17-lap race on Saturday. Redbull seem to be running away with the title but a resurgence from Hamilton and Mercedes is definitely on the cards as the race for pole is on.