Qualifying:
At the newly resurfaced Assen track the Yamahas were flying high. Maverick Vinales (Yamaha) claimed pole position and took the new lap record (1:31.814) in the process.
Both Vinales and Fabio Quartararo (Yamaha) were on the front row in first and second. With a surprise 3rd from Francesco Bagnaia (Ducati) and Takaaki Nakagami (Honda) taking fourth.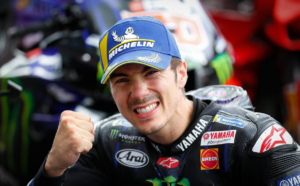 While the factory boys were settled on the front row Franko Morbidelli (Yamaha) was not to compete in the qualifying or the race as he had again injured his knee and would need to undergo surgery for it. Stepping into his shoes was Garrett Gerloff from World Superbikes.
During Friday's practice, last weekend's race winner – Marc Marquez had a mechanical failure which saw him propelled from his Repsol Honda. The Spaniard succumbed to no further injuries and was cleared to race on Sunday. But, his qualifying result would make it hard to compete, starting from 20th on the grid.
Race:
With 26 laps at the Dutch circuit and clear conditions, it looked like it would be a Yamaha victory for sure. But which Yamaha rider was going to step onto the top step of the podium?
Vinales took an interesting approach, being the only rider who chose to have a soft front tyre. All the other riders lined up on the grid with either medium or hard. As the lights went out Vinales was swamped. He had gone from pole to 5th, whilst his teammate went to first from 2nd.
Vinales knew he needed to make a good start to fight for the win. He soon passed Alex Rins (Suzuki) for 4th place, putting him behind Nakagami and Bagnaia. A tussle soon broke out between Fabio and Pecco for 1st . Bagnaia eventually took the lead.
The Ducati lead the race, all the while with Quartararo watching, waiting for the right time to pounce – taking fastest lap in the process.
The fastest lap and the new lap record soon were beaten by Johann Zarco (Ducati), in 5th place.
Bagnaia struggled to get any gap from Quartararo and on lap 6, turn 11 – Quartararo took the lead. Straight away he broke away from the pack with 20 laps to go. The space was soon 0.575 seconds. He then gained fastest lap and with the clean air in front of him furthered his lead to 0.900 seconds.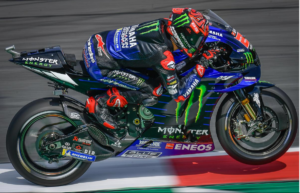 It was unfortunately an early race finish for Valentino Rossi (Yamaha) who crashed out turn 7, lap 8.
Beating his own fastest lap, Quartararo kept pushing himself and pumped out quicker and quicker laps. Trying to gain an advantage over Bagnaia, who was now in a race of his own too with a gap of 1.336 seconds to Quartararo and 0.506 seconds to Nakagami behind him.
Starting from 20th on the grid Marc Marquez rode a very impressive race and by lap 10 he had secured 10th place. Due to it's many right-hand corners, Assen was never going to be a track that would favour the Honda or Marc's injured arm.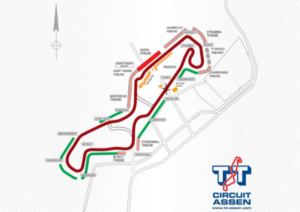 Nakagami's Honda soon caught up to Bagnaia's Ducati, they tussled for 2nd place and during this Bagnaia received a track limit warning. The gap increased between them and Quartararo to 2.941 seconds. They continued to fight for the podium place, letting Fabio increase his lead further to 3.272 seconds, just over the half-way point in the race.
On lap 14 Bagnaia's warning turned into a long-lap penalty for continuing to exceed track limits. He decided to take this on the next lap, rejoining the race in 7th place.
Meanwhile, Nakagami had a terrible time and suddenly ended up in 6th place, getting passed by 3 riders. His luck went from bad to worse and soon he was in 9th place, behind Marquez and Aleix Espargaro (Aprilia). To further add to his torment he also received a track limit warning.
Jack Miller's weekend wasn't going well for him either and he crashed, turn 15. He managed to rejoin the race, but later his Ducati had mechanical issues and was told to retire.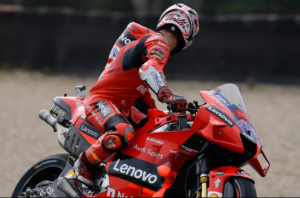 The gap between the top two Yamaha's had reached over 4 seconds and there was no chance that Vinales could catch Quartararo. There was however battles behind them, between Joan Mir (Suzuki) and Zarco for 3rd place and M.Marquez and A.Espargaro for 7th.
Lap 20 saw Iker Lecuona (KTM) crash in the final chicane, leaving his bike floundering on the track. The marshals were quick to respond though.
The few fans present at the track were seeing a masterclass race by the young championship leader. Even though the gap between him and Vinales had reduced, with 7 laps to go Fabio was on for his fourth race win of the season. The reigning world champion was in 3rd place having started from 10th on the grid.
Mir, Zarco and Miguel Oliveira (KTM) had created their own group and fought for that last podium spot with Bagnaia, Marquez and Espargaro behind them. Marquez looked set to pass Bagnaia but it was a surprise pass by Aleix that took him to 7th in-front of Marc.
The final lap: Quartararo comfortably secured 25 more precious championship points, ahead of a dejected Vinales and an elated Mir (who took his third podium this year).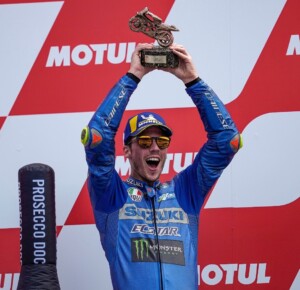 Top Ten Race Results:
| | |
| --- | --- |
| First | F. Quartararo |
| Second | M. Vinales |
| Third | J. Mir |
| Fourth | J. Zarco |
| Fifth | M. Oliveira |
| Sixth | F. Bagnaia |
| Seventh | M. Marquez |
| Eigth | A. Espargaro |
| Ninth | T. Nakagami |
| Tenth | P. Espargaro |
Top Four Championship Positions:
| | | |
| --- | --- | --- |
| First | Quartararo | 156 points |
| Second | Zarco | 122 points |
| Third | Bagnaia | 109 points |
| Fourth | Mir | 101 points |
Going into a 5 week summer break, the Yamaha's seem unbeatable and yet there is speculation within the Vinales team that he may choose to leave them. Can this break re-kindle their relationship? Or will there be a breaking news story in the meantime? Join Moto GP for more action on Sunday 8th August.
(Featured image, courtesy of: Moto GP)