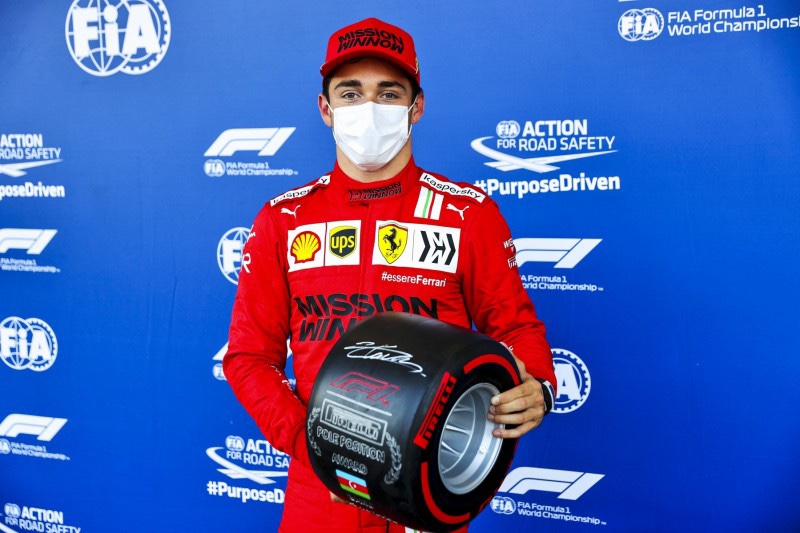 image courtesy of Pirelli Motorsports
It was Charles Leclerc of Ferrari who took pole in Baku on Saturday afternoon after a frantic qualifying session. The Monegasque driver received a nice little slipstream behind the Mercedes of Lewis Hamilton in the first run of Q3 and was able to put a competitive time on board which was good enough for pole position.
The second run of Q3 was brought to a halt after Yuki Tsunoda of Alpha Tauri crashed into the barriers during his flying lap which was followed by Carlos Sainz of Ferrari locking up and losing his front wing in the same corner followed by a hard hit to the barriers. This meant that there was yet another red flag in the session and pole was decided. The Spaniard however managed a lap good enough for P5 in the first run but will not be too amused after the crash was severe on the back end of his car which might result in a gear box change.
Mercedes finished the session with Lewis Hamilton qualifying at P2 and Bottas at P10, after the Finnish driver provided Hamilton a tow during the first run of Q3 but could not get his own lap in during the second run. The team will be satisfied that they could put at least one car on the front row but Bottas will rue his misfortune on a track that he is generally good at.
Driver's championship leader Max Verstappen drove a very good lap but only managed a P3 while his teammate Sergio Perez could only manage P7. One thing that Redbull can still be confident of is the fact that their race pace has looked promising in the season so far and crucially, the championship rival Hamilton is not so far up ahead.
Pierre Gasly continued to impress after an excellent lap saw the French driver place his Alpha Tauri at P4 after an amazing lap while his teammate Tsunoda managed a P8. An excellent position for the team overall barring the carsh for Tsunoda later on means they will be hunting that double points finish right from the start.
Lando Norris continued his good start to the season after qualifying at P6 but the English driver is under investigation for infringements after red flags in the first qualifying session. His teammate Daniel Ricciardo's dismal season continued after the Australian driver crashed into the barriers towards the end of Q2 which ended his qualifying and put him on P13 on the grid for the race tomorrow.
Fernando Alonso bounced back from his bad outing in qualifying at Monaco and qualified into Q3 this time around with a mega performance. Having termed Baku 2018 as the best race of his career, Alonso will be looking to make the most of the scenario as he is set to start from P9 on the grid and is in with a chance for some valuable points tomorrow. His teammate Esteban Ocon could not get out of Q2 and will be starting the race from P12.
Aston Martin's Lance Stroll brought on the first red flag of qualifying in Q1 after he crashed out towards the end of sector 2 on his first run in Q2 and will be starting at P19. His teammate Vettel narrowly missed out on Q3 by as less as three hundredths of a second after the red flag brought on by Ricciardo meant that he could not improve his lap time. The German driver will start at P11 but has an advantage of starting on tyres of his own choice.
Alfa Romeo's Antonio Giovinazzi was involved in the second red flag during Q1 after crashing into the same corner as Lance Stroll and the Italian driver will be starting last. His teammate Kimi Raikkonen will be starts P14 after his Q1 laps were good enough to get out of it. Both the Haas cars had clean Q1 laps and they will be starting with Schumacher at P17 and Mazepin at P18 respectively.
George Russell in the Williams got out of Q1 yet again and will be starting the race at P15 but it was not certain before the start of the session. The English driver had to wait until the mechanics changed the entire power unit of his car after a water pipe leak meant he could not continue at the end of his last free practice. His teammate Latifi will line up at P16 after failing to get out of Q1.
The race is set to get underway with championship rivals Hamilton and Verstappen all set to start at 2nd and 3rd while Ferrari slowly seem to be improving and mounting challenges. The race promises to be a cracker as is the usual setting in Baku when the five lights go out.