Formula One rolls into the luscious town of Francorchamps this week, the threat of rain looms for the upcoming weekend as we await the 76th Belgian Grand Prix.
At a remarkable seven kilometres, Spa boasts the shortest name and the longest track on the calendar – which this year has been adversely affected by the COVID-19 pandemic. However, we all have reason to be extremely grateful to see Spa on the shortened and condensed list of races this year. It is one of the most challenging, exhausting and bravery-inciting circuits F1 has seen in its 70-year history – Charles Leclerc and Fernando Alonso can testify to that after flying car incidents into turn one in 2012 and 2018.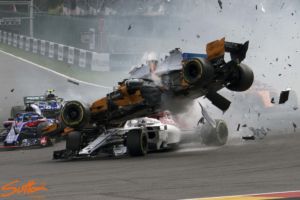 And if previous form is anything to go by, we could be in for a fascinating race. The last eight F1 races at Spa have seen seven different winners – Jenson Button, Daniel Ricciardo, Nico Rosberg, Lewis Hamilton, Sebastian Vettel and Charles Leclerc. Mercedes power has claimed five of the last 10 races, with Renault and Ferrari power taking the flag in the other five.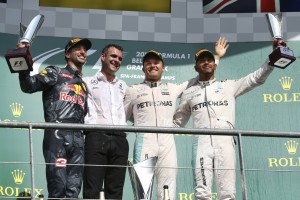 The clouds that promise an invigorating twist to the tail throughout all three days of running could provide Red Bull the opportunity to win their fourth race here, with Dutchman Max Verstappen seeking to once again throw a spanner in Mercedes' almost flawless works and earn his second win of the season after the 70th anniversary Grand Prix in Silverstone.
And it is a good thing for Mercedes' rivals that the ominous rain threat is there – because this track suits the Silver Arrow almost down to a tee.
With tremendously long full-throttle sections and a heavily reduced necessity for downforce, Mercedes would expect to have the superior car around this track. And they still may. Coupled with excellent proficiency in the car, they have a six-time world champion in Lewis Hamilton that has won four of the last five rain-affected races in F1 – Germany last year being the only exception. He was also the last driver to win a rain-affected race in Belgium back in 2010.
Racing Point, dubbed the pink Mercedes in the midst of the "copying" row, also know that if they can master the wet conditions, a podium finish may be on the cards for them – it would be their first since Sergio Perez in Baku two years ago.
The Ferrari powered cars would be grateful of some rain too this weekend. Ferrari, Haas and Alfa Romeo have all struggled immensely in the early part of the campaign, and some unpredictable weather conditions may just be the catalyst needed for a strong result for those teams – it seems outrageous saying this given that Ferrari won this race last year with Leclerc.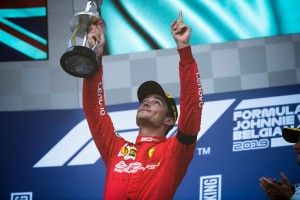 McLaren, who now have two podiums to their name in as many seasons, looked incredibly strong with Carlos Sainz in qualifying in Styria in the wet, and will undoubtedly sense an opportunity themselves.
As F1 returns to Spa, Charles Leclerc knows he may just need a sprinkle to claim a second consecutive win here – and while there will be no orange wall for Max Verstappen, it looks likely there will be a few walls of spray this weekend.
Feature Image Courtesy of Mark Thompson/Getty Images/Red Bull Content Pool