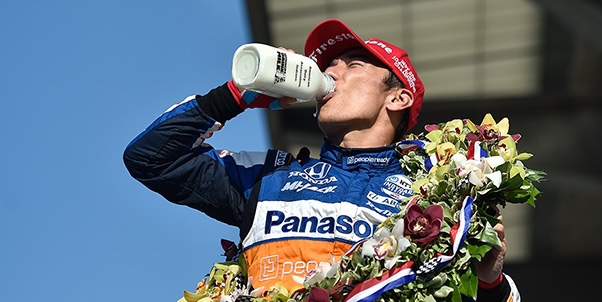 image Courtesy Of IndyCar
Takuma Sato seizes a second Indianapolis 500 victory from Scott Dixon during the closing stages of the race.
Dixon, who had led over one hundred and ten laps at The Brickyard was overtaken by the Japanese driver after the final round of pit stops and looked unstoppable as he continued to build over a second gap to the five-time IndyCar world champion.
Lapped traffic caused late drama as Sato lost a good amount of aerodynamic performance in dirty air. However, both Sato and Dixon cleared the troublesome backmarkers and It was looking to be a shootout finish.
That was until Specer Pigot brought out the final caution with less than five laps to go with a terrifying side on collision with the pit entry wall. Spencer was relatively unhurt by the incident and will go for medical check-ups immediately as a precaution.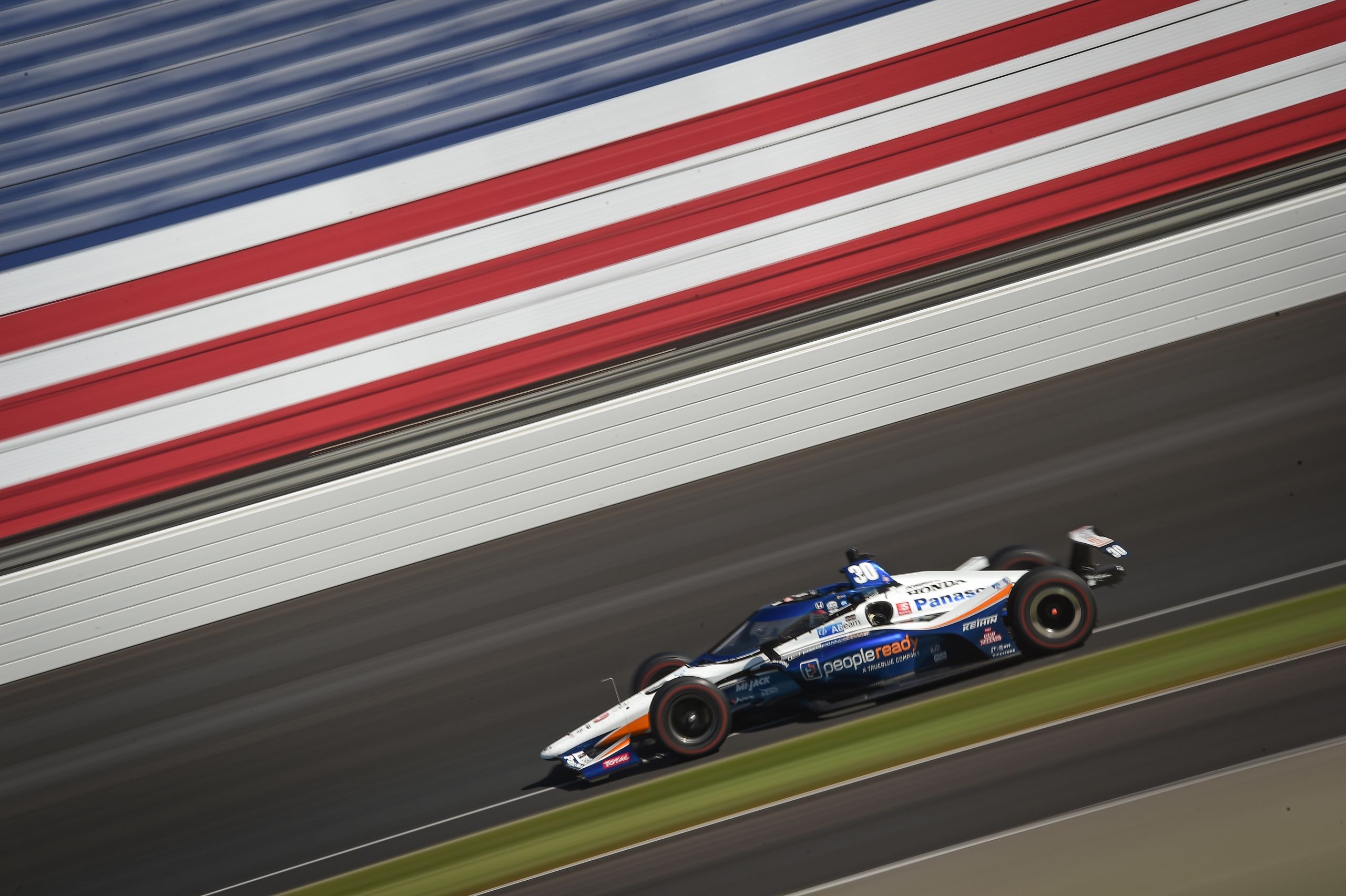 image Courtesy Of IndCar
Race officials refused to bring out the red flag, which had it been used would have given us a last-dash race to finish under an enthralling restart. Instead, Takuma Sato cruised to the finish line behind the safety car to be only the twentieth driver to take multiple Indy 500 victories, his first since 2017.
Dixon, was quick on his radio to suggest a red flag should be thrown, knowing his only chance of victory could have been snatched from him in that moment:
"Are they going red?" Dixon asked. "They've got to go red. There's no way they can clean that up."
Graham Rahal, Sato's teammate at Rahal Letterman Lanigan Racing, was closing in on the top two during the closing stages of the race only to cross the line in third.
Unfortunately for pole sitter, Marco Andretti, it was a day to forget as he rarely posed a threat to the front runners, tumbling down to thirteenth place. The search for another Andretti winner at 500 goes on.
For Arrow McLaren SP driver Patricio O'Ward he will take the coveted fastest rookie award crossing the line in seventh with a magnificent performance that saw him briefly leading the race. However, his performance will be bittersweet given circumstances of fellow teammates Oliver Askew and Fernando Alonso.
Following a caution caused by Dalton Kellet, a restart saw Conor Daly drop a wheel onto the concrete apron through turn four and fired his Ed Carpenter Chevrolet into the wall. Oliver Askew drove into the ensuing smokescreen and took avoiding action but lost control making heavy contact with both the wall and Daly.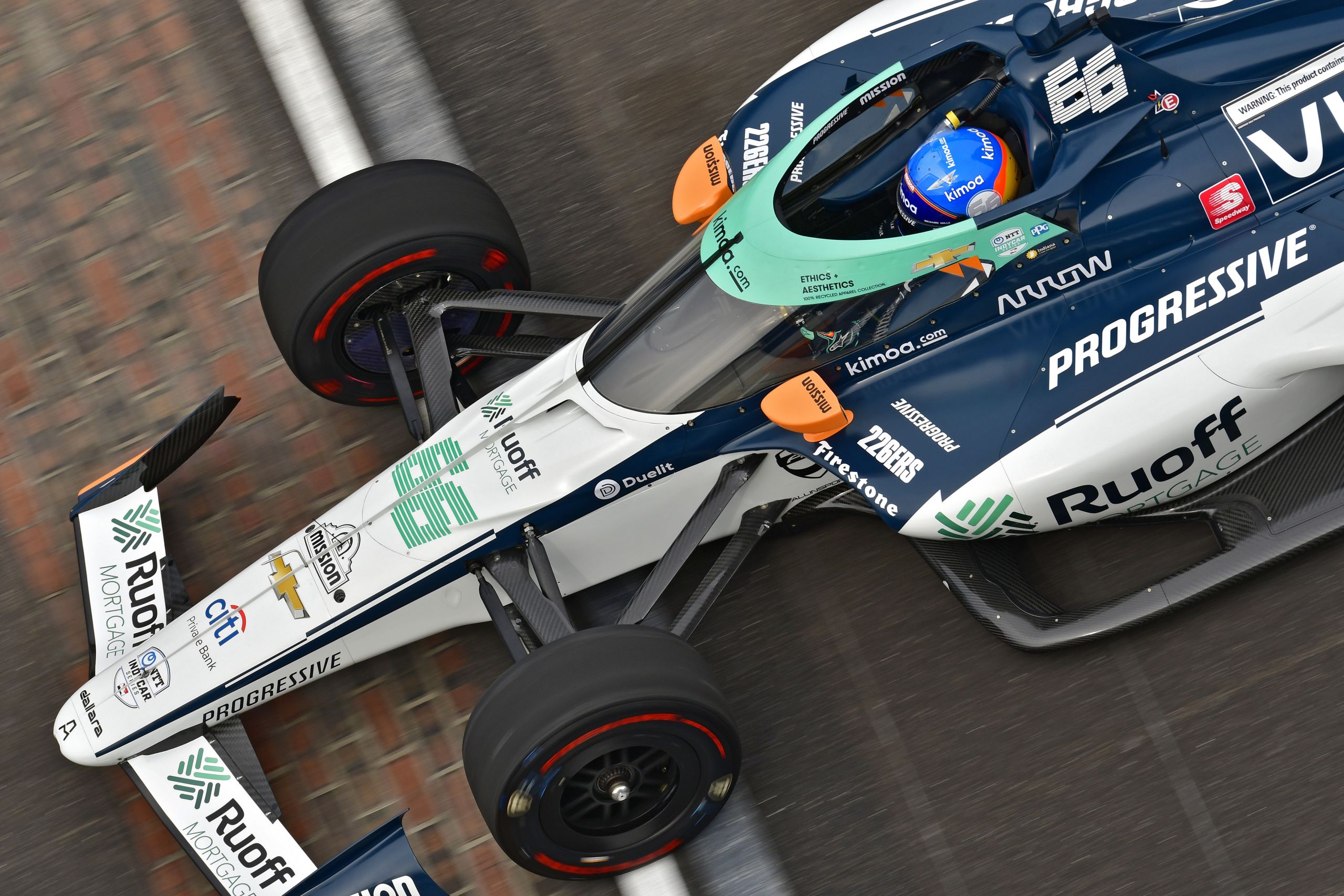 image Courtesy Of IndCar
For two-time Formula One World Champion Fernando Alonso, it was also a troublesome day where he struggled constantly with balance and clutch issues. He rarely appeared inside the top twenty eventually finishing in twenty first, crushing his dreams of taking the triple-crown on what may be his final attempt as he goes to race with the Renault F1 team for the next two years. However, he can take some solace that after two attempts, he has finally crossed the line to finish, what he may come to call 'The Hardest Spectacle in the World'.
In this incident-filled race, there was eight non-finishers with James Davison, Marcus Ericsson, Oliver Askew, Conor Daly, Dalton Kellet, Alex Palou, Alex Rossi and Spencer Pigot all failing to cross the finish line.
Andretti Autosport driver Alexander Rossi was running with frontrunners Dixon and Sato for the majority of the race. Indeed, it was Dixon and Rossi who were working together to pull away from the rest of the field during the second quarter of the race.
However, it was not to be for the 2017 Indy 500 winner, after an issue in the pits with a slow right rear caused Rossi to be released dangerously into the path of Takuma Sato. A subsequent investigation handed a penalty to Rossi sending him painfully to the back of the grid.
Clearly angered by the punishment, Rossi went straight on the attack making up five positions on the first lap of racing but his chances of victory quickly went from slim to zero as he became the latest retiree.
Losing the rear at turn two, Rossi slid the majority of the way down the wall on the back straight. In four previous Indy 500 entries, Rossi had a record of one victory and no finish lower than seventh. Now, he can add a DNF to that list.
Pit stops are always an opportunity for errors, but for Rinus VeeKay it was a constant early source of problems. The rookie Dutchman first stalled in a stop, but at the next stop earned a stop-go penalty for hitting team personnel – locking his brakes and sliding into the mechanics while entering for a stop.
However, the pivotal moment of the race may have come at lap 122, which saw Spanish rookie Alex Palou embrace the barrier at turn one, a similar incident to Marcus Ericsson 98 laps previously. The caution came at the wrong time to enable drivers to make it to the flag on one more fuel stop, but all drivers save for Felix Rosenqvist pitted for fresh tyres and none other than Sato and Dixon were at the head of this train, giving them an straight race to the finish.
Other noteworthy performances were of Santino Ferucci who finished in a magnificent fifth after a late charge saw him overtake defending IndyCar champion Josef Newgarden. In addition, credit should be given to young star Colton Herta in eight and Britain's Jack Harvey in ninth.
In the war between the engine manufacturers it was Honda that dominated with eight out of the top finishers. James Hinchliffe in seventh and Colton Herta in eight were the only Chevrolet powered cars in the top ten.
Top Ten Official Classification:
Takuma Sato – Rahal Letterman Lanigan Racing
Scott Dixon – Chip Ganassi Racing
Graham Rahal – Rahal Letterman Lanigan Racing
Santino Ferucci – Dale Coyne Racing with Vasser Sullivan
Josef Newgarden – Team Pesnke
Patricio O Ward – Arrow McLaren SP
James Hinchliffe – Andretti Autosport
Colton Herta – Andretti Harding Steinbrenner Autosport
Jack Harvey – Meyer Shank Racing
Ryan Hunter-Reay – Andretti Autosport