Formula 1 Pre-Season testing got underway in Barcelona this morning with a healthy mix of old and new faces racking up the laps. Rookies Lando Norris and Alex Albon for McLaren and Toro Rosso were first out on track.
Albon had the marshals on their toes after causing the first red-flag of the session, one minute after lights went green. Albon's Toro Rosso was sat in the gravel facing the wrong way after having lost it upon exiting Turn four, and after a 20-minute recovery from the marshals, we got back into the session.
Both Ferrari and Mercedes were keen to begin testing the harder tyres this morning, running the C1, starting at a slightly slower pace than the previous day. After Bottas's morning test yesterday, it was the turn of Hamilton to set an early alarm, and by 8:20am he had set the first time of the day at 1:32s.
Ferrari's new driver Charles Leclerc got in the seat for the first time, initially taking a steady approach to handling his new car by setting a 1:42. He picked up the pace pretty quickly after that though, going from the bottom to the top of the table by setting a more-than-respectable 1:19 and showing the world he can match the pace of his teammate Sebastian Vettel. Vettel has already gone on record in considering Leclerc a 'full rival … He got the seat for a reason and I've got to take him very seriously'. With a personal best of 1:18.2 this morning, it's difficult to view Leclerc in any other way.
After Verstappen's impressive performance yesterday, Red Bull's number two driver Pierre Gasly took to the wheel for the first time at just after 8:30am, sharing the track with Alfa Romeo's number two, Antonio Giovinazzi. Gasly put in a steady first lap on C3 tyres with a 1:37.5, before picking up the pace and putting in a 1:22, and a 1:21 shortly after. Giovinazzi puts in a 1:24 and continues to improve, achieving a 1:20 after 22 laps.
Like Hamilton, Ricciardo was also back in the driver's seat this morning following yesterday's afternoon session. Ricciardo's Renault matched the pace of Red Bull and Gasly lap after lap, as both cars achieved a respectable 1:21s.
Meanwhile, it looked to be yet another slow start for Racing Point this morning after yesterday's arguably disappointing session. The team managed to rack up a meagre 30 test laps across the whole day. Performance Engineering Director Tom McCullough summarised the day; 'We had some teething problems, which caused us some downtime across the day, and a small oil leak, but nothing overly concerning'.
McCullough explained the teams aim for today's session, focusing on aero data collection and giving Lance Stroll an opportunity to experience his new car, however by 8:50am, Stroll had only managed two installation laps. By 9:05am, Stroll had achieved his first timed lap, managing a 1:29 on C3 tyres. His pace improved quite quickly with a 1:21.6, coming second on the timing sheets over Hamilton's 1:24.6. Stroll surpassed his teammates efforts yesterday, completing 45 laps before lunchtime.
Perhaps a little dubious to appear on track too early this morning, Kevin Magnussen and Haas finally ventured out to do an installation lap on intermediate tyres, before returning to the pits. Magnussen was back on track after 35 minutes in the garage, putting in his first flying lap of 1:23.4. He continued to build on this by following it with a 1:21.9, and a 1:21.6 moving ahead of Albon's Toro Rosso.
Magnussen spent a further 20 minutes in the garage; the Haas social media team describing it as an 'extended stay', offering no indication of why the team have put in so few laps this morning.
Ricciardo's Renault decided to spice up the morning by parting ways with its rear wing while using DRS, causing him to spin off track and into the gravel. Miraculously he managed to get the car out without causing a second red-flag in the session.
The lunch break came and went with some teams opting for a driver change, namely Mercedes and Renault. Bottas was the first man on track, followed closely by Charles Leclerc for Ferrari. Leclerc was the first man to break the 100-lap benchmark, followed by rookie Alex Albon for Toro Rosso.
Nico Hulkenberg settled down to test his Renault for a race distance and continued to knock out lap times in the 1:20s. Hulkenberg didn't manage to top the timesheets, however Renault seem to have found consistent timing and distance of greater value than fastest car on track. He did eventually break free of the monotony and started pushing the car just a little bit, managing a personal best of 1:20.3 which put him in 8thposition.
Pierre Gasly spun out going in to turn 12 with only an hour and a half left on the clock. Though the damage didn't look overly disastrous, it was a sorry end to Gasly's otherwise smooth and steady session.
Pietro Fittipaldi took to the wheel in place of Kevin Magnussen who was forced to retire from the race early due to a seat-fit issue, which could explain the frequent 'extended stays' K-Mag was having in the morning session. Fittipaldi managed a total of 13 laps before the end of the session.
Sadly, we heard very little from Williams today. It is thought they will be arriving with the car very early tomorrow morning, with a view to joining in the testing tomorrow lunchtime.
McLaren are continuing to play the come-back kid by coming second only to Ferrari on the timing sheet. It's an extremely positive start for the team, but ultimately Ferrari stole the show once again, taking fastest lap for the second day in a row (a 1:18.2) along with a healthy distance on track. With 157 laps under his belt, Leclerc has taken thorough advantage of his opportunity to get used to his new car.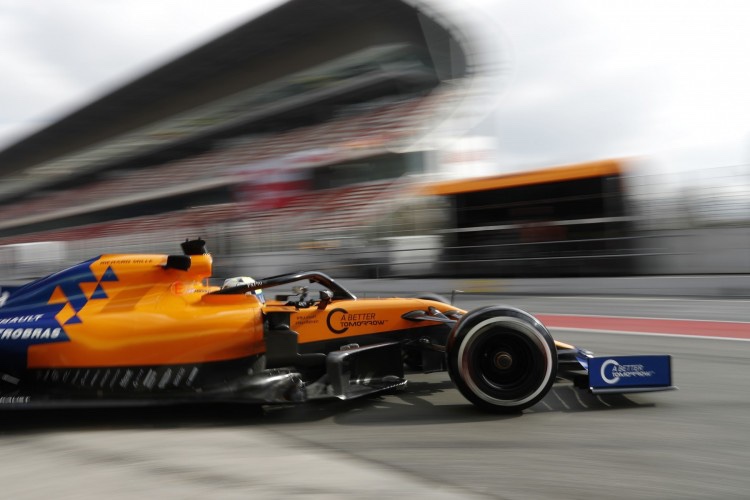 Image courtesy of Pirelli Motorsports
Testing continues tomorrow.