The racing gods decided that the Bahrain Grand Prix was not the day for Charles Leclerc's fairytale victory, much to the pain and frustration of Leclerc himself, the Ferrari team and F1 fans alike. Despite this, Lewis Hamilton and Mercedes will still be decidedly unsettled when looking at the young Monegasque.
Leclerc looked brilliant all throughout the desert weekend, taking pole on Saturday with an absolutely sublime performance and, even after a terrible start that saw him drop down to third on the first lap, was dominating the race and looked to be on course for an emotional and emphatic victory – his first for Ferrari.
Then, with less than 20 laps to go, it all fell apart – a hybrid issue made his Prancing Horse painfully slow down the straights, and the two Mercedes of Lewis Hamilton and Valtteri Bottas soared by. The silver lining, at the very least, was the safety car that kept Leclerc on the podium following synchronised engine failures for the Renaults of Daniel Ricciardo and Nico Hulkenberg.
Hamilton, who has certainly felt his fair share of the pain having victories cruelly snatched from his grasp, was sympathetic with his Ferrari counterpart, affirming that Leclerc deserved the win after such a brilliant performance all weekend. His team radio was telling: "We need to work hard to keep these guys on our tails," said the world champion, clearly concerned about the pace Ferrari showed.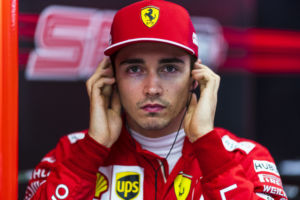 Interestingly, the tale of Bahrain was of stark contrast to Australia, when Mercedes won comfortably and Ferrari looked average. However, this weekend was different, and Ferrari showed the kind of pace that they displayed so impressively in testing in Spain, and the kind of pace that has pushed Mercedes hard for the title the last two years – this year, on the other hand, might be different.
Hamilton has been up against an error-prone and easily irritable Sebastian Vettel, who has shown cracks under the pressure of the title fights, a surprising difference to the assertive dominance that took him to four consecutive titles with Red Bull. It may be early on in the season, but already there seems to be a calmness and a measured temperament about Vettel's younger team mate Leclerc that Vettel himself could have done with at certain times last year and in 2017.
These remarkably mature and level-headed qualities, coupled with fantastic ability and pace, mean that Leclerc is keen to impose himself as so much more than what was thought to be his role for this year. It was predicted that Vettel would outshine Leclerc, and that Leclerc would play second fiddle to the German – Ferrari themselves admitted this would probably be the case – but not only is Leclerc establishing himself as being on terms with Vettel, but he is looking like a pretender to the championship title won by Hamilton in four of the last ten years.
As a result, Hamilton and Bottas will be worriedly looking over their shoulder at not just one Ferrari this time, but both of them. With Bottas seemingly performing better this year (maybe because of the beard), this promises to be an exciting title race. What's more, with Leclerc's astonishing ability and his even more startling potential in the future, it adds up to a nervous ride for Vettel, Bottas and Hamilton. Mercedes may have won in the desert, but Leclerc and Ferrari are turning up in the heat in the 2019 championship as we head to China for F1's 1000th race.
[Featured image – Ferrari Media]