Reports from Italy have suggested that Ferrari team boss Maurizio Arrivabene is soon to be replaced by technical director Mattia Binotto ahead of the 2019 F1 season.
The news was announced in Italian newspaper La Gazzetta dello Sport, and has since been reported on the official F1 website. This comes after Ferrari suffered yet another defeat from the German powerhouse Mercedes AMG, losing both the Drivers' and Constructors' titles in the 2018 season.
It is thought that tensions had begun to rise between Arrivabene and Binotto in the last season, however this was denied in true Ferrari fashion, with the team declaring that, "The rumours about Mattia are fake news". Arrivabene said in a previous interview, "It is an attempt to try to create problems where there are no problems".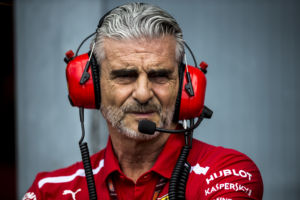 Binotto has worked his way up through the ranks, joining the Ferrari test team in 1995 as a Test Engine Engineer, before being appointed Chief Technical Officer in 2016. He has also held the positions of chief engineer, head of engine and KERS within the team.
Some racing critics have argued that Ferrari lost the championship due to poor strategy and technical errors, and so perhaps Maranello have decided a change in leadership is the answer.
At the moment, these reports are merely speculation, however, confirmation is expected to come as early as Monday 7th January.
Featured image – Ferrari Media